News
Chip Foose Shares His Bodywork Tips & Tricks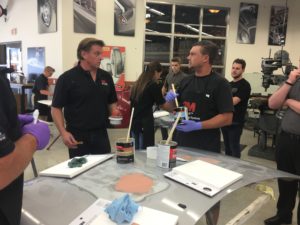 Top-notch bodywork requires tips from a pro.
Through a recently expanded partnership with 3M Auto, well-known designer Chip Foose has provided his favorite tips and tricks for how to use 3M's automotive tapes, abrasives, body filler and Bondo products to achieve high-quality results.
Foose has been using 3M products since childhood, according to the company, when he worked with his dad in his shop, making him particularly suited to offer advice for working with 3M Auto tapes, including 3M Precision Masking Tape, 3M Automotive Performance Masking Tape and 3M Automotive Refinish Masking Tape.
Here are some suggestions:
Don't use multiple pieces of tape.
Use one long piece of tape when creating a color separation or two-tone design. Then cut for door gaps and separations at the very end of the process.
Keep it loose.
Remember not to pull too hard and create too much tension on the tape. 3M tapes have various substrates to allow for curves and turns. If the tape is pulled too tight, it will retract, causing gaps and bleeding.
Go with the flow.
When pinstriping, one continuous pull of the tape guiding you as you go creates a better flowing line than trying to pull short, incremental lines. Pull carefully around corners and curves.
Make a pattern.
If you're laying out a pattern for flames or graphics, it's helpful to lay out a tape pattern on one side of the car and then mask over the design. This creates a tape pattern you can pull up and use on the opposite side.
When working with 3M abrasives, including 3M Precision Shaped Grain Sheets, Foose follows these steps:
Start with a coarser grit
Begin with a courser grit than normal. This allows the abrasive to cut quicker and flatter on the surface. Then work your way down to a finer grit.
Finish with the finest.
Use coarser-grit abrasives to do the majority of the rough work and then finish with a fine grit for the best results.
Designing, creating and customizing cars for more than 25 years has allowed Foose to become an expert in working with body fillers, such as Bondo Metal Reinforced Filler and Bondo Professional Gold Filler. While some can find body filler work daunting, Foose suggests following these simple tips to make the process easier:
Look for the right color.
When mixing the Bondo Body Filler and hardening cream together, you want it to become a uniform color, which will let you know you have the correct mixture. You'll want to keep the mixture this same uniform color throughout the project to achieve the best results.
Don't rush.
The best way to make sure you have a smooth finish is to let the material harden enough to work. Once it's hardened properly, come back and fill in any voids at the end.
Utilize abrasives.
Depending on the surface shape you're adding the Bondo Body Filler to, it can be helpful to sand in a cross-hatch pattern. Again, make sure to work your way through the various grits, ending with the finest possible.