News
Chevrolet Performance Offers Performance Front Brake Upgrade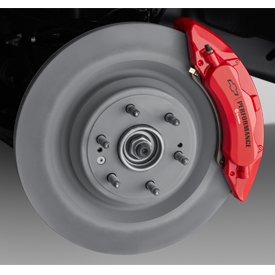 Chevrolet Performance is now offering a replacement brake kit to the aftermarket.
The Red Brembo six-piston, fixed aluminum caliper kit is available with Chevrolet Performance, GMC or Cadillac logos and fits 20- to 22-inch original equipment or GM Accessory wheels. The kit also features 16.1-by-1.3-inch Duralife rotors, an 84-percent increase in brake pad area and 42-percent increase in rotor area for increased system thermal capacity.
The Duralife rotors feature a hardened surface to reduce corrosion and provide quieter braking with less vibration. The kit overall provides a 31-percent reduction in pedal force and 12 percent reduction in pedal travel at max deceleration (during GM testing), providing improved pedal feel.
Shops can order the kit directly from GM dealerships.