News
Centerforce Debuts Twin Disc Clutch Kit for Chevy Big Blocks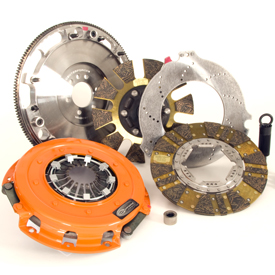 Centerforce has released its DYAD DS Twin Disc Clutch for Chevrolet Performance 454 and 502 Big Block crate engines with a 1-1/8-inch, 26 spline input shaft.
The Centerforce Big Block DYAD DS Twin Disc Clutch provides a modern clutch capable of matching the power potential of the Chevy big block engines, while still retaining smooth street driving characteristics, according to Centerforce. The fully dampened clutch system was developed for vehicles pushing extreme power levels after the addition of turbochargers, a supercharger or nitrous.
The clutch, engineered to deliver superior clamp load with light pedal effort and smooth engagement, utilizes Centerforce's patented Ball Bearing Pressure Plate and twin disc design. The 10.4-inch pressure plate also includes the company's patented Centrifugal Weight System, which helps the clutch kit hold up to 1,300 ft-lbs of torque. The clutch discs feature segmented puc-style facings on both sides, to provide increased holding capacity and longevity. A lightened billet steel flywheel delivers increased throttle response. This part is a 33.3 in/oz Counter Balance,with a zero-balance option is available as well, according to Centerforce.
Centerforce DYAD DS Twin Disc Clutch kits come pre-assembled and include the pressure plate, floating disc, floater, drive disc, flywheel, pilot bearing, alignment tool and ARP fasteners. For more information call 928-771-8422 or visit www.centerforce.com.