News
Carter Fuel Systems Offers New Parts Catalog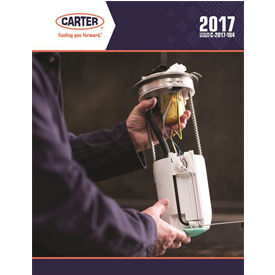 Carter Fuel Systems recently released a newly-designed parts catalog for 2017. Available in both print and online versions, the new catalog was developed for automotive service professionals as a resource to quickly and easily look up product options for all their applications by vehicle year, make and model.
Carter Fuel Systems is a U.S.-based manufacturer of complete fuel system solutions.
The 933-page catalog provides a comprehensive, trilingual listing of Carter products available for the U.S., Canada and Mexico. It also provides multiple resource sections, including a how-to guide on flushing the fuel tank, product tutorials on high pressure gasoline direct injection (GDI), mechanical, electrical and universal fuel pumps, as well as in-depth details on Carter's exclusive CleanScreen Technology.
"Everything we do at Carter is done with the technician in mind, especially the development of our latest parts catalog," said Kevin O'Dowd, vice president of marketing and chief marketing officer. "It was designed to provide the product details they need, packaged in the most organized, informative and user-friendly way possible."
To request a printed copy of Carter's 2017 Parts Catalog, call 844-827-6645. Customers can also explore the digital version of this catalog or use the online parts finder to research Carter's lines of complete fuel system solutions at www.carterfuelsystems.com.