News
Camaro No. 5 Million Joins Camaro No. 1 at Carlisle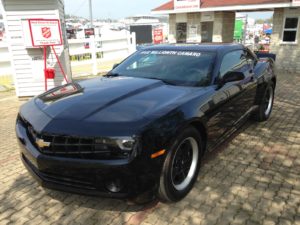 Automotive history will be on display at this year's Carlisle Chevrolet Nationals, taking place on June 23-25 at the Carlisle, Pennsylvania Fairgrounds. Earlier this year, the event planning team announced that the first-ever Camaro would be part of the show. Now, they have announced the inclusion of a Camaro made 4,999,999 cars later.
While Chevrolet has made thousands of more Camaros since the No. 5 million rolled off the assembly line in 2011, it's the most recent milestone car available, meaning Chevrolet has yet to produce a six millionth Camaro.
Built with little external fanfare, this car is a 2011 1LT model, with a black interior and exterior as well as the base wheel package available at the time. Additionally, it is powered by a 312 horsepower V6 engine with a manual transmission. The Lexington, Kentucky dealership that received it installed a GM specific dovetail spoiler and it carried a sale price of $24,700.
Apparently, it was so under the radar in 2011 that it took about a month before the news leaked out that a five millionth Camaro even existed.
"We were so excited to have Camaro #1 join us for this year's Chevrolet Nationals that we decided having the last millionth Camaro would really be a home run," Carlisle Events Co-Owner Lance Miller. "We looked long and hard to find the car so our loyal participants had an opportunity to see the two cars together for the first time ever and finally, we found it."
Carlisle Events said many more Chevrolet classics will be on display at the event.
Details on the event and how to register as a vendor or show car, visit www.CarlisleEvents.com.