News
Bully Dog GT Gas Tuner Now 2017 F-150 Compatible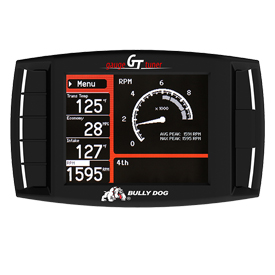 The Bully Dog fan base has requested support for the 2017 Ford F-150, and Bully Dog is answering the call. The company has announced support for the truck with its GT Gas tuner for the 2017 Ford F-150 5.0L V8 and 3.5L V6.
"Heavy hauling is how most 5.0-liter owners task their F-150. With a best in class 3,270-pound payload and power ratings of 385 horsepower and 387 ft-lb of torque, the 5.0-liter F-150 is a real workhorse," according to the company. "Bully Dog decided to take it a step further. Our calibrators made max gains of up to 17 horsepower and 21 ft-lb of torque, added about 500 RPM worth of powerband to the top end, and made noticeable increases through the midrange areas of the torque curve.
"This gives drivers the ability to maintain a large safety margin for towing heavy loads. With three power levels to choose from, driving coach, diagnostic tools, and the ability to adjust a variety of customizable parameters, the Bully Dog GT is the ultimate performance upgrade."
For the 2017 F-150 3.5-liter, Bully dog adjusted the pedal maps, completed road testing and transmission tuning to produce peak gains of up to 14 horsepower and 16 ft-lb of torque.
"We also saw max gains of 18 horsepower and 18 ft-lb under the curve," according to a Bully Dog press release. "With three power levels to choose from, driving coach, diagnostic tools, and the ability to adjust a variety of parameters, the Bully Dog GT is the ultimate performance upgrade for this naturally aspirated 3.5-liter V6."