News
Bogi Lateiner and Petty's Garage to Star in Facebook Live Event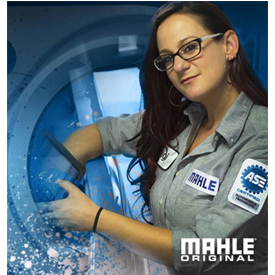 MAHLE Aftermarket will host a Facebook Live event on Gasket Do's and Don'ts at 8 p.m. at 8 p.m. EST on Thursday (June 15). The event will feature TV personality and shop owner Bogi Lateiner, co-host of Velocity's All Girls Garage. Bogi will be joined by MAHLE Original gasket expert Bill McKnight and technicians from Petty's Garage, to field questions about gaskets and other engine related topics.
Facebook followers are encouraged to submit questions to the experts in advance of the event. The hosts also will take questions from live viewers throughout the event as well. Questions may be submitted in advance at the Facebook event page in the discussion section.
Bogi, along with MAHLE and Petty's Garage experts, will address questions from viewers in real time via the company's first in a series of Facebook Live events. These events will focus on educating technicians about challenges they are facing with respect to product installation and best practices in maintenance.
For more information about MAHLE Aftermarket and its brands, visit www.mahle-aftermarket.com or contact a local sales representative.