News
Bill Holland Receives NHRA Lifetime Achievement Award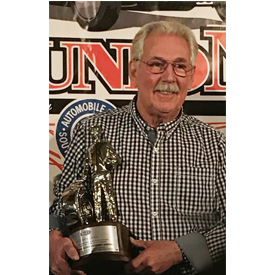 Veteran automotive aftermarket marketer, publicist and journalist, Bill Holland, was recognized for his contributions to the industry at an awards ceremony held in conjunction with the California Hot Rod Reunion in Bakersfield, California. Presenting the NHRA Lifetime Achievement Award was Larry Fisher, director of the NHRA Wally Parks Motorsports Museum.
Holland currently serves as president of Holland Communications Inc., an advertising/public relations company specializing in the automotive aftermarket, which has been a SEMA member since 1975. He's also a member of SEMA's Hot Rod Industry Alliance council and the MPG (Motor Press Guild). Holland is also a columnist and contributor to a number of enthusiast publications and websites.
Other career highlights for Holland include competing in NHRA with a Top Fuel dragster and Funny Car, building a number of SEMA Show project vehicles, and a 1923 "T" track roadster that was a Contender for the AMBR award at the GNRS. He currently participates in vintage road racing competition and has a unique restomod project (named T-Rex) in the works.