News
'Big Daddy' to be Grand Marshal of Hemmings Motor News Great Race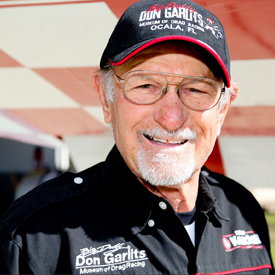 Great Race officials have announced that legendary drag racer Don "Big Daddy" Garlits has been named grand marshal of the 2017 Hemmings Motor News Great Race presented by Hagerty. This year's event will begin in Jacksonville, Florida on Saturday, June 24 and make its way north along sections of the old Dixie Highway, to the finish line in Traverse City, Michigan on Sunday, July 2.
The Great Race is a time-speed-endurance rally which tests the limits of drivers, navigators and their classic vehicles. Only 1972 and earlier vehicles are permitted to participate in the Great Race, and vehicles as early as 1916 will make the 2,300-mile trek from Florida to Michigan vying to win a piece of the $150,000 purse. Event organizers work to keep the race challenging by changing its route annually, and this year's route offers a lot of great scenery and visits to some of the finest car collections in the country. Lunch stops and overnight stops are hosted each day, and the cities and towns offer a festival-like welcoming party for the 120 race teams.
The festivities kick off at 8 a.m. on June 24, with Garlits waving the green flag at 10:30 a.m.
A fixture in drag racing nearly since its inception, Garlits is often looked upon as the father of the sport. Garlits built his first dragster in 1954-a 1927 Ford T-Bucket with a 1948 Mercury engine, 1939 Ford transmission and a 1948 Ford rear axle-outdoors at his home in north Tampa. That car became the basis for the first of Garlits' slingshot dragsters in which the driver was placed behind the rear axle.
In 1970, Garlits suffered a traumatic foot injury when the transmission of the slingshot-style dragster he was driving exploded. This injury inspired him to relocate the engine and transmission behind the driver for safety, effectively inventing the modern Top Fuel car.
"The Great Race is a truly wonderful event that celebrates the passion that America still has for classic cars," Garlits said. "I'm thrilled that Coker Tire asked me to be the Grand Marshall for the race this year. Coker does so much to support the car hobby that it's nice to be able to give back."
For more information on the Great Race, please visit www.GreatRace.com.