News
Bestop Unveils Five New Custom Color Soft Tops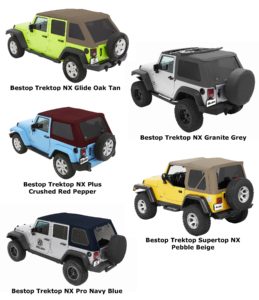 Bestop is now offering several of its soft tops in five new color options. Available for the first time through authorized Bestop dealers and Bestop.com, the new color lines for 2007-'17 Jeep Wrangler soft tops help fulfill Bestop's goal of providing Jeeper's with uniquely innovative products, according to the company.
The new soft top color selection, including Crushed Red Pepper, navy blue, Granite Gray, Pebble Beige and Oak Tan, is now offered in addition to standard black for Bestop's Supertop, all-new Trektop NX Glide and Trektop NX Plus, Trektop NX and the super-premium Trektop Pro.
The colored soft tops are made from high-quality acrylic twill and come with window panels and all necessary hardware for complete installation. For mix-and-match style, colored window panels are sold separately by Bestop.
"Jeep owners love to personalize their products," said John Larson, Bestop CEO. "Our world-class, TS-certified manufacturing facility located right here in North America allows us the flexibility to provide the personalization that our customers are demanding."