News
Behind the Cover with Murray Pfaff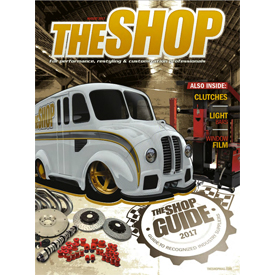 When it became clear that the August issue of THE SHOP required special cover art, our staff immediately turned to custom-car designer Murray Pfaff of Pfaff Designs for help. You see, it's only once per year that we produce this all-important double issue featuring the Shop Guide, a carefully curated list of aftermarket product suppliers and service providers. The comprehensive listings are organized appropriately by product and market, as well as alphabetical order for the absolute convenience of our readership.
In producing an issue meant to remain a key resource for our readers all year long, an attractive concept cover was a necessity. Enter Murray, who was drawn to the idea of leading with the Divco-Twin Model U delivery truck. Here's what he had to say about it:
"The Divco-Twin Model U house-to-house delivery truck was produced from 1938-1986 and remained largely unchanged in that time span. Being the iconic American delivery truck I found it fitting to hop one up for the cover of The SHOP's buyers' guide.
"This Special Delivery Divco has been lowered to the ground and fitted with Forgeline CF3C rims with TredWear's permanent tire graphics. Up front, the hallmark grille remains but has been recessed while JW Speaker lighting are set into the nose. A custom lower fascia has been designed with large cooling ducts that reflect the split windshield.
"Twin hood air extractors further enhance the performance motif. Side vents pick up on the classic lines of the truck with horizontal grille bars and the molded side rocker with integrated pipes bellow music sweeter than any ice cream truck."
The double issue by THE SHOP also features articles on the clutch market, light bars, window film and much more. Read it in its digital format today!
Hot-rod and custom-car designer Murray Pfaff founded Pfaff Designs over 15 years ago to meet the design needs of automotive hobbyists and high-end car builders who needed to visualize their vehicles with accurate and compelling renderings. These high quality drawings enable builders of handcrafted vehicles to communicate the design vision to their team members, sponsors, and project owners to ensure a successful end result. The renderings are drawn to scale using actual proportions with realistic modifications.
For more information, contact Murray by emailing him directly at murray@pfaffdesigns.com, or visiting pfaffdesigns.com.