News
Baja Designs Debuts Rear Light Bar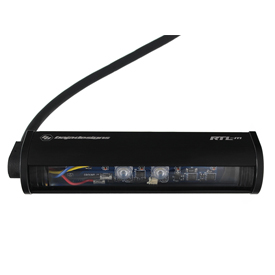 Baja Designs now offers greater trail safety with the introduction of the new RTL (Rear Tail Light) light bar series. The latest addition to the line is a 6-inch RTL-M.
The RTL series is designed for light trucks, SUVs, UTVs, and off-road race vehicles. Featuring the latest in LED lighting technologies, the engineering team at Baja Designs has created the RTL rear light bar to help avoid rear-end collisions, according to the company.
The RTL series is offered in four configurations: the original RTL, the RTL-B race version, the RTL-S with turn signal functionality and the RTL-M for use on SUVs with spare tire carriers or vehicles with limited real estate.
Each RTL light bar features an extruded housing of Mil-Spec hard black anodized aircraft-grade aluminum, and an optically clear lens assembly. The extruded housing also features a unique dual channel mounting system to eliminate traditional mounting brackets, according to Baja Designs.
Baja Designs RTL-M is the smallest and newest addition to the RTL line, measuring in at 6 inches long. The compact unit is designed as a third brake light. It features a brake light, taillight, cargo light and an optional license plate light. These can be mounted on their own, with use of the integrated dual universal channel mounts, or with the optionally supplied universal license plate mount, or Jeep JK specific spare tire carrier mount.
The original RTL is 30-inches in length and includes a red running light, red brake light, amber dust/fog light, and a white cargo light in a Red-Amber-White-Amber-Red configuration.
The dimensionally identical, race-oriented RTL-B model is designed to meet specific off-road racing safety rules. The white light on this model is replaced by a blue light segment, with one amber section programmed to flash, required for slower moving vehicles.
The turn signal model, RTL-S is also 30-inches long, but replaces the amber dust lights found in the RTL with amber turn signals. The red running lights, brake lights and the clear cargo light remain the same. This model has additional wiring leads to connect to the vehicle's turn signal circuits.
As with all Baja Designs lights, the RTL series features the company's waterproof, dust-resistant MoistureBlock Technology.  All RTL rear tail light assemblies meet or exceed several stringent testing standards, according to the company, including MIL-STD810G (Mil-Spec Testing), IP69K (waterproof up to 9 feet, pressure washable) and IK10 (Mechanical Impact Testing).