News
AWE Tuning Launches Track Edition Exhaust for BMW F8X M3/M4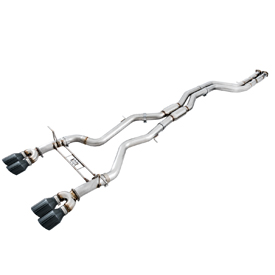 AWE Tuning has released its new Track Edition Exhaust for the BMW F8X M3/M4 platform.
"The success of the F8X SwitchPath exhaust has led to the creation of a lower priced, higher intensity system: the Track Edition Exhaust," said Jesse Kramer, vice president of marketing for AWE Tuning. "This one is sure to turn heads. All the same engineering as the SwitchPath system, just with more aggression and less cost.
The product was engineered, designed, and manufactured in-house at AWE Tuning.
Features of the AWE Tuning BMW F8X M3/M4 Track Edition Exhaust include:
Clean, non-raspy S55 tone
Precision-engineered integrated X-pipe
Full dual 3-inch CNC mandrel-bent configuration
29-pounds in weight savings over stock
Available as resonated and non-resonated
Max gains of 20 horsepower and 31 ft-lbs of torque at the crank
90mm or 102mm double-walled adjustable tips available in chrome silver and diamond black
Non-baffled, straight-through design
Handcrafted from U.S.-sourced CNC mandrel-bent .065″-wall T304L stainless steel
Direct bolt-on system for factory-like simplicity
No check engine light
Perfect fitment