News
Audi Approved for Driverless Testing in New York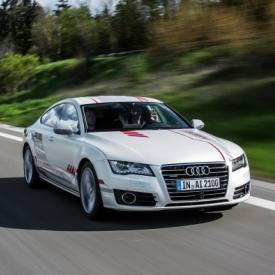 New York has approved Audi of America's application to be the first company authorized to perform autonomous vehicle testing in the state.
Audi intends to demonstrate and test vehicles in New York with Society of Automobile Engineers (SAE) Level 3 automation, according to the company. It will conduct the first autonomous vehicle demonstration in state history, beginning in Albany, near the state capitol, in mid-June.
"We have been leading the way in the development of piloted driving technology for more than a decade now, and testing in real-world environments is a key step in our pursuit of safer roads," said Scott Keogh, president of Audi of America. "We applaud Gov. Andrew Cuomo for his leadership and stand ready to assist in defining how this future will unfold in the Empire State now and for years to come."
SAE's Level 3 means a vehicle is capable of automated driving at posted highway speeds when specific conditions are met. In New York, two trained engineers will be in the vehicle to monitor the system and ensure safety-one in the front seat and one in the back.
Audi's demonstration vehicle has already safely logged thousands of miles on limited-access highways across the U.S., the company noted, and earlier this month, Cuomo announced that New York was accepting applications from companies interested in testing or demonstrating autonomous vehicles on public roads.
New legislation included in New York's FY 2018 budget allows for testing autonomous technology through a year-long pilot program. Audi's vehicle routing information for the Albany demonstration has been pre-approved by the New York State Police and its application was approved by the Department of Motor Vehicles, the company stated.
State police review the route to be taken, and are required to supervise the demonstration.
"New York State is a nationwide leader in innovative highway safety programs and the potential for autonomous vehicles to save lives on our roadways is immeasurable," Cuomo said.