News
Alpine Ships New Sound System for Jeep Wranglers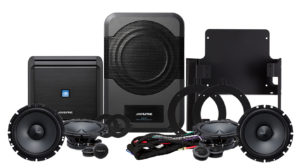 Alpine Electronics of America, Inc. is shipping its new aftermarket sound system for the Jeep Wrangler which delivers bass performance whether the Wrangler has the top on or off. This 9-speaker system, the PSS-21WRA, is now available in North America.
"Based on our activities and research for the Alpine Restyle vehicle-specific solutions, we uncovered further needs from Wrangler owners that went beyond in-dash products," said Steve Crawford, vice president and general manager, aftermarket business unit, Alpine Electronics of America, Inc. "The PSS-21WRA directly addresses their request for a system that delivers improved sound performance even when the Wrangler's top is off."
The PSS-21WRA is a direct fit sound system for 2015-2017 4-door Jeep Wranglers that do not have the factory upgrade sound system. The 320-watt system consists of the PWE-S8 powered subwoofer with under seat mounting brackets, SPT-70 6.5-inch 2-way component speakers with 1-inch silk dome tweeters, SPT-71 6.5-inch 2-way component speakers with 1-inch premium silk dome tweeters, an MRV-F300 V-Power 4-channel amplifier with mounting brackets, remote bass knob, and wiring harnesses. Installation accessories are supplied and include materials to help improve the overall sound quality. The speakers are direct replacements for the factory speakers in the dashboard and sound bar. The powered subwoofer is also available as a stand-alone model (PWE-S8-WRA) and comes with Wrangler-specific installation brackets.
It can be difficult to get good bass extension when driving with the Wrangler top off due to the exposed cabin, yet existing subwoofer solutions for the Wrangler take up valuable storage space. The PSS-21WRA tackles these problems by mounting the subwoofer and amplifier under the front passenger's seat with the supplied Wrangler-specific brackets. Aside from using minimal space, this design lets the lower frequency sound load and disperse into the passenger's foot well, thereby maximizing the bass extension throughout the Wrangler even when the top is off.
The PSS-21WRA is compatible with any Jeep Wrangler Alpine Restyle dash system, the base factory radio or other aftermarket head units.