News
Alpine's Jeep Demo Vehicle Ready for Party Circuit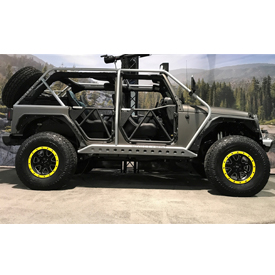 Alpine Electronics unveiled its newest demo vehicle, a 2017 Jeep Wrangler Unlimited named Hellbender. Hellbender debuted at the SEMA Show, currently being held in Las Vegas through Nov. 3.
This customized Wrangler is ready to take the Alpine infotainment system anywhere, whether on the road or off the beaten track. Since the Wrangler features several products that can withstand dust, mud, and water, the Hellbender name was chosen as a reference to the large, amphibious hellbender salamander.
"Our ongoing research with Wrangler owners revealed off-road usage needs that we've addressed through new products and features," said Mike Anderson, vice president and general manager of the aftermarket business unit for Alpine Electronics of America Inc. "This Wrangler showcases the functional aspect of the Alpine products in a fun and unique way."
The Hellbender's Alpine system is centered around the X209-WRA-OR weather resistant Restyle dash system for the 2011-2017 Jeep Wrangler. The X209-WRA-OR infotainment system includes navigation, Bluetooth wireless technology, Apple CarPlay and Android Auto, all controlled through the 9-inch touch screen. The X209-WRA-OR is IP53 rated for protection against dust with limited ingress and fresh water spray up to 60-degrees vertical, so the Wrangler can be driven with the top off even when Mother Nature has other plans, according to Alpine.
First of its Kind Collaborations
Alpine collaborated with Smittybilt on specific products for the Hellbender. Debuting on the Hellbender are Smittybilt's Apollo front and rear bumpers which seamlessly integrate and protect the Alpine HCE-2600FD4 multi-view front camera and the HCE-2100RD4 multi-view rear camera (cameras sold separately from the bumpers), according to Alpine.
The cameras are IP68 rated so they're protected from dust and water immersion. The Alpine KCX-C250MC multi-camera selector allows the camera images to be controlled and switched from the X209-WRA-OR's touch screen. The Hellbender's aggressive profile is highlighted by the custom exoskeleton that wraps around the vehicle and integrates with the Smittybilt rockers on the door steps.