News
Aftermarket Gathers to Pay Homage to Leaders and Legends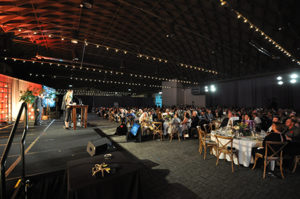 Nearly 500 members of the automotive specialty-parts industry attended the July 28 SEMA Installation and Gala, which featured a Leaders & Legends theme at the Sheraton Fairplex Hotel & Conference Center in Pomona, California.
The event paid tribute to the specialty-equipment industry's pioneers and dedicated volunteers. Jessi Combs and Jarod DeAnda served as the evening's emcees.
BONUS READING: SEMA Unveils 2017 Hall of Fame Class
Honorees included the SEMA Hall of Fame class of 2017: GiGi Carleton of the Robert E. Petersen Foundation; Doug Evans from Bonnier Corp.; and Barry Meguiar from Meguiar's.
The festivities kicked-off with the Pinewood Drag Races, an annual fundraiser for SEMA Cares charities, including Childhelp and Victory Junction. In addition to the Stock, Build-It-For-Me (BIFM) and Unlimited classes, the races include the Council Cup and Industry Cup Challenge. Children living at the Childhelp facilities and Victory Junction campers built the vehicles for the BIFM class and donors sponsored their race cars for $95.
A reception followed shortly after the races ended, where SEMA President and CEO Chris Kersting took the stage to personally recognize the efforts of outgoing Board of Directors officials and welcome the incoming Board. They included:
Wade Kawasaki of Coker Tire, Chairman of the Board (incoming)
Tim Martin of K&N Engineering, Chair-Elect (incoming)
Nate Shelton of Driven Performance Brands, Immediate Past Chairman/Secretary (outgoing)
Doug Evans of Bonnier Corp., Immediate Past Chairman/Secretary (incoming)
John Johnson of The Spartan Group, Treasurer (outgoing)
Peter Lehman of Granite Creek Capital Partners LLC, Treasurer (incoming)
James Lawrence of Power Automedia (incoming)
Greg Adler of Transamerican Auto Parts (re-elected)
Here's a look at the pinewood leaderboard:
Council Cup
1st Place: SEMA Businesswomen's Network (SBN)
2nd Place: Young Executives Network (YEN)
3rd Place: Motorsports Parts Manufacturers Council (MPMC)
Build It For Me Class (cars and trucks built by kids)
1st Place: WeatherTech
2nd Place: Truckin' America
3rd Place: Holmes Enterprises
Stock Class
1st Place: Keystone Automotive Operations
2nd Place: Bodyguard Truck Accessories
3rd Place: Manke Trucking
Unlimited Class
1st Place: Dave Williams, Go Rhino Products
2nd Place: Ian Lehn, BOOSTane
3rd Place: Jessi Combs, RAD
Industry Cup Challenge (member category represented)
1st Place: Allied Exhaust (WD), 2.462 seconds
2nd Place: LGE-CTS (Service), 2.466 seconds
3rd Place: RTM (Media), 2.474 seconds
4th Place: Mothers (Manufacturer), 2.482 seconds
5th Place: Bob Cook Sales (Manufacturers' Reps), 2.484 seconds