News
Aeromotive Creates Vice President Position for Jeff Stacy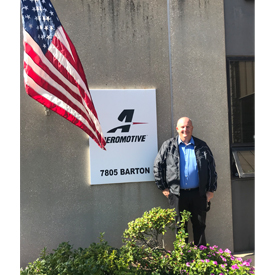 Aeromotive has created a new management position with the addition of Jeff Stacy as the company's new vice president.
Hired this month, Stacy previously worked at Aeromotive in 2004 as sales manager before being promoted to vice president of operations. His career in the automotive aftermarket spans over 25 years.
"We are pleased to be welcoming Jeff Stacy back to the Aeromotive team," said Steve Matusek, company president. "His extensive industry knowledge, years of experience and his innate understanding of Aeromotive's business culture will serve him well as he takes on this new leadership position. During the past eight years, Jeff has grown professionally and gained tremendous industry knowledge in everything from sales and marketing to strategic growth planning and management."
Stacy will report directly to Matusek and is working from the company's headquarters in Lenexa, Kansas.
After college, Stacy's first position with the automotive aftermarket was with Automotive Performance Wholesalers (APW) located in Kansas City. With APW's purchase by Keystone Automotive, Stacy was relocated to Pennsylvania and promoted to senior buyer.
After an 11-year career with APW/Keystone, Stacy joined Aeromotive Inc. as the company's sales manager before becoming vice president of operations.
After six years with Aeromotive, Stacy joined Fragola Performance Systems/FK Rod Ends as president of sales and marketing for seven years. He then briefly worked as sales director for R&R Marketing Consultants Inc. where he was tasked with the company's eastern expansion and in managing relationships with key clients.
"I look forward to working collaboratively with the Aeromotive team, for which I have the greatest respect, to take Aeromotive to the next level of product development and sales," Stacy said. "It's an honor to once again be part of the Aeromotive family. I look forward to hitting the ground running and making a positive impact for this team."
For more information visit aeromotiveinc.com, call 913-647-7300, or email at info@aeromotiveinc.com.