News
Aeromotive Celebrates 23rd Anniversary with Open House, HROT Event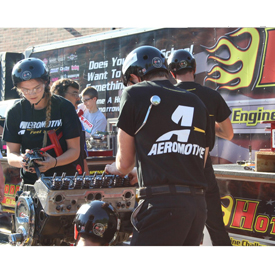 Aeromotive celebrated the company's 23rd anniversary last Saturday with an open house, car show, cruise-in and the Hot Rodders of Tomorrow (HROT) qualifier. The event was attended by a number of state and city dignitaries, local automotive enthusiasts, area businesses, car clubs and media at the company's headquarters in Lenexa, Kansas.
"In 23 years we've reached a lot of milestones, including most recently our announced partnership with Waterman Racing that brought our number of employees to 23 and added two additional locations: Charlotte, North Carolina and Indianapolis," said Steve Matusek, president and founder of Aeromotive. "Every year we continue to grow, become more efficient, and build on our passion for developing solutions for fuel delivery for racing and high performance. This does not happen in a vacuum. We are successful because we have the highest standards and a staff of people that love what they do."
The open house launched the first-ever Aeromotive-sponsored HROT qualifying event, featuring 12 teams from Colorado, Oklahoma and Texas. Seven teams qualified for the National Dual Championship at the event. The top performing HROT teams were:
Tulsa Tech Center from Broken Arrow, Oklahoma (time: 19:28)
Eastern Oklahoma County Tech Center from Choctow, Oklahoma (time: 19:51)
Tulsa Tech Center from Tulsa, Oklahoma (time: 25:22)
Pontotoc Tech Center from Ada, Oklahoma (time: 29:28)
Hereford High School from Hereford, Texas (time: 30:17)
Hereford High School (time: 30:40)
Tulsa Tech Center Broken Arrow, Oklahoma (time: 32:20)
Other highlights of the open house included company tours of Aeromotive's two facilities, a free lunch of grilled burgers and hot dogs with all the sides, multiple booths manned by WELD Wheels, Army recruiting office, Heartland Park and more. President and general manager of Heartland Park, Scott Gardner, shared news about the many improvements that have been made at the park and plans for this weekend's Menards Nationals presented by Minties Pet Treats, as well as the track's addition of Pro-Mod's, Nitro Harley's and Jet Dragsters and concert.
"We have been busy all spring with multiple improvements including a new road track, lots of new paving, landscaping and lighting and now have added top name entertainment with the addition of country music artist, Jerrod Niemann," Gardner said.
A live Facebook feed of the event was provided, courtesy of Wes Buck, editor-in-chief of Drag Illustrated Magazine.