News
AEM InfinityTuner Update Available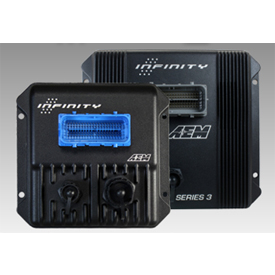 AEM InfinityTuner Update Available for Infinity Series 3 and Series 5 Programmable ECUs!
AEM has released a new update for InfinityTuner that adds features and improves functionality of the base firmware for Infinity Series 3 and Series 5 ECUs, according to the company.
This update is imminent for the Series 7 Infinity ECUs, and AEM will announce it for the Series 7 as soon as it is available. The current upgrade delivers several new and enhanced features for v96.3 and later InfinityTuner software, including two new additional tables for adjusting boost target, improvements to USB log writing to storage devices, a new function for allowing changes to Lambda target, Boost target and ignition timing during sustained high load operation, additional Lambda feedback conditions and many more improvements that speed up and ease the tuning process.
Infinity Tuner Enhancements
Newly Supported Vehicle Applications/Devices:
2017 Polaris RZR XP Turbo
MEFI-4 Conversion to Infinity Series 3-includes HEI distributor support with AEM Plug & Play Adapter Harness
Flexibility:
Improvements to USB log writing to flash storage devices
Increased boost target functionality-two additional boost target tables added
New Idle Learning Function
New 'Throttle High Timer' function-allows changes to Lambda Target, Boost Target and Ignition Timing during sustained high load
Simplified Lambda/Wideband Input & Naming Setup-allows Lambda inputs to be assigned to use Internal Wideband, external 0-5v sensor input or CAN data received from AEM X-Series wideband products for logging and feedback.
Throttle as input for additional tables for Alpha-N use-tables include CrankVE_Table, FI_TIming, IgnTrimAirTemp, IgnTrimCoolantTemp
New 'Oil Pressure Protection Minimum Engine Running Time' option
Prevents false Low Oil Pressure Protection activation on start-up
Additional Lambda Feedback Conditions
MIL and Engine Protect warning functions can latch and remain on when triggered
Click to download the Infinity Stand-Alone Programmable Engine Management System full manual; or click HERE to download the update software.