News
3M to Hosts 1080 Live Wrap Competition at SEMA Show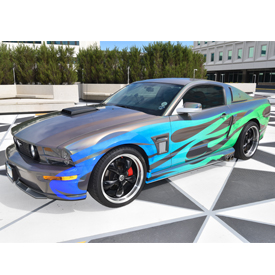 3M is inviting SEMA Show attendees to unleash their creativity in a live wrap competition on the trade show floor. The show is set for Oct. 31 to Nov. 3 at the Las Vegas Conventions Center in Las Vegas.
Those interested in participating the 3M wrap event can register as teams of two to four participants. They will compete using their design skills with a combination of 3M Wrap Film Series 1080 and the 3M Design Line Knifeless Tape. Registration for the contest is now open, with space for a total of 12 teams (up to 48 installers) to join.
The 3M 1080 Live Wrap Competition kicks off at the 3M booth (No. 12145, North Hall) on Tuesday, Oct. 31, and runs through Nov. 2. On Nov. 2, show attendees can vote live in the 3M booth for their favorite wrap, and the winning team will be announced at 4 p.m. PST.
"With so much talent under one roof at SEMA 2017, we wanted to create an atmosphere where creative energy from both contest participants and attendees will produce very exciting designs," said Janelle Pizzi, product marketer, for 3M Commercial Solutions Division. "The 3M 1080 Live Wrap Competition is a great opportunity for installers to show off their unique talents while using Wrap Film Series 1080 and Knifeless Design Line Tape."
Team contestants will have a chance to win a slice of more than $32,000 in prize money and merchandise, including Wrap Film Series 1080. Additionally, the winning team will gain bragging rights by having a photo of their team's design incorporated into the Knifeless Design Line Tape packaging, according to 3M.
For more information on how to register for the 1080 Live Wrap Competition and a complete list of contest rules, please visit www.3M.com/wrapcontest.