News
303 Products Endorsed for Convertible Top Care
Gold Eagle Co.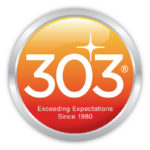 has announced that 303 Products has received an exclusive endorsement from GAHH Automotive Group as its brand of choice in convertible top care.
For more than 70 years, GAHH Automotive and its industry-leading roster of brands-including Robbins Auto Top, EZ-On Auto Tops and Sierra Auto Tops-have pioneered soft top convertible manufacturing, installation and customization.
"We are so honored to receive this exclusive endorsement from GAHH Automotive as they share our passion and dedication to creating high-quality products that aim to exceed customer expectations and satisfaction," said Marc Blackman, CEO of Gold Eagle Co. "Our scientists work tirelessly to bring the best products to market, and this endorsement is another testament to their hard work."
All new convertible tops produced by GAHH, Robbins and E-Z On will come with a care brochure that includes instructions for proper care using the 303 Vinyl Convertible Top & Tonneau Cover Care Kit and 303 Fabric Convertible Top Care Kit, according to the company.