See Progress of Legoland's Life-Sized 1964-½ Mustang Build, Set for Debut Next Week
August 25, 2016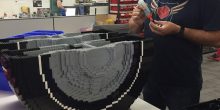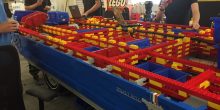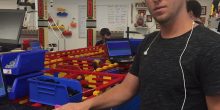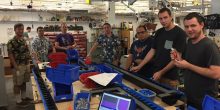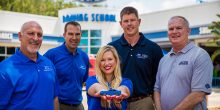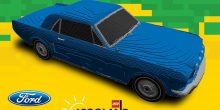 *See images of the Lego Mustang build in progress by clicking the photo gallery below
LEGOLAND Florida Resort is building a Ford Mustang, but the project is a bit different than what readers of THE SHOP are accustomed to. During Labor Day Weekend, the resort will unveil a 1:1 replica of Ford's iconic 1964-½ Mustang coupe during Mustang Club of America's 40th anniversary celebration.
Built brick-by-brick at The LEGO Group's U.S. headquarters in Enfield, Connecticut, the life-size model will make its public debut at Indianapolis Motor Speedway on Thursday, Sept. 1.
"We're delighted to show off our version of an American classic during MCA's 40th anniversary celebration," said Chloé Boehm, public relations executive at LEGOLAND Florida Resort. "We can't think of a more perfect place to reintroduce the car that redefined cool in a fun, creative way."
The Lego Mustang, nicknamed Brick Pony, re-creates the first Ford Mustang, which debuted at the New York World's Fair on April 17, 1964
The lego build is led by LEGO Master Model Builders Pete, Dave, Colin, Greg, Nate, Sam and TJ.
According to Dale, the build's senior project manager, while creating a LEGO car may not resemble the way they're built in Detroit, the process is remarkably similar to assembling a typical LEGO set.
"We are building it like you would at home – one brick and one layer at a time, starting from the bottom," he said.
It will take 165 lego brick layers to create the Mustang. When complete, the finished model will measure more than 15 feet long, nearly 6 feet wide and more than 4 feet tall.
How many LEGO bricks will it take to build this American classic? Lego isn't saying.
Towed in a see-through trailer decorated with colorful LEGO graphics, the model Mustang will participate in MCA's Mustang Parade at Indianapolis Motor Speedway on Friday, Sept. 2. This event will also feature Mustangs and MCA clubs from around the globe in an attempt to break the record for the world's longest Ford Mustang parade.
After its initial appearance in Indianapolis, the LEGO Mustang will make several stops around the country before arriving at the popular, kid-sized Ford Driving School attraction at LEGOLAND Florida Resort, where it will remain on permanent display.
Mustang Club of America has grown to more than 12,000 national members and nearly 200 regional clubs with more than 40,000 local members.