RIDES: Lotus Exige Sport 380
November 23, 2016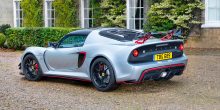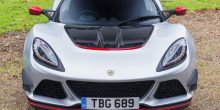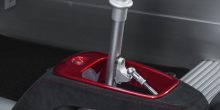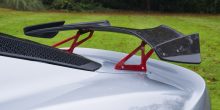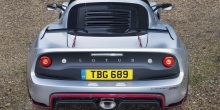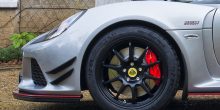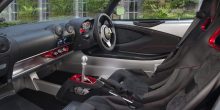 *See additional images in the photo gallery above
The ferociously fast Lotus Exige Sport 380 is the most aggressive iteration yet for the Exige model lineup, according to Lotus.
Taking the fight straight to six-figure supercars, this new, top-of-the-range model carries over the lessons learnt in the development of the acclaimed Exige Sport 350, launched last year, but with significant revisions lowering weight, boosting power and enhancing aerodynamics. Rather than relying excessively on electronics, or allow sterile interfaces to dull the experience, the extreme Exige Sport 380 offers a pure, undiluted drive that has to be experienced to be fully appreciated, according to Lotus.
With a dry weight of 2,350 pounds with lightweight options, and boasting a potent power-to-weight ratio of 352 horsepower per ton, the new, pure-bred Lotus has been conceived to outperform and out-maneuver supercars. The new Exige accomplishes zero to 60 mph in 3.5 seconds before reaching a top speed of 178 mph.
From the intricately engineered exposed-gear-change linkage, to the swathes of carbon-fiber components and Michelin Pilot Sport Cup 2 tires as standard, every inch of the Exige has been carefully cultivated, according to Lotus.
Less Weight
While employing some of the high-performance components premiered on the Exige Sport 350, Lotus returned to the Lightweight Laboratory in order to cut kilos from the curb weight.
Infused with carbon fibre from front to back, the Exige Sport 380 features hand-made, high-gloss visible weave components as standard to deliver a weight saving when compared to the Exige Sport 350. This includes the front splitter, revised front access panel, new rear wing and rear diffuser surround, which together save 5.7 pounds. A lightweight, transparent polycarbonate rear window saves 2 pounds over the glass equivalent in the Exige Sport 350.
In addition, the carbon race seats (saving 13 pounds), lithium- ion battery (saving 23 pounds), ultra-lightweight forged wheels and grooved two-piece brake discs (saving 22 pounds) combine to cut 58 pounds.
A new design of rear transom panel now has two rear light clusters, rather than the four on the Exige Sport 350, with reversing and fog lights now mounted inboard, cutting weight by a further 0.7 pounds.
Powerplay
The company's powertrain division has left its mark on the car, with the uprated 3.5-liter supercharged V6 engine generating 375 horsepower at 6,700 rpm and 302 lb-ft of torque at 5,000 rpm. Refined from extensive testing and development, it's a design that's proved its mettle by powering some of Lotus' latest supercars, including the track-focused 3-Eleven and the recently revealed Evora Sport 410, according to Lotus.
The power boost comes from a revised supercharger pulley, which increases charge pressure, an uprated fuel pump, a recalibrated ECU and the introduction of a revised exhaust system – as used in the Evora 400 and Evora Sport 410. Allowing owners to enjoy the new Exige for longer between fuel stops, it also comes with an enlarged, 48-liter petrol tank, according to Lotus.
Providing faster, cleaner changes, the Exige Sport 380's six-speed manual gearbox uses Lotus' acclaimed open-gate design. Eliminating lateral movement, by precisely aligning components, it features light-weight machined and cast aluminum parts. Aesthetically appealing, the open transmission mechanism also helps contribute to the car's reduced weight. The manual gearbox has been further enhanced through the introduction of a new oil cooler, ensuring the gears operate at the optimal temperature no matter how hard they are performing.
The Lotus Exige Sport 380 is also available with an optional six-speed automatic gearbox, where drivers can select gears sequentially via the forged aluminum paddles located behind the steering wheel, or rely on the gearbox's fully automatic mode. The automatic gearbox option will be available from Spring 2017.
The Lotus Exige Sport 380 features Lotus' Dynamic Performance Management (DPM), which provides enhanced 'Sport' and 'Race' settings. Proportionally increasing throttle response, lowering traction slip thresholds and removing understeer recognition, it provides the driver with a finer level of control before the system intervenes. DPM also utilizes an engine exhaust bypass valve at mid-to-high engine speeds, further reducing back pressure to boost throttle response and engine performance in both 'Sport' and 'Race' settings.