Racing Legend Dan Gurney Receives Lifetime Achievement Award
October 24, 2016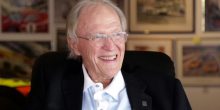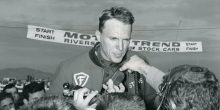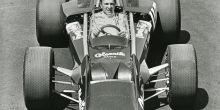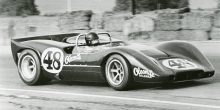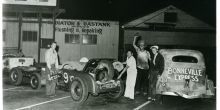 The Petersen Automotive Museum recognized American-icon Dan Gurney with its highest honor for his contributions to motor racing, sports, manufacturing and aerospace. The 2016 Robert E. Petersen Lifetime Achievement Award was presented by Barry Meguiar to Gurney via video at the museum's 22nd Annual Gala on Saturday, Oct. 22.
Recognized as one of the greatest American race car drivers of all time, Gurney drove in a variety of different series. Be became the first driver to win races in Formula One, Indy Car, NASCAR, Can-Am and Trans-Am. He also helped popularize safety innovations like the full-face helmet before it was required equipment. His experiences as a race car driver led to the creation of All American Racers, whereas constructor and team owner, Gurney fielded some of most innovative and successful Formula One and Indy Car racers of all time.
In his 70s, when most men would retire, Gurney's creativity and innovation continued to bloom. He designed an entirely new type of motorcycle: the Alligator, which improved both safety and performance. He manufactured the exotic Delta Wing race car and built the legs for Space-X's game-changing Falcon9 rocket.
For these accomplishments and his good-natured ambassadorship for motorsports, Gurney was destined for the Robert E. Petersen Lifetime Achievement Award, according to the Petersen Automotive Museum.
"I feel lucky to have been able to enjoy such a long and fruitful career," Gurney said upon being presented the award. "I've been privileged to take part in some of racing's greatest moments and I am humbled to receive this award from the Petersen Museum. I knew Bob Petersen and the spirit that he possessed and the work he did made a real difference in the automotive world. Thank you to the museum for this honor, and thank you to my wife, Evi, and my family for their support all these years."
The All-American Racing team was famous for its Gurney Eagle F1 racers with Weslake-designed V-12 engines. Not content to stay in Formula 1, Gurney and his Eagles went on to successfully build and race Indy Cars, and eventually found great success in Prototype racing.
To this day, Gurney remains the only American to have won a Formula 1 race in a car of his own construction. Additionally, Gurney had a highly successful career in sports car racing, which included winning the 1967 24 Hours of Le Mans in a Ford GT40 MkIV with co-driver AJ Foyt-the first all-American team to win the famed endurance race in an American car. Gurney celebrated the win by spraying the crowd with champagne, the first driver to do so and starting the legendary tradition that still exists today on every podium in motor racing.
Adding to Gurney's already decorated legacy was winning the first Cannonball Run cross-country race in 1971, together with co-driver Krik F. White, manning a Ferrari Daytona coupe. The race spanned from New York City to the Portofino Inn on the Pacific Ocean in California. At 35 hours and 54 minutes, Gurney and White "were only 53 minutes faster than the second-place finisher, a Chevrolet Sportsvan entered by Briggs Chevrolet-Ferrari, South Ambory, New Jersey for the three co-founders of the Polish Racing Drivers of American, Tony Adamowicz, Oscar Koveleski and Brad Niemcek," according to an article written after the race by Brad Niemcek of Competition Press & Autoweek.
Gurney was born in Port Jefferson, New York in 1931 and moved with his family to Riverside, California when he was teenager. It was in Riverside where his interest in racing truly hatched, eventually leading him to a drive with Frank Arciero's Maserati-engined Special a car with notoriously wicked handling. He managed to drive that car to a second place finish behind none other than Carroll Shelby at Riverside International Raceway, and from there his career took off. Gurney first drove for Luigi Chinetti, the North American Ferrari importer and then for Scuderia Ferrari in F1. He went on to drive for BRM, Cooper, Porsche and Brabham before becoming a constructor himself.
"I was at Dan Gurney's first race at Torrey Pines in 1955, and I've been a fan ever since," said Terry L. Karges, executive director of the Petersen Automotive Museum. "Given all he has done as a driver and a builder, I have always called Dan il Commendatore. He is more than a race car driver, team owner or inventor, he's a true American icon and a hero to many. Nobody has done as much, as successfully, as Dan throughout his career and he embodies the spirit of the Robert E. Petersen Lifetime Achievement Award."
Previous winners of the Petersen Award include Art Chrisman, Carroll Shelby, George Barris, Andy Granatelli, The Ford Family, Vic Edelbrock, Jack Roush, Ed "Isky" Iskenderian, "Speedy" Bill Smith, Alex Xydias, Wally Parks and Ed Pink.
-Be sure to catch the article featuring Dan Gurney in an upcoming issue of THE SHOP Magazine–