GMC Redesigns Diesel Power Plant for 2017 Sierra HD
September 30, 2016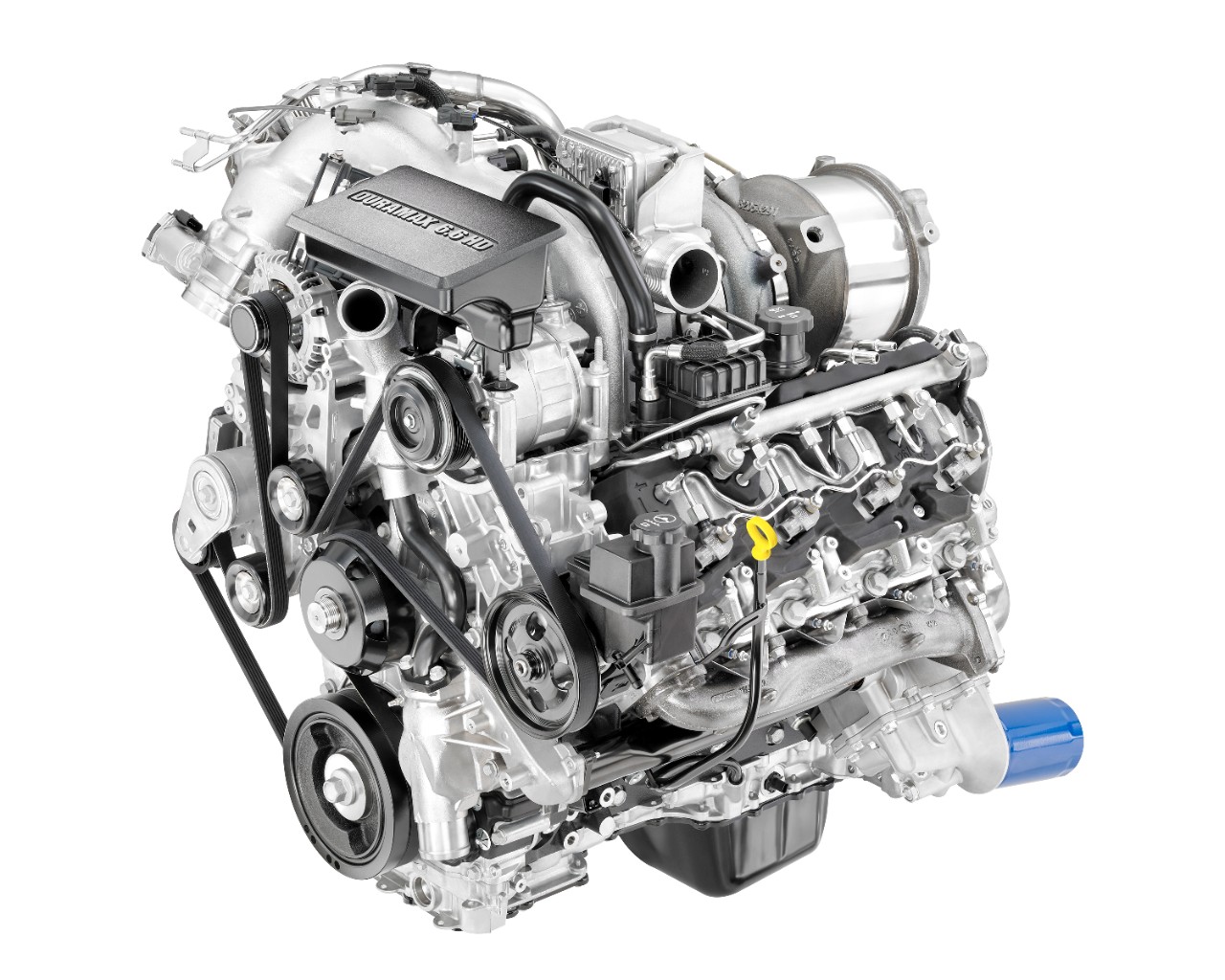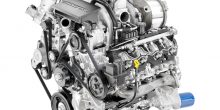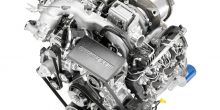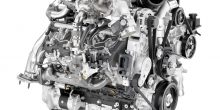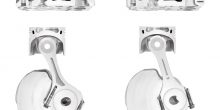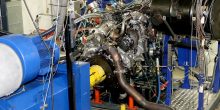 *See additional images by clicking the photo gallery below
GMC is showcasing its redesigned Duramax 6.6-liter V8 turbo diesel offered on the 2017 Sierra HD. This next-generation redesign offers more horsepower and torque than ever: an SAE-certified 445 horsepower and net 910 lb-ft of torque.
Along with a 19-percent increase in max torque over the current Duramax 6.6-liter, the redesigned turbo-diesel's performance is quieter and smoother, for greater refinement. In fact, engine noise at idle is reduced 38 percent, according to GMC.
"With nearly 2-million sold over the past 15 years, customers have forged a bond with the Duramax diesel based on trust and capability," said Dan Nicholson, vice president of global propulsion systems for GMC. "The new Duramax takes those traits to higher levels."
The new Duramax 6.6L shares essentially only the bore and stroke dimensions of the current engine and incorporates a new, GM-developed control system. The Duramax's signature low-rpm torque production hasn't changed and still offers 90 percent of peak torque at a low 1,550 rpm and sustains it through 2,850 rpm.
Additional highlights, according to GMC, include:
New, stronger cylinder block and cylinder heads
New, stronger rotating and reciprocating assembly
Increased oil- and coolant-flow capacity
New EGR system with single cooler and integrated bypass
New electrically actuated/electronically controlled turbocharging system
New advanced solenoid fuel system
New electronic controls
New full-length damped steel oil pan that contributes to quietness
New rocker cover/fuel system acoustical treatments
B20 bio-diesel compatibility
SAE-certified 445 net horsepower at 2,800 rpm
SAE-certified 910 net lb.-ft. of torque at 1,600 rpm
A new, patent-pending vehicle air intake system-distinguished on the Sierra HD by a bold hood scoop-drives cool, dry air into the engine for sustained performance and cooler engine temperatures during difficult conditions such as trailering on steep grades. Cooler air helps the engine run better under load, especially in conditions where engine and transmission temperatures can rise quickly. That allows the Duramax to maintain more power and vehicle speed when trailering in the toughest conditions.
Strong Foundation
As with previous versions, the new Duramax block features a strong cast-iron foundation known for its durability, with induction-hardened cylinder walls and five nodular iron main bearings, according to GMC. It retains the same 4.05-inch and 3.89-inch bore and stroke dimensions as the current engine, retaining the Duramax's familiar 6.6-liter, (403 cu.-in./6,599 cc) displacement.
A deep-skirt design and four-bolt, cross-bolted main caps help ensure the block's strength and enable more accurate location of the rotating assembly. A die-cast aluminum lower crankcase also strengthens the engine block and serves as the lower engine cover, while reducing its overall weight.
The new engine block incorporates larger-diameter crankshaft connecting rod journals than the current engine, enabling the placement of a stronger crankshaft and increased bearing area to handle higher cylinder loads.
An enhanced oiling circuit, with higher flow capacity and a dedicated feed for the turbocharger, provides increased pressure at the turbo and faster oil delivery. Larger piston-cooling oil jets at the bottom of the cylinder bores spray up to twice the amount of engine oil into oil galleries under the crown of the pistons, contributing to lower engine temperature and greater durability, according to GMC.
A new, two-piece oil pan contributes to the new Duramax's quieter operation. It consists of a laminated steel oil pan with an upper aluminum section. The aluminum section provides strength-enhancing rigidity for the engine, but a pan made entirely of aluminum would radiate more noise, so the laminated steel lower section is added to dampen noise and vibration.
There's also an integrated oil cooler with 50-percent greater capacity than the current engine's, ensuring more consistent temperatures at higher engine loads, according to GMC.
Segment Firsts
GMC said it claims several segment first with the remade engine, including:
Re-melt piston bowl rim
Venturi Jet Drain Oil Separator
Closed loop glow plug temperature control
Stronger pistons with remelt
A tough, forged micro-alloy steel crankshaft anchors the new Duramax's stronger rotating assembly. Cut-then-rolled journal fillets contribute to its durability by strengthening the junction where the journals-the round sections on which the bearings slide-meet the webs that separate the main and rod journals.
The connecting rods are stronger, too, and incorporate a new 45-degree split-angle design to allow the larger-diameter rod bearings to pass through the cylinder bores during engine assembly. They're forged and sintered with a durable powdered metal alloy, with a fractured-cap design enabling more precise cap-to-rod fitment.
A new, stronger cast aluminum piston design tops off the rotating assembly. It features a taller crown area and a remelted combustion bowl rim for greater strength. Remelting is an additional manufacturing process for aluminum pistons in which the bowl rim area is reheated after casting and pre-machining, creating a much finer and more consistent metal grain structure that greatly enhances thermal fatigue properties, according to GMC.
Additionally, the Duramax's pistons don't use pin bushings, reducing reciprocating weight to help the engine rev quicker and respond faster to throttle changes
Lightweight Cylinder Heads
The redesigned engine retains the Duramax's signature aluminum cylinder head design, with six head bolts per cylinder and four valves per cylinder. The aluminum construction helps reduce the engine's overall weight, while the six-bolt design provides exceptional head-clamping strength, a must in a high-compression, turbocharged application, according to GMC.
A new aluminum head casting uses a new double-layer water core design that separates and arranges water cores in layers to create a stiffer head structure with more precise coolant flow control. The heads' airflow passages are also heavily revised to enhance airflow, contributing to the engine's increased horsepower and torque.
The Duramax employs a common-rail direct injection fuel system with new high-capability solenoid-type injectors. High fuel pressure of 29,000 psi promotes excellent fuel atomization for a cleaner burn that promotes reduced particulate emissions, according to GMC. The new injectors also support up to seven fuel delivery events per combustion event, contributing to lower noise, greater efficiency, and lower emissions. Technology advancements enable less-complex solenoid injectors to deliver comparable performance to piezo-type injectors.
Electronically Controlled, Variable-Vane Turbocharger
A new electronically controlled, variable-vane turbocharger advances the Duramax's legacy of variable-geometry boosting. Compared to the current engine, the system produces higher maximum boost pressure, 28 psi, to help the engine make more power, and revisions to enhance the capability of the exhaust-brake system.
Along with a new camshaft profile and improved cylinder head design, the Duramax's new variable-vane turbocharger enables the engine to deliver more power with lower exhaust emissions. It uses a more advanced variable vane mechanism, allowing a 104-degree F (40 C) increase in exhaust temperature capability. The self-contained mechanism decouples movement from the turbine housing, allowing operation at higher temperature. That enables the engine to achieve higher power at lower cylinder pressure. Additionally, it has lower internal leakage, allowing more exhaust energy to be captured during exhaust braking.
The integrated exhaust brake system makes trailering less stressful by creating additional backpressure in the exhaust, resulting in negative torque during deceleration and downhill driving, enhancing driver control and prolonging brake pad life, according to GMC.
Venturi Jet Drain Oil Separator
A new V employed with the Duramax 6.6-liter is the first of its type in the segment and is designed to ensure oil control in sustained full-load operation, according to GMC. The totally sealed system collects the fine mist of oil entrained in the blow-by gas and uses a small portion of the boosted air generated by the turbocharger to pump the collected oil back to the engine oil sump for re-use by the engine. Less-sophisticated systems are not able to return this oil during full-load operation, which can result in oil carryover into the cylinders during combustion.
Cold Start System
The new Duramax also provides outstanding cold-weather performance, with microprocessor-controlled glow plugs capable of gas-engine-like starting performance in fewer than 3 seconds in temperatures as low as -20 degrees F, without a block heater, according to GMC.
The system is enhanced with ceramic glow plugs and automatic temperature compensation-a first-in-class feature providing improved robustness and capability, according to GMC. The automatic temperature compensation assesses and adjusts the current to each glow plug for every use, providing optimal temperature for cold start performance and durability.
Electronic Throttle Valve and Cooled EGR
Unlike a gasoline engine, a diesel engine doesn't necessarily require a throttle control system. The Duramax 6.6-liter employs an electronic throttle valve to regulate intake manifold pressure in order to increase exhaust gas recirculation (EGR) rates. It also contributes to smoother engine shutdown, according to GMC.
Additionally, a cooled exhaust gas recirculation (EGR) system enhances performance and helps reduce emissions by diverting some of the engine-out exhaust gas and mixing it back into the fresh intake air stream, which is fed through the cylinder head for combustion. This lowers combustion temperatures, improving emissions performance by reducing NOx formation, according to GMC.
The exhaust is cooled in a unique heat exchanger before it's fed into the intake stream through a patented EGR mixing device, further improving emissions and performance capability. An integrated bypass allows non-cooled exhaust gas to be fed back into the system to help the engine more quickly achieve optimal operating temperature when cold.
Allison 1000 Automatic Transmission
The Allison 1000 six-speed automatic transmission is matched with the new Duramax 6.6-liter. A number of refinements have been made to accommodate the engine's higher torque capacity, including a new torque converter, according to GMC.
The Allison 1000's technologically advanced control features, such as driver shift control with manual shift feature and a patented elevated idle mode cab warm-up feature, haven't changed. Also, the Tow/Haul mode reduces shift cycling for better control and improved cooling when towing or hauling heavy loads, according to GMC. There's also a smart diesel exhaust brake feature that enhances control when descending steep grades.
B20 Biodiesel Capability
The new Duramax 6.6L is capable of running on B20 biodiesel, a fuel composed of 20 percent biodiesel and 80 percent conventional diesel. B20 helps lower carbon dioxide emissions and lessens dependence on petroleum, according to GMC.
Manufacturing
The new Duramax 6.6-liter turbo-diesel engine is produced with locally and globally sourced parts at the DMAX (GM's joint venture with Isuzu) manufacturing facility in Moraine, Ohio.