All The Facts: PPG Syracuse Nationals Opens This Weekend
July 11, 2016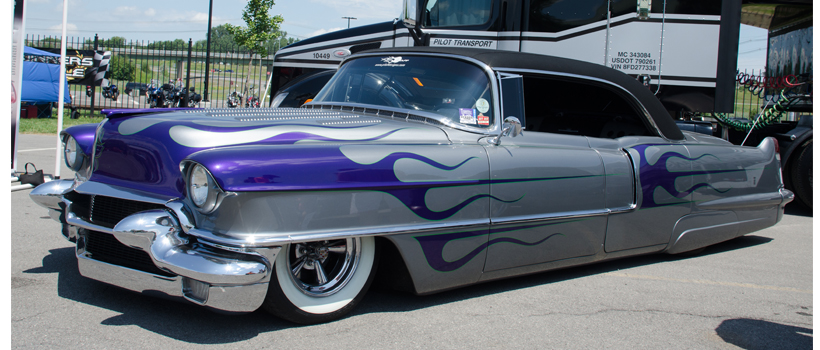 [the_ad id="45330"]
[the_ad id="45332"]
[the_ad id="45330"]
[the_ad id="45332"]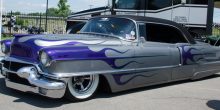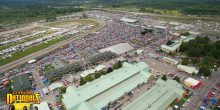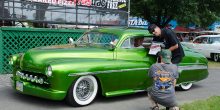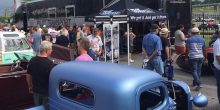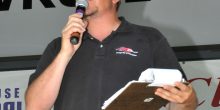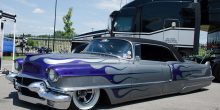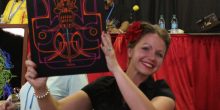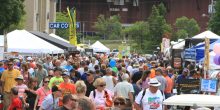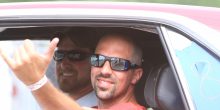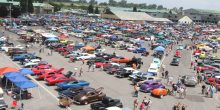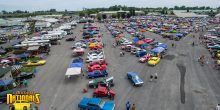 *Click through the photo gallery above from the 2015 PPG Syracuse Nationals
The 17th annual PPG Syracuse Nationals , kicks off Friday, July 15, and runs through Sunday, July 17, at the newly renovated New York State Fairgrounds. The three-day automotive extravaganza has become a tradition for thousands of classic car and truck owners and their families from all over the country and Canada. The event is open to hot rods, muscle cars, classics and customs manufactured in 1980 and before.
In 2015, the PPG Syracuse Nationals drew nearly 90,000 people and more than 8,000 classic cars, from 34 states and six Canadian provinces, to the fairgrounds. The event raised more than $92,000 for charity. Since 2000, PPG Syracuse Nationals has donated more than $918,000 to charitable organizations. This year, the organization hopes to reach $1 million in total donations.
The renovated fairgrounds at the Syracuse Nationals event will offer attendees, car owners and vendors more open space to walk, park cars and display products. There will also be a wider selection of food and beverage options for attendees because vendors will have access to more power hookups, and there will be food trucks.
The Syracuse Nationals, which started as an idea in the summer of 1999, has grown each year since its record-setting debut in July 2000, when more than 4,300 vehicles filled the facility with bright-colored hot rods and sounds of roaring engines. The Nationals is now one of the largest automobile shows in the country, featuring street rods, rat rods, custom, classic, muscle and antique cars.
"We're proud to be able to bring back for the 17th year what has come to be the largest hot rod show in the Northeast," said Bob O'Connor, Syracuse Nationals founder and director. "Thanks to the dedication of people who travel across the country, and world, we are able to put on this great show. We're grateful to continue to have support from the community, as well as Governor Andrew Cuomo, County Executive Joanie Mahoney, Commissioner of the NYS Department of Agriculture and Markets Richard Ball and Acting Director of the NYS Fair Troy Waffner and to be able to give back each year."
PPG Syracuse Nationals Events:
10th Anniversary "Artie's Party"
Inside the Horticulture Building, pinstripe and airbrush artists at the pinstripers' panel jam, known as Artie's Party, work almost around the clock to hand-paint original automotive artwork on items of all kinds, from vehicle panels to skateboards to mailboxes. The one-of-a-kind items are then auctioned throughout the weekend, with this year's proceeds benefiting Ronald McDonald House Charities of Central New York. Last year, Artie's Party raised more than $73,000 for the charity.
Doc's Rod Shop presents "Gasoline Alley" Nostalgic Race Car Exhibit
The Horticulture Building will become Gasoline Alley again this year, displaying more than 40 vintage race cars. In addition, the Frantic Ford Mustang funny car will be parked in front of the building and started three times daily, 15 minutes prior to the beginning of each Artie's Party auction.
"Backyard Build-Off at Ol' Skool Roundup" sponsored by Kammer Towing
The fourth annual Backyard Build-Off will take place again in the Ol' Skool Rodz Building, near Gate 10. The event will feature a car build-off involving five builders each with a $5,000 budget. The purpose of the Ol' Skool Roundup Backyard Build-Off is to bring back the tradition of hot rod and custom building as it was in the early days. Builders used the cars and components available from junk yards, yard sales and handmade parts.
The contestants include Cory Chappell, of Canandaigua, New York; Kevin Kimmerly, of Rochester, New York; Arthur Pfund; Bill Smeal and Corey Kolz. The builders will unveil their never-before-seen creations at 10 a.m. on July 15, in the Ol' Skool Rodz Building. Spectators and car owners will decide the winner by popular vote. The winner will be announced July 16.
Also in the Ol' Skool Rodz Building, there will be valve cover racing sponsored by Ken's Auto Detailing as well as a pin-up girl contest taking place on Saturday afternoon. Contestants can register at the Ol' Skool Roundup office all day Friday and Saturday morning
Designers Dozen Pro Awards presented by Pilot Transport
Hot Rod designer Murray Pfaff and a panel of pro judges scour the fairgrounds on July 15 and 16, nominating vehicles that represent the wide range of vehicles at the show. The nominees are displayed in the awards circle on Saturday with 16 of these vehicles going on to receive a one-of-a-kind award at the closing ceremonies on Sunday. "Ultimately the award recognizes the creativity, ingenuity, thought, craftsmanship, and preservation of these awesome machines," said Pfaff of Pfaff Designs.
"American Muscle Sunday" returns Sunday, July 17. Owners with specialty American-made performance vehicles newer than 1981 will be allowed to display their specialty cars or trucks at the Fairgrounds on Sunday, July 17. Owners can register on-site at Gate 7.
"Million Dollar Garage" – Winfield Award presented by Meguiar's
One car owner at the 2016 PPG Syracuse Nationals will be selected to receive the 7th Annual Winfield Award presented by Meguiar's Car Care Products. The prestigious award for automotive excellence will be presented by master car customizer and builder Gene Winfield. The winner will receive a custom trophy, a jacket and $10,000. The five runners-up will each receive a custom trophy, a jacket and $1,000. The Select Six vehicles will be on display all weekend in the Horticulture Building.
The KBS Swap Meet and Car Corral will be held on the paved area near the back of the Fairgrounds where the Midway used to be located. Registration for both areas is on-site only and will take place on July 13-14 from 8 a.m. to 8 p.m.
For the past 16 years, hundreds of volunteers from the Central New York Car Club Association (CNYCCA) have worked to make the PPG Syracuse Nationals run smoothly and to ensure everyone who attends the show is informed, safe and comfortable. The association also designates many of the charitable organizations and causes that receive donations from the event proceeds.
Additional Highlights
Celebrity appearances by Brett "Big Schwag" Wagner from the hit TV shows Monster Garage on Discovery and Pass Time on SPEED. The cast from Steve's Restorations and Hot Rods on HISTORY Channel's American Restoration, the cast of Shift and Steer, a live podcast that features a variety of automotive programming that focuses not only on the performance automotive industry, but also on the human experience and the passion that drives all enthusiasts; and Candy Clark, who starred as Debbie Dunham in the film American Graffiti. The car from the Stephen King movie Christine will also be on display.
More than 400 automotive-related vendors and manufacturers such as PPG Refinishing, Your Local Ford Store, Meguiar's Car Care Products, OPTIMA batteries,  Mac Tools, Storganize It, SAVES Auto Body, Tucci Hot Rods, RacingJunk.com and hundreds more.
A Women's World, consisting of more than 50 non-automotive-related vendors and exhibitors, will be held in the Art & Home Center. Additionally, Wegmans will be holding cooking demonstrations in the Wegmans Demo Kitchen in the bottom floor of the Art & Home Center. Demonstrations will take place Friday and Saturday at 11 a.m., noon, 1 p.m. and 2 p.m. The Wegmans chefs will feature recipes from hugely popular Wegmans Menu magazine.
Tech Seminars will be held July 15-16 in the Art & Home Center covering everything from selecting the right brakes to getting the best shine on a car.
Syracuse Mini Nationals, a model car contest that is the largest display in the Northeast, will be held in the Center of Progress Building's North Wing. The contest area will be open from 9 a.m. to 6 p.m. daily. All models must be registered by 4:30 p.m. on Saturday. Prizes will be awarded at noon Sunday.
Twelve bands and disc jockeys will perform throughout the weekend on the main court and O'l Skool Roundup Stages.  Bands will play until 9 p.m. on the nights of July 15-16 in the Ol' Skool Roundup building.
For more information on the 2016 PPG Syracuse Nationals and a full schedule of events, or to register a vehicle for the event, call 800-753-3978 or visit www.syracusenationals.com or "Like" Syracuse Nationals on Facebook and follow @syracusenats on Twitter and @syracusenationals on Instagram.