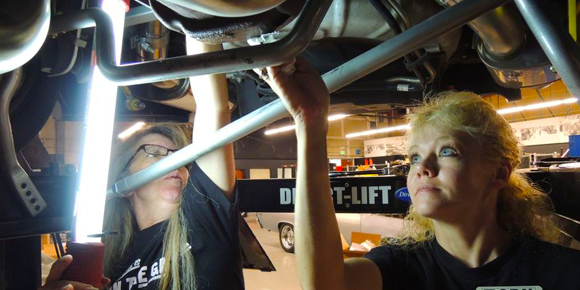 As the Women's Mustang project finished its final work weeks, the muscle car came to the SEMA Show in all its perfected glory, then headed for the auction block.
Editor's Note: This is the fourth and final installment of Restyling's exclusive week-by-week coverage of the SEMA Mustang Build Powered by Women, a project inspired, designed and built by women in the automotive arena, most of whom had never worked with one another before. The four-part series, written by Diana Merrill Claussen, began with September 2012's "These women's place is in the garage," followed by October 2012's "Mustang Sally's wrench it up a notch, November 2012's "Painted pony," and culminating with this article.
Week 7: Brakes and Wheels
Install: ACT clutch and flywheel; Forgeline wheels; Pirelli tires; custom McGard lug nuts; Roush brakes; temperature control for Flex a Lite fan, master cylinder and battery; covers from California Pony Parts.
During weeks four through six, the SEMA Mustang Build Powered by Women team completed body, paint and chroming on the 2013 "High Gear" project car. During week seven, Jennifer LaFever, who is a Quality Assurance Manager at Roush Yates racing and leader of the following weeks' inspection team, arrived at L&G Enterprises to lend paint and body team leader Theresa Contreras and her group a hand.
"When I arrived," she recalls, "the car was in a lot of pieces and I was overwhelmed because it was going to be quality checked the next week.
"While there, we installed windows, traced voltage and connectors for the sound system, installed the headlights and taillights, rear end and Katzkin seats – we were working (non-stop in the shop) from 9 a.m. until 8 p.m. for three days. Although there was a lot to do, it was a really cool learning experience, and I now feel like I can do new things on a vehicle. Theresa Contreras of L&G was so patient and taught us to do different projects, like putting the body kit on."
An auto education that began at home
LaFever is 29 years old and as a child was introduced to auto mechanics through her dad, a dirt track racer. "During that time I basically worked on my cars and my dad's friends' cars." In her professional background LaFever has an engineering degree, and before moving to Roush Yates worked at a semiconductor company. She later, "wanted to learn more about cars, so I went to tech school for a year and a half to learn to be an auto tech.
I understood the theory and then got the practical experience," she says.
LaFever now works In Roush Yates' Racing Cup engine shop, "Where we build all of the NASCAR engines and work with Ford Racing," she says. "At my shop we check the incoming parts and make sure they are correctly made. I see the parts before they ever become an engine." Her job at Roush Yates made her a perfect fit to lead the Powered by Women Mustang's inspection team (week eight).
During her time at L&G (week 7), LaFever helped the women at L&G re-assemble the car and add additional upgrades. "The days went by crazy fast," she notes. "On Monday we pulled the transmission and replaced the clutch and flywheel. We had fun pulling the transmission because when we finally got it out everyone started cheering.
"Tuesday had us re-installing the transmission and working on little projects like changing the radiator temperature sensor. We had a little fine-tuning checklist. Then on Wednesday, women from Pirelli Tires came and put the tires on the car, and Sarah from L&G added the custom wheels – when we got the wheels on everyone stood back and was in awe of how good the completed 2013 Mustang looked.
"Toward the end of week seven the team tested the suspension and made sure everything was working properly. We also ran the car for a while to make sure there weren't any codes that came up from re-installing the transmission."
Working on the vehicle with the L&G team helped LeFever compile a list of what needed to be checked, tested and tuned during the Mustang's upcoming quality-inspection (week eight).    The vehicle's final time at L&G Enterprises included everything from gutting, wiring, disassembling and re-assembling, to body work, major modifications and the addition of clear coating and an original paint color, and re-installing the rose-gold-chromed accent pieces; both color schemes for the paint and chroming (by Creations in Chrome) were created specifically for this special ride.
Keeping track of it all
Also during week seven (and week eight), parts procurement lead Susan Carpenter was busy continuing to obtain and log all of the parts used on the vehicle. Carpenter also kept her list of more than 50 parts and 40 aftermarket parts suppliers very close to her and checked them off after each item was received, installed and later inspected. After the women completed this phase of the project the vehicle was sent back to Source Interlink's Escondido, Calif., garage to receive final testing and inspections.
Around this portion of the build is when the Powered by Women's Mustang designer, Jennifer Seely of Ford Motor Co., traveled to the build location to see her vision in its realistic form.
"My design is coming along just as I envisioned," Seely exclaims. "There were a few minor hiccups along the way, but that is expected – and we sailed through them smoothly. It is very exciting to see my luxury theme come to life on a Mustang. Theresa [Contreras] did a wonderful job on the paint; it looks incredible. I feel so fortunate to have the design in such talented and capable hands."
Seely then created a custom badge/logo for "High-Gear" Mustang that later was placed on the fender to complete her design.
Weeks 7 and 8: Final installations and quality inspection
During the eighth week of the project many of the female team members from previous build segments traveled to Escondido for this final phase of the build.
Once the Mustang had made its way back to Escondido, where the quality inspection team was in place, a special photo shoot of the car and many of the women who were involved in the all-female project was on tap. The shoot was the, "biggest moment of the build," recalls, project crew chief Kellie Colf. "We got the car into the photo studio by itself without other things going on. There was a lot of silence because we all just stood back and stared at it (the car)."
Doctor in the house
LaFever's co-builder and quality inspection team member, Dr. Karen Salvaggio, has an extensive background in mechanics which spans more than 25 years. "I have loved mechanics since I was a kid – if there was something wrong with anything I would be fixing it," Salvaggio says. Later, "I wanted to go to college but couldn't afford to." So Salvaggio took the military's Armed Services Vocational Aptitude Battery (ASVAB) test and went into the Air Force. Exhibiting very strong mechanical skills, Salvaggio became an aircraft mechanic and later a crew chief for B-52 bombers and tanker aircraft. "I spent nine years in the military as a mechanic, so I am professionally trained, understand tools and everything that would make an aircraft fly," she notes.
While a crew chief, Salvaggio had her own plane and became interested in cars through a friend who raced. "My friend later invited me to help work on his car and also asked me if I wanted to drive it during a practice lap." Salvaggio loved the experience so much that she bought her own racecar the following week. "I knew right away that driving and racing was my passion," she says. Salvaggio has owned her own race team, Thunder Valley Racing, for 25 years.
Salvaggio assisted with the build during multiple phases of the project (Powertrain week, week seven), and was also involved in inspection week. "We've pretty much been quality controlling it for the last two weeks [of the project]," Salvaggio says. "We were eyeballing everything and completed an entire suspension change with Whiteline products, and tightened up everything that needed to be tightened up." On a side note, the SEMA Mustang Powered by Women was complete and show-ready two weeks before the October SEMA show in Vegas -" a record for anyone working on a SEMA-worthy project vehicle. "'Miracle' is an excellent word to describe this project," Colf relates. "We got it done multiple weeks in advance before SEMA's show and that really speaks volumes to the level of work everyone involved set out to do and accomplish."
Show time
Salvaggio arrived in Las Vegas for SEMA's show a few days early to set up her own project car (a Factory Five replica, 1965 coupe) and was at the Las Vegas Convention Center when the Powered by Women Mustang arrived.
"When the Mustang came in everyone stopped what they were doing to look at it because it is a very unique car," Salvaggio says.
The morning of the reveal at the press conference, the 2013 Mustang was featured at center stage of Ford's booth island area.
During and for days after the Mustang's reveal the Ford booth seemed to just buzz with excitement of this innovative, monumental and meaningful project.
"We did a soft unveiling of the car, and when it came time to reveal the car (the team had been standing around it blocking it from view) all slowly backed away," Carpenter notes. That's when, "the floor became alive with cameras flashing and a total media frenzy," she exclaims. "What we received just blew our minds and blew our expectations out of the water. The response was like nothing I have ever experienced in my life and that I will ever experience again."
Another memorable moment was the opportunity to spend time with Edsel Ford II. "Here is a living legacy to Ford … and he made all of us girls feel like what was going on with the car was a good thing. I was really truly grateful and impressed with Mr. Ford's genuine nature," Salvaggio adds.
Public relations and task force leader, as well as Powertrain team member Camee Edelbrock recalls, "We received many positive comments about the entire effort, including the huge amount of publicity it brought for women who are truly capable of working on a car and getting the job done. I fully believe that this project opened the door for so many opportunities for all of us because it reached all facets of the industry: men and women car enthusiasts, car manufacturers, aftermarket manufacturers, traditional media, enthusiast media and more."
Going, going, gone
The High-Gear Mustang was finally shown for all to see as it went up for auction on eBay Motors where the proceeds of the sale ($46,775) raised funds for the SEMA Memorial Scholarship fund.
When it came to the end of the SEMA Show the women were hit with the reality that their time with High-Gear had ended; so many sentiments had become part of the build and that was behind the women.
Leaving the car was, "bittersweet, but it will give me some relief to get back to my normal life – there will also be some sadness, too, though because this has been one hell of a ride," Carpenter says.
Yes, it was one hell of a special ride.
---
Week 8 Team Members:
S. Kellie Colf – Colf Creative Resources
Susan Carpenter – JR Products
JoAnn Bortles – Crazy Horse Custom Paint
Karen Salvaggio – Thunder Valley Racing
Jennifer LaFever– RoushYates Racing Machine
Tracie Nunez – ACT (Advanced Clutch Technology)
Dorothy Seaman & Christina Alongi – Pirelli
Rose Kawasaki – Exports International