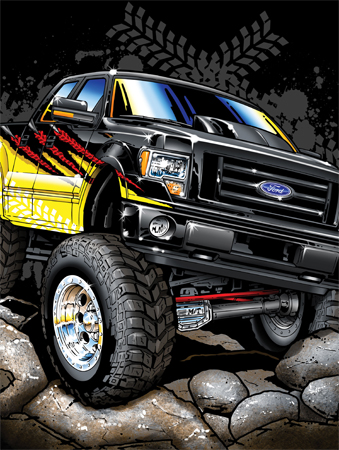 A sponsorship is a promise to promote and stand behind the product or service that you have been given, to provide positive exposure to the company's brand and to do everything in your power to provide them with a return on investment (ROI) that equals or exceeds the value that has been provided to you. The concept is great for the industry -" the coolest cars on the planet, adorned with the latest and greatest aftermarket products and accessories.
So what can we do to help keep manufacturers sponsoring new designers and builders throughout the industry?
Before you even think of turning a wrench, determine the what, how and when of your project vehicle marketing plan. If you've never created a strategic marketing plan, don't just wing it. Getting help from a marketing professional will be an enormous benefit to you and your sponsors, and allow you to keep focused on the build. The right marketing plan will quickly establish you as the obvious choice when important sponsorship decisions are being made.
Who is your target audience, and why will it be attracted to your design and/or theme? Do you have an existing relationship with media contacts, and why should they feature your project? What marketing materials will be created to go along with the vehicle at each event to promote the sponsors? Which events can you guarantee the vehicle will attend? What additional marketing efforts are planned to provide additional brand impressions for the sponsors (e.g., a dedicated website, e-mail campaigns, social media presence, press releases, formal press kit, video, posters, etc.)? I've been part of some of the wildest vehicles ever seen at SEMA and global events, but it's the successful marketing efforts and promotions that attracted the industry's attention and kept sponsors coming back each year.
The struggling economy has not created this challenge; it merely magnifies the importance for ROI with every business decision that is made, and it illustrates the importance of constantly improving how we conduct business.