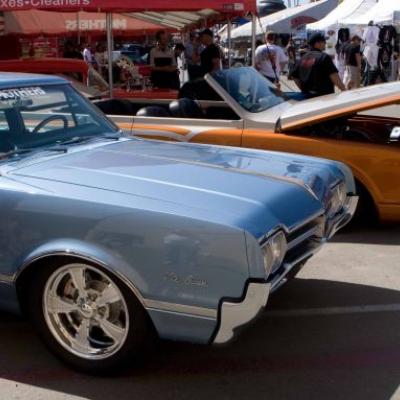 This weekend, a number of organizations and clubs around the country are hosting car shows and other events that give retailers the opportunity to show off their latest builds, connect with new customers and fellow enthusiasts, and support worthy causes. Here's information on nine such events. Additional car shows and events will be posted on Hotrod & Restoration's Twitter  throughout the week.
The Sacramento Autorama takes place Friday through Sunday at the Cal Expo in Sacramento, California. The event will highlight over 450 customs, hot rods and motorcycles, and will feature live music, pinstripers, a charity auction and celebrity appearances in 12 buildings on the expo grounds. The show will feature, amongst other celebrity appearances, an "American Graffiti" reunion with Candy Clark, Paul LeMat and Bo Hoskins on-hand to sign autographs and Milner's Coupe on display. Saturday will include the 5th Annual Autorama Drive-In featuring an additional 400 vehicles. Awards, including the 2011 Custom d'Elegance and King of Kustoms, will be presented Sunday afternoon. For more information, visit www.rodshows.com.
The 40th Annual Birmingham O'Reilly World of Wheels takes place Friday, Saturday and Sunday at the Birmingham-Jefferson Convention Complex in Birmingham, Alabama. The three-day show will feature raffles, celebrity appearances, giveaways and demonstrations by the On the Edge bike and motorcycle stunt team. For more information, visit www.worldofwheels.info.
World of Wheels also visits Kansas City, Missouri, Friday, Saturday and Sunday. The event will feature rods, customs, motorcycles and vintage race cars. The show will also feature the Kansas City Pinstripers Dream Factory Art Auction & Jam, live performances by rockabilly bands, Meguiar's Car Care Tips presentations, BMX Extreme Freestyle exhibitions and celebrity appearances. For more information, visit http://www.autorama.com/casi/show/kansascity.php.
The 33rd Corvette & Chevy Expo takes place Saturday and Sunday at the George R. Brown Convention Center in Houston. The event will feature hundreds of classic and custom automobiles, special car exhibitions and over 50 vendors. There will be live entertainment throughout the weekend, as well as food, beer, wine and liquor concessions. The expo will culminate with an awards ceremony on Sunday evening. For more information, visit www.corvettechevyexpo.com.
The 37th Annual Corvette & High Performance Meet takes place Saturday and Sunday at the Puyallup Fair & Events Center in Puyallup, Washington. The event will feature an invitational vehicle display, and over 900 vendors selling new and used cars and car parts. The Next Generation Automotive Exhibition will take place Saturday, offering activities for car enthusiasts under 40 including the Pinstriper's Bash, Valve Cover Races and Indoor Invitational Vehicle Display. For more information, visit www.corvhp.com.
The Salem Invitational Roadster Show takes place Saturday and Sunday at the Oregon State Fairgrounds in Salem, Oregon. The event will showcase the best hot rods, customs, muscle cars, classics, motorcycles and more that have not been previously seen in the Salem area, according to show organizers. There will be no trophies, classes or judging at the event. For more information, visit www.salem-roadstershow.com.
The Palm Springs Cruisin' Association presents the Dr. George Car Show Saturday in Indian Wells, California. The show is open to all street rods, classics, muscle cars, special interest cars, trucks and motorcycles. The event will feature entertainment, a 50/50 drawing, raffles, vendors and food. Proceeds from the rain-or-shine event will benefit the Desert Cancer Foundation. For more information, visit www.palmspringscruisinassociation.com/DrGeorgeCarShow.htm.
The Inland Empire Classic Mustang Club is hosting a Valentine's Day Car Show Saturday at the Chick-fil-a in Corona, California. The event is open to all classic cars, custom cars and hot rods. The event will feature an awards ceremony, music, raffle prizes and a 50/50 drawing.  For more information, visit www.ieclassicmustangclub.com.
Supercruise 4, the Joe Gosinski Memorial Cruise, takes place Sunday in Long Beach, California, and surrounding communities. Proceeds from the cruise and accompanying auction will benefit a reward fund established to help lead to the arrest and conviction of the person(s) responsible for Gosinski's December 2010 death. Lunch will be provided. For more information, visit www.bcmc.net.