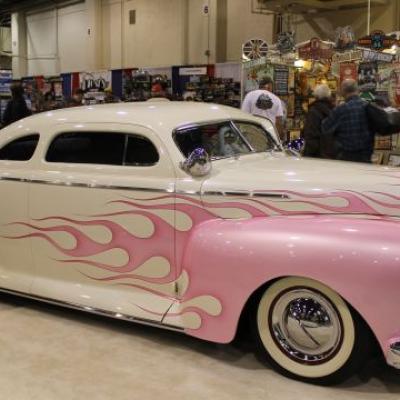 A variety of shows and events are being held this weekend that give you the chance to check out some awesome cars, connect with future customers and help out your community, including the Hotrods & Harleys 2013 Spring Run and the Big 3 Car Show. Information on these and four additional cars shows are detailed below.
The Petersen Automotive Museum of Los Angeles will host its first public alternative fuels symposium titled "Why Alt Fuels Now" on Thursday, April 18. The event will feature a public symposium and an alternative fuel technology display, and will explore the driving forces, such as high gasoline prices and increased consumer and corporate environmental awareness. The symposium, which runs from 1:00-5:00 p.m., will feature three different panel presentations and discussions, and be followed by a reception. The cost to attend the event is $40 for students, $70 for museum members and members of the alternative fuel industry and $80 for general admission. For more information, go to www.petersen.org.
The 14th Annual Hotrods & Harleys 2013 Spring Run takes place Thursday, April 18- Sunday, April 21 at the Avi Resort & Casino in Laughlin, Nevada. The car show, which is put on by the River Cruizers Car Club, is open to all vehicles, with participants receiving a goodie bag, dash plaque and awards being given for different classes. The event will also include a poker walk, 50/50 raffles, music, door prizes and more. For more information, click here.
The British Columbia Classic & Custom Car Shows will run from Friday, April 19- Sunday, April 21 at the Tradex Convention Center in Abbotsford, British Columbia, Canada. The show will feature hundreds of custom cars, as well as motorcycles and custom guitars, on display, in addition to a special tribute section to the classic movie "American Graffiti." Celebrity guests expected to attend include several stars of "American Graffiti," King of Kustomizers George Barris, Gene Winfield and Dean Hill. Other event highlights include a beer garden, photo opportunities with the "Hot Rod Hotties," the 'Fuel and Fire' display of nitro dragsters and fuel funny cars, the Nitro Madness Dragster Cacklefest, live entertainment and more. For more information, go to www.bccustomcarshow.com.
The All Make All Model All Year Car Show and Shine will be held at the Bass Pro Shop in Las Vegas, Nevada on Saturday, April 20. The event will feature a car show with dash plaques for all participants, as well as raffles, a 50/50 drawing, live music and more. Presented by Muscle Cars of America, the event will benefit the VFW Matthew R Hennigan Post 12101. For more information, go to www.musclecarsofamerica.com.
The Big 3 Car Show takes place at Old Town in Kissimmee, Florida from 1:00-5:00 p.m. The show, which is presented by the Orlando Bowtie Club, will feature a Top 20, a 50/50 drawing, prizes, door prizes, food, music and more. All years of vehicles are welcome to attend. Day of show registration will be $15. For more information, go to www.orlandobowtie.com.
The 28th Annual Fabulous Fords Forever Show takes place on Sunday, April 21 at Knott's Berry Farm in Buena Park, California. The show is billed by event organizers as the largest Ford gathering in the west and run from 10 a.m. – 3 p.m. The car show is sold out, but is open to spectators at no charge to attend. Over 1,600 Ford cars are expected to be on display at the event. For more information, go to www.fabulousfordsforever.com.
The 11th Irwindale Swap Meet Hot Rod & Cycle Show takes place Sunday, April 21 at the Irwindale Speedway in Irwindale, California.  The outdoor event will feature hundreds of parts vendors, selling car parts and accessories for antiques, classic cars, rat rods, street rods, hot rods, classic trucks, muscle cars and more. In addition, hundreds of cars will be on display and for sale in the car corral area, according to the event organizers. The rain-or-shine event will also feature food and drink vendors. Spectator admission is $8 for adults and free to children 12 and under.  For more information, go to www.irwindaleswapmeet.com.