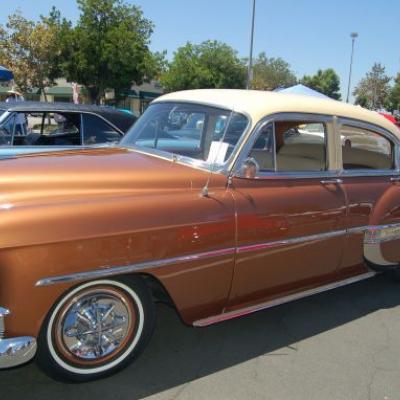 This weekend, events are taking place around the country that will allow you to show off your latest project vehicle, purchase your dream car, support local charities and mingle with potential clients. Here are seven car shows and auctions taking place this weekend.
The Russo and Steele Auction takes place today through January 20 in Scottsdale, Arizona. The auction begins each day at noon, and ends at 11 p.m., except for Sunday, January 20, in which the auction will begin at 10:30 a.m. Over 700 cars will be auctioned off at the event, including award-winning show cars, rare muscle cars and other collectable vehicles. General admission tickets to the event will be $20 for a one-day pass, $55 for a three-day pass and $80 for a five-day pass. The cost to register to bid will be $150, which includes an auction pocket guide, parking pass and drink tickets. For more information, go to www.russoandsteele.com.
The Starbird-Devlin Rod & Customs Charities Car Show takes place  January 18-20 at the Century II Convention Center in Wichita, Kansas. On Friday, the show will run from noon-10 p.m. and will feature kid's activities and live entertainment starting at 7 p.m. Saturday's hours will be 10 a.m. – 10 p.m., with events to include free magic acts and other family-orientated activities. On Sunday, the show will run from 10 a.m. – 5 p.m. and will include a live Elvis Show, kid's activities, and an awards ceremony starting at 4 p.m.  The show will also feature the Magnificent 7 Competition, in which the most outstanding vehicles at the car show will be awarded cash and trophies, including a $5,000 cash prize for first place. Admission prices are as follows: $12 for adults 18 and over, $6 for juniors ages 12-17 and $20 for couples. Children under 12 will be admitted free. All proceeds from the event will be divided among three local charities: Arc of Sedgwick County, Starkey Inc., and Big Brothers Big Sisters. For more information, go to www.starbirddevlin.com.
Carlisle Events will present the Auto Mania Swap Meet at the Agricultural Hall at the Allentown Fairgrounds in Allentown, Pennsylvania, January 18-20. The event is Pennsylvania's biggest indoor heated swap meet and will feature a cars corral in addition to the swap meet vendors. The event will run noon- 9 p.m. on Friday, 9 a.m. – 6 p.m. on Saturday and 9 a.m. – 3 p.m. on Sunday. Adult admission will be $8, with children 12 and under admitted free.  For more information, click here.
The South Florida Region Antique Automobile Club of America will host the AACA Art Deco Classic Car Fest in South Miami Beach, Florida, January 18- 20 on the corner of Ocean Drive and 5th Street. Friday's events will include a parade for hot rods, antiques, modified and modern convertibles at 7 p.m. Saturday will feature a car show from 10 a.m. – 3 p.m. that's open to all vehicles of a 1988 or earlier vintage that are antique or modified. Sunday's car show will run from 10 a.m. – 3 p.m. and will be open to all 1988-and-older original or restored vehicles only. The event is free. For more information, click here.
The Mecum Auction at Osceola Heritage Park in Kissimmee, Florida, will take place January 18-27. Over 3,000 vehicles are scheduled to be auctioned off at the ten-day event. Hundreds of collector Corvettes, as well as over 30 Shelby Mustangs, are scheduled to cross the auction block, according to event promoters. New for 2013, Mecum has introduced Road Art Monday, in which Monday, January 21, will be dedicated specifically to the auctioning of automotive road art and memorabilia. Admission to the event, which will be broadcast on Discovery's Velocity Network, will be $20. For more information, go to www.mecum.com.
The Stangs vs. Vettes Show will take place on Saturday, January 19, from 4 -7 p.m. at the Seminole Casino in Immokalee, Florida. Hosted by the GulfShore Mustang Car Club and Corvettes on the Gulf, the show is open to all years of Mustangs and Corvettes. A "Best of Show" award will be given to the best Mustang and best Corvette in attendance, and each winner will receive a framed rendering of his or her vehicle by artist Bill Kreutz. Trophies will be awarded for the top Mustangs and Corvettes. All car show entries will receive free parking and vouchers for free food and casino play. The winning host car club will receive $500 cash and a trophy. For more information, call (239) 229-8526.
The West Coast Muscle Car Club of Naples, Florida, will host its 9th Annual Car Show on Saturday, January 19 at the Germain Arena in Estero, Florida. The car show, which benefits Shriners Hospitals for Children and runs from 9 a.m. – 4 p.m., will also feature a swap meet, DJ, kid's play area, Shriner's clowns, vendors, drag demos and more. Dash plaques will be given to the first 500 participants, with more than 120 awards to be handed out. There will be a total of $1,000 in cash awards for the Top Three Club's participation. The fee to register on the day of the show will be $25. For more information, go to www.westcoastmusclecarclub.com.