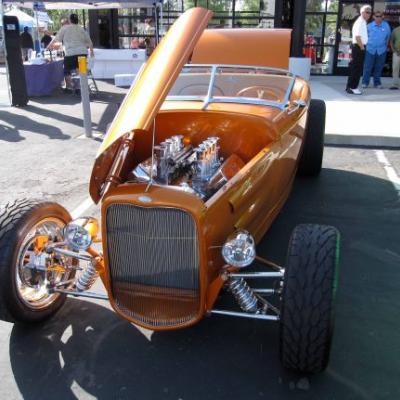 A variety of car shows, auctions and other events are taking place around the country this weekend. Attending or showcasing your latest build at local or national events is a great way to gain exposure for your shop and mingle with potential customers. Information on seven upcoming events are listed below.
The 53rd Annual Cavalcade of Customs and Training Expo will be held January 11-13 at the Duke Energy Convention Center in Cincinnati, Ohio. Hosted by KOI Auto Parts and Federated Auto Parts, the Cavalcade of Customs will feature a custom car, hot rod and motorcycle show, celebrity guest appearances, live music and more. The event will also include a full schedule of KOI training workshops, including classes for professional mechanical, body shop and management customers that will be taught by instructors from Federated and KOI manufacturing partners. KOI customers will receive a three-day admission pass to the show plus all classes, lunches, and a savings booklet. A vendor area will be set up outside the classrooms that will feature over 60 booths and product displays. For more information, click here.
The Petersen Automotive Museum of Los Angeles will be hosting a Cruise-in on Saturday, January 12 in honor of the late Carroll Shelby's birthday. The event, which will run from 9 a.m- 2 p.m., will feature a display of cars, VIP parking for all Shelby vehicles (Cobras, Shelby Mustangs, Tigers, etc.) and free parking for all other classic vehicles. A People's Choice award will be presented at the event, which is being put on by Hillbank Motor Sports and Superformance. The Museum will offer a discounted rate to all show participants that would like to tour the Museum. For more information, call (949) 900-1963 or click here.
The Rats to Riches Collector, Antique & Classic Car Auction will be held Saturday, January 12 at noon in Vineland, Alabama. The auction will be held in addition to the weekly swap meet and car corral held at the facility every Thursday, Friday and Saturday. Admission for spectators will be $5 for all three days. Gates open at 8 a.m., with the auction beginning at noon. Items to be auctioned include hot rods, classic cars, rat rods, boats, campers and more. Registration for the auction will also begin at 8 a.m. For more information, email jleecarr@yahoo.com.
The American Truck Historical Society Mid Florida Chapter will host its 3rd Annual Truck Show on Saturday, January 12 at Classic Trucks of Florida in Myakka City, Florida. The ATHS preserves the history of trucks, the trucking industry, and its pioneers. For more information, email classictrucksoffloriday@yahoo.com or call (941) 322-1161.
The Gibtown Muscle & Classic Car Show will be held on Sunday, January 13 at 6915 Riverview Drive in Riverside, Florida. The event will include a car show featuring muscle cars, rat rods, street rods and other classic cars, and will be held from 12-4 p.m. as part of Gibtown Bike Week. Entertainment features will include live music, a beer garden, a daredevil high wire act, comedy trampoline, motorcycle globe of death, pro wrestling, bike builders row and food vendors. Top 10 trophies will be given out at the car show, in addition to awards for Best Rat Rod, Classic, Pro-Street, Street Rod and Modern Muscle car. The event is presented by the Orlando Bowtie Club. For more information, go to www.orlandobowtieclub.com.
The Renegade Corvette Club will present its 7th Annual Open Car & Truck Show on Sunday, January 13 at the Ed Morse Sawgrass Automall in Sunrise, Florida. The show will run from 10 a.m.-4 p.m., rain or shine, and will feature a DJ, an appearance by the Miami Dolphin cheerleaders and Florida Panther ice dancers, door prizes, food, a 50/50 raffle, and dash plaques and T-shirts for the first 100 pre-registered vehicles. Forty "Best of Show" awards will be given out for Corvettes, as well as 40 additional awards for cars and trucks. A $50 cash prize will be given out to the "Renegade's Choice" and "Top Corvette," and a $100 cash prize will be given to the "Ed Morse's Choice" winner.  For more information, click here.
The Barrett-Jackson Collector Car Auction will take place on January 13-20 at the WestWorld of Scottsdale in Scottsdale, Arizona. Hundreds of thousands of spectators and collectors are expected to attend the event and watch as over 1,000 classic, exotic, rare, celebrity and collectible vehicles are auctioned off at no reserve. The  2013 auction marks the return of the 5000 Series, which includes the Salon Collection and features about 50 unique and valuable automobiles. Highlights of the auction will include the original 1966 Batmobile, a rare original 1967 Shelby Mustang GT500, a 2009 Ford F-150 King Ranch 4×4 SuperCrew owned by President George W. Bush, and many more. For more information and to see all of the vehicles being auctioned off, click here.