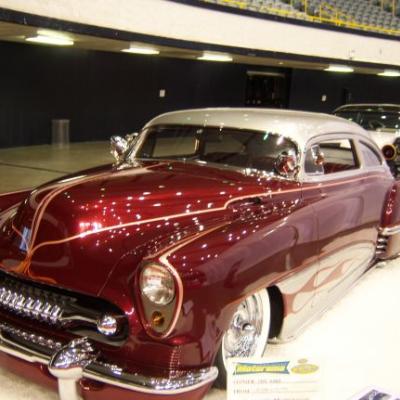 Businesses, organizations and community groups around the country are hosting car shows and events this weekend. Attending these events is a great way to give your shop extra exposure, and possibly connect with new and old customers. Here's information on eight events taking this place this weekend. Additional car shows and events will be posted on Hotrod & Restoration's Twitter (http://twitter.com/HRRMag) throughout the week.
The Great American Celebrity Classic Car Road Rally takes place Thursday, beginning at the Automobile Driving Museum in El Segundo, California, and concluding at the Spa Resort Casino in Palm Springs. More than 30 Hollywood celebrities will don racing jump suits and take to the roadway in a 100-mile classic car rally for the Got Kids? charity for abused, abandoned and disabled children and the Palm Springs Angel View Crippled Children's Foundation. This year's race will honor the life and career of Tony Curtis. "The Great Race," Curtis' 1965 film, is the inspiration for the event.
The road rally is held the day before the McCormick Exotic Car Auction, which runs through Sunday and will feature more than 600 cars, trucks and other mint-condition classic vehicles. For more information, visit www.classic-carauction.com.
Goodguys' 13th Southwest Nationals takes place Friday, Saturday and Sunday in Scottsdale, Arizona. A TGIF Party & BBQ will be held Friday evening at Hot Rods by Dean. The show will feature over 2,000 rods, customs, classics and muscle cars through model year 1972 competing for awards including the Judy Murray Memorial Award, 2011 Muscle Car of the Year Finalist, PPG Dream Car, Street RodderTop 100 Event and Goodguys Builder's Choice Awards. The event will also feature vendor and manufacturer exhibits, a swap meet, a Cars 4 Sale Corral, and a model and pedal car show. A 1968 Pontiac Firebird will be given away at the event. For more information, visit www.southwestnats.com.
Trader Marc's Indoor Car Show takes place Friday and Saturday in Fort Mill, South Carolina. Friday evening features the pre-party with a battle of the bands, dance crew battle, cornhole tournament and additional entertainment. The car show takes place Saturday with awards being presented in over 125 classes and a DB drag sound-off. The car show will also feature an indoor market and food. For more information, visit www.kossmotorsports.com.
The fifth annual "Gear Up" for the Kids Airport Car Show takes place Saturday in West Palm Beach, Florida. Classic cars, motorcycles and aircrafts will be on display at the event. Spectators Choice awards will be presented. The show will also feature live music, helicopter rides, the Fort Lauderdale Harley Davidson Drill Team, food, raffles, a silent auction and activities for kids. Proceeds will benefit Give Kids the World, a nonprofit organization that fulfills the wishes of children with life-threatening illnesses and their families from around the world to experience a visit to the Central Florida attractions. For more information, visit www.airportcarshow.com.
The Import vs. Domestic Grudgefest takes place Saturday in Marion, Texas, pitting import and domestic vehicles of various eras against each other in a number of events, including drag racing and a car show. Car show awards will be presented in classes including sport coupe/convertible, sedan/luxury coupe, truck, low rider and old school. Best of Show awards will also be presented for paint, graphics, interior, engine and overall. The event concludes with DJs and an after party. For more information, visit www.gotagrudge.com.
The Golden Era of Hollywood Gala takes place Saturday at the Larz Anderson Auto Museum in Brookline, Massachusetts. The black-tie-creative benefit for the museum, which pays homage to 1930s and 1940s Hollywood, will feature an orchestra, magician, raffle, prizes and silent auction. Attendees are invited to drive their period era cars to the event. For more information, visit www.larzanderson.org.
The Muscle Car & Corvette Nationals takes place Saturday and Sunday in Rosemont, Illinois. The show will feature a number of displays, including cars from Nickey Chicago and Mr. Norm, a Class of 1970 40thAnniversary display, a Buick Stage II display, a Cars of Hurst performance display and a display saluting the 1969 Chevelle. Celebrities and authors including Mr. Norm Kraus, Joel "Mr. Motion" Rosen, Linda Vaughan, Jack "Doc" Watson and Marty Schorrwill be appearing at the event. Other special features include the Triple Diamond Corvette Gallery, Vintage Certification Program for Unrestored Original Camaros and Chevelles, an indoor swap meet, an auction, cars for sale, a model car contest and seminars. Awards will be presented in American Motors, Buick, Chevy, Chrysler, Dodge, Ford, Mercury, Oldsmobile, Plymouth, Pontiac, DeSoto, Studebaker and Miscellaneous classes. Special awards will also be presented. For more information, visit www.mcacn.com.