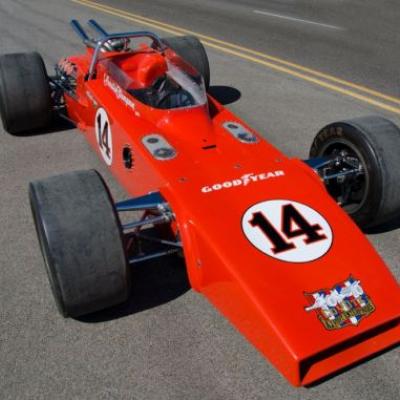 Retailers, suppliers, community organizations and schools are hosting car shows and events this weekend that offer shops the opportunity to show off builds, meet new customers, support great causes and learn new skills. Here's information on 10 such events. Additional car shows and events will be posted on Hotrod & Restoration's Twitter  throughout the week.
Goodguys presents the 6th Bridgestone Nashville Nationals at the LP Field of Tennessee Titan Stadium Friday, Saturday and Sunday. The event will feature over 1,500 rods, customs, street machines, muscle cars and trucks through 1972 competing for a number of awards, including the 2011 Custom Rod of the Year Finalist, 2011 Truck of the Year Early Finalist, 2011 Muscle Car of the Year Finalist and 2011 Muscle Machine of the Year Finalist. The show will also include the Goodguys AutoCross, vendors, a swap meet and a cars-for-sale corral. The festivities kick off Thursday with a poker run and party. Parking lot parties will also be held Friday and Saturday. For more information, visit www.nashvillenats.com.
Ohio Technical College offers the latest in its series of weekend airbrushing seminars Saturday and Sunday in Cleveland. The Weekend of Pinstriping session runs Saturday from 8 a.m.-6 p.m. and Sunday from 9 a.m.-3 p.m.  Tuition for the two-day event is $295. Included in the tuition are swag, three assorted striping brushes, six one-shot striping enamels and metal panels. For more information, visit www.ohiotechnicalcollege.com.
The A La Car & Art classic car show takes place Saturday and Sunday in Mountain View, California. The weekend event will feature two car shows and special vehicle displays. Any year, make, or model is welcome, but space is limited to 50 cars. A La Car & Art is part of Mountain View's A La Carte & Art Spring Festival of the Arts. For more information, click here.
Clean Cut Creations kicks off its Drive In Movie & Car Cruise Series on Saturday at Stroup Field in Rock Hill, Missouri. "American Graffiti" will be shown at sunset. Prior to the screening, concessions will be sold, there will be a 50/50 and other prize drawings, kids' activities, and a cake walk. There will also be a car cruise and special drive-in parking for 1972-and-earlier vehicles, as well as specialty and collector vehicles outside of that year range. Walk-in moviegoers can bring blankets and lawn chairs. There will be five other screenings held between now and October, with films to include "The Blues Brothers," "Smokey and the Bandit" and "Ghostbusters." For more information, e-mail cleancutcreations@sbcglobal.net.
The 4thAnnual Concours d'Elegance Classic Invitational Auto Show takes place Sunday at the Kemp Auto Museum in Chesterfield, Missouri. The event will showcase rare and classic automobiles, many never seen before in the St. Louis area. The show is free to the public, and food and beverages will be available for purchase. Commemorative posters will also be available for sale during the event, with a portion of the proceeds to benefit Ranken Jordan, a pediatric specialty hospital. For more information, visit www.kempautomuseum.org.
The Seminole Casino Immokalee Hot Rod Show takes place Saturday in Immokalee, Florida. All cars and trucks are welcome to the show, which will include free food, trophies and music. The Best of Show wins a trophy and an inside parking place at the Florida Hot Rods & Hogs car and bike show, which will be held in December, and two VIP dinner tickets. For more information, visit www.seminoleimmokaleecasino.com.
The 16th Annual NSRA Appreciation Day takes place Sunday at California Car Cover's headquarters in Chatsworth, California. Free lunch will be served to occupants of participating vehicles and NSRA members will receive a free Appreciation Day pin. NSRA vehicle safety inspections will be offered at the event, which will also feature raffle prizes. For more information, visit www.calcarcover.com.
The 19thAnnual MetroHealth Burn Center Car Show takes place Sunday at General Motors' metal center in Parma, Ohio. The event will raise funds for the MetroHealth Burn Center of Cuyahoga County. For more information, visit www.americancruisersoh.com.
The Cars at the Park Hot Rod & Custom Car Show takes place Sunday at Glen Gardner Recreation Field in Glen Gardner, New Jersey. Trophies and prizes will be presented in 18 classes for cars and trucks from the 1930s -1970s. Food and drink concessions will be available on-site. For more information, click here.
Mecum presents the Original Spring Classic Auction through Sunday at the Indiana State Fairgrounds in Indianapolis. The six-day auction will feature more than 2,000 vehicles and memorabilia, including the 1971 Foyt Coyote, an original Indianapolis 500 race car that has been driven by Donnie Allison, A.J. Foyt and George Snider.  For more information, visit www.mecum.com.