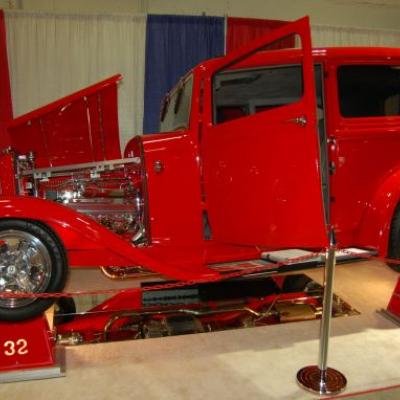 Spread some cheer this weekend at a holiday-themed car show. Events being held include Mooneyes Christmas party and CHOC Cruise #13. Information on these and seven additional shows is listed below. More shows and events will be posted on the Hotrod & Restoration Twitter feed throughout the week.
The Candy Cane Cruise on East 185th St. takes place Friday in Cleveland. The annual event will feature a cruise of open-top convertibles and Jeeps. Convertibles of all makes and models are welcome, including vintage, classics or new Jeeps, coupes or sedans. Cruise participants are encouraged to decorate their vehicles. For more information, visit www.candycanecruise.com.
Mooneyes is hosting its annual Christmas party Saturday at the Irwindale Speedway in Irwindale, California. The event will feature a car show, drag race, cackle fest, pinstriping, live entertainment, vendors and a pin-up contest. For more information, visit www.mooneyesusa.net.
Severed in the Southwest takes place Saturday at Castles ~n~ Coasters in Phoenix. Sponsored by Steele Rubber Products, the event is open to all vehicles and will have 31 classes. Twenty best-of awards will be presented. The event will also feature mini-trike races, an eating competition, DJ, entertainment, raffles and concessions. For more information, contact severedinthesoutwest@yahoo.com.
The Classics on the Bricks Car Show takes place Saturday in Wills Point, Texas. Awards will be presented for Best in Show Car, Best in Show Truck and People's Choice. There will also be participant judging with prizes awarded to the top 10 vehicles. The car show is part of the annual Christmas on the Bricks Bazaar and 5K Reindeer Run. It will feature a 50/50 raffle, live entertainment, arts and crafts vendors, and concessions. For more information, visit www.willspointchamber.com.
The 26th Annual Christmas Wish Car & Truck Show takes place Saturday at Gator Ford in Seffner, Florida. Produced by the High Rollers Car Club, the event will feature a judged car show, a race car display, valve cover races, live music, DJ, open auction, 50/50 raffle and vendors. Proceeds from the event will benefit Mason Dixon's Christmas Wish Fund. For more information, visit www.hr-carclub.com.
CHOC Cruise #13 takes place Sunday at Angel Stadium of Anaheim in Anaheim, California. Last year's event attracted over 150 classics, mini-trucks, low-riders, 4x4s and sport compact cars that drove from the stadium to Children's Hospital of Orange County to deliver toys. All participants are asked to being a new unwrapped toy. For more information, visit www.ptfevents.8k.com.
The Second Annual La Habra Operation Santa Classic & Custom Car Show & Toy Drive takes place Sunday at the CVS Distribution Center in La Habra, California. Awards will be presented for the best of in over 20 categories. The event will feature vintage dragsters, a cackle fest, an antique engine display, novelty cars, a 50/50 drawing, opportunity drawings, barbecue lunch and Santa Claus. Participants are asked to bring a new unwrapped toy or gift card for children ages 4&ndash18. For more information, visit http://e-clubhouse.org.
The 11th Annual South Bay Showdown takes place Sunday at South Bay Ford in Hawthorne, California. Vehicles at the all-Ford show, which is produced by the Beach Cities Mustang Club, will be judged in more than 50 categories, ranging from Gen 1 Mustangs to late-model Ford trucks and SUVs. The event will feature raffles, live auctions, music, vendors and concessions. All participants are asked to bring new unwrapped toys that will be donated by the Santa Claus and BCMC members to local hospitals on Dec. 23. For more information, visit http://bcmcmustang.homestead.com.
The 29th Annual Bakersfield Toy Run takes place Sunday in Bakersfield, California. Participants will meet at Beach Park and cruise to the Kern County Fairgrounds. Trophies will be presented to the best Christmas-decorated car, motorcycle and kart. There will also be door prizes, live music and concession. Participants are asked to bring a new toy and food item or make a cash donation. The event will benefit The Salvation Army. For more information, visit www.bakersfieldtoyrun.org.