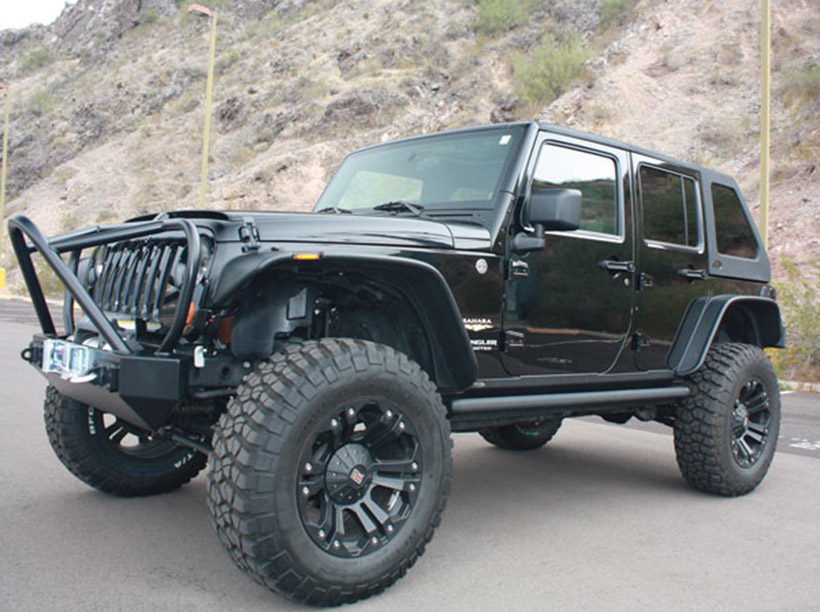 No limitations on this Jeep Unlimited.
How's this for a daily driver? A 2007 Jeep JK Unlimited Sahara outfitted with some of the industry's top offroad products. An "offroad daily driver"? Well, why not? You drive to work, drive to the store, then, instead of driving home, you make a hard left turn and get off the asphalt and onto the dirt, the rocks and the brush for a little extra fun, a little extra adventure, maybe just a little more of a rush of adrenaline.
Cop4x4/Ansani Designs put together what would make this Jeep Sahara both fun and stylish to showcase the best of both the offroad and street worlds. This Sahara gets used for everything from dropping kids off at school, being displayed at shows, to conquering Hell's Revenge in Moab, Utah.
And "showcase" and "display" become the operative words, here. At the Off-Road Expo, Superlift gave a prominent place in its booth for the JK. And the folks at Eaton did likewise at SEMA's 201 Show in November. The '07 Jeep also gets a space in the display area of PureJeep/Hanson at the Moab show.
Yep, this Jeep Sahara has it all: tough offroad goodies, plus products intended for comfort and eye appeal.
Check out this list of aftermarket parts: BFG 37" KM2 Tires; KMC 20×10 Monster XD Wheels; Superlift 4" RockRunner Lift Kit, Bulletproof brake hoses, eXtreme ring diff covers; Bilstein 5100 shocks and stabilizer;Roadwire custom leather seat covers; Motive Gears 5.13 gears; Eaton Locker Rear E-Locker; Airaid Intake system, throttle body spacer; Delta Tech Industries' headlights; Wildboar Products Fastback Hardtop; PureJeep Stubby front/rear bumpers; Ramsey Patriot 9500 winch; Tuffy Products Security Console;Daystar Upper Dash panel, switch panel and illuminated switches; Inpro Carwear LED tail lights; Hi-Liftcast jack and neoprene cover; Bushwacker flat style fender flares and rocker panels; AMP ResearchPowerSteps; PowerTank Comp Series 10-lb. C02 tank; Ansani Designs composite hood; Alpine CD head unit; Sirius Satellite; Advance Performance interior design.