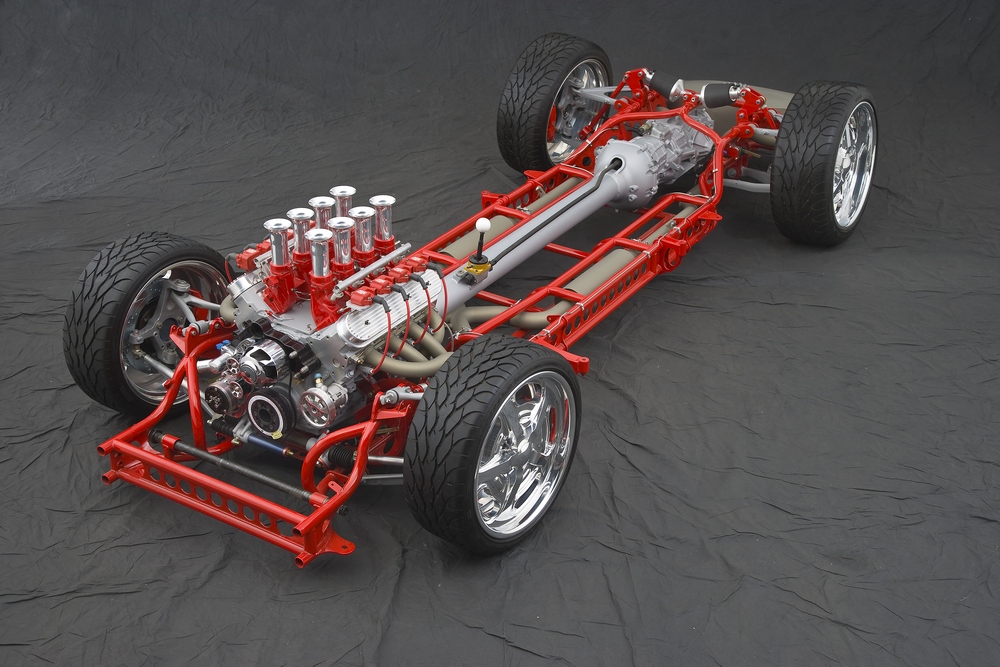 At any given moment, thousands of aspiring gearheads around the country are wrenching away on their vehicles of choice, performance or otherwise, while dreaming of-and mapping out a path toward-owning their own shop.
To say that this is a common dream in today's automotive aftermarket certainly wouldn't be a stretch. To say it's an easy or predictable one to achieve, though, certainly is.
For Rodger Lee, 2001 found him in just such a situation. After years working in nearly every conceivable area of automotive and diesel repair, he was laid off. To make things worse, in a post-9/11 world, new opportunities weren't exactly abundant.
Thankfully, the experienced fabricator and mechanic had a few close friends who were sharing a modest 700-square-foot shop in downtown Bakersfield, Calif., to work on their own personal projects. With a few phone calls, Lee found himself immersed in an unusual range of new fabrication projects.
"I had always been interested in hot rods and just building things in general, but I had no idea what would come of it," says Lee. "When I found myself working out of that first shop and the 1,800-square-foot second shop, we worked on a bunch of smaller projects independently, anything from making snowmobile trailers to small carts for pharmacists. I built anything I could for people, and the projects were all over the board."
Before long, this new business endeavor would take on a life of its own in the world of custom vehicle building, as much to Lee's surprise as anyone's.
"It's pretty obvious, I suppose, but the 10-year plan I had 10 years ago looked nothing like what I'm doing today," he laughs. "I had no idea what I was looking for."
An Important Visitor
Within a few years of working as an independent fabricator both outside and within the automotive industry, a more defined vision of his career began to coalesce. The most significant moment in that transition, says Lee, came while working on a 1957 Chevy truck that had become his labor of love.
In 2006, with quite a bit of time invested in the project and looking to have quite a bit of outside labor done in the form of paint, body and interior work, Lee ran into a friend who had successfully started a business of his own.
"At that time I was definitely starting to get some great momentum, but it was still very touch-and-go," he recalls. "We were looking to complete a super-high-end, over-the-top project to show what we were capable of and turn it into a calling card for the shop, but we were tight on resources. My family didn't have money, and definitely not that kind of money."
Just when it looked most dire, the universe intervened in the form of an old friend, John Fisher.
"We talked about where I was at with my business, and he ultimately asked me: 'What would it take for you to get to the next level? What if I could give you $50,000?'"
Lee was shocked. No one gives anyone $50,000.
"I came to find out that back in his early years, someone else had done the same for him and it was what put his business in a place to succeed," he adds.
Additionally, a small windfall from a family member who had passed provided an additional amount to help push the truck project forward.  After considering responsible investments and consulting with his friend and financier, the decision was made to go full-force into building custom vehicles.
"The investor had encouraged me that the best investment I could make was in myself," says Lee. "I took that advice and invested that money into the truck and the business and worked toward the best business I could."
With the new investment and renewed energy, Lee expanded into a larger building that provided about 7,800-square-feet of production and office space and soon after finished work on the '57. A few years later the shop was expended to its modern-day size of 9,800 square feet when a neighboring shop moved out of the building.
Throughout the build, Lee posted information and photos on an online message board called Lateral-g.net, further raising his profile with prospective customers at just the right time.
The shop phone began to ring even well before the truck became a fixture on the West Coast show circuit. On the other end were a good number of high-end clients who wanted Lee to build them the best show car around. And they had the budget to make it happen.
Healthy Growth
Today, the growing shop builds custom vehicles under the moniker Ironworks Speed & Kustom and has grown to employ seven full-time employees. That's a healthy jump in just more than 10 years, to be sure.
At the end of the day, it's a dedication to honest dealing that Lee says was the key to his success.
"That first shop was rough around the edges, without a doubt," he says. "But we showed up every day, busted our asses and treated people honestly."
During that time, the goal was never to grow huge, but just to do more great work for great people, Lee says.
"We worked hard to grow in the right way," he notes. "We learned from watching some of the most successful builders in the business that bigger isn't always better. What we tried to do differently was to put the emphasis on making the customers we have happier with our work, not just bringing in more customers.
"In this business, you don't want to be the shop that everyone wants to go to," he adds. "Most people don't understand the work that goes into these vehicles, so they become more challenging customers."
Today, fabrication is still Lee's bread and butter, and the company is known for its custom chassis and ultra-high-end turnkey show and race vehicles.
While a few such projects will come in on a rolling chassis, most jobs today start with a customer and an idea, which Ironworks' staff helps to bring into reality, starting with helping to source the right vehicle-or vehicles-for the job.
Says Lee: "A recent truck project, for example, started with three cabs, eight doors, a bunch of running boards and so on. It's really just a pile of parts at the beginning and from that we'll select the right parts to use for the right application. It's probably been a few years since we started with an actual running and driving car or truck. "
Working Relationships
Beyond his connection with the more artistic aspects of vehicle building, Lee says a highlight of his work is the interaction with his customers, many of whom become good friends through the process.
Just like the vehicles themselves, each customer relationship is different from project to project. While all of the customers have been successful financially, most are "pretty average dudes, short of having a lot of money," he says. And at the end of the day, what bonds each of them is that they are, at heart, car guys.
"It's not very often that a true car guy is uptight," he says. "The uptight guys are the ones that are working on projects to feed their ego as opposed to passion for all things cars. The guys who are doing it for the trophy case don't realize it's ego-driven. Those are the guys that are trying to build something that makes them six inches taller. For the true-blue car guys, though, building cars is a borderline addiction. None of them are just pissing away their money, for sure. They got rich because they earned their money, after all. They just eat sleep and breathe cars."
Ironworks' customers now come from literally across the world and as close as down the street. In the case of the latter, that can mean regular-"even daily-"visits throughout the build.
"Having the freedom to express my vision in the project is really important, but at the end of the day I do recognize that I'm here to complete someone else's vision," says Lee. "For one project, a '48 pickup, the customer was here almost every day, so I knew what I was doing was exactly what he wanted. With others, you have to take a lot more responsibility, because you can't get their opinion on every decision."
For Lee, the process generally starts with a thorough consultation to determine the look and feel of what a client envisions for the final product.
"A lot of the time I'll start out with just some basic questions like 'When you pull up to a car show, what do you want people to say when they first see your car or truck? That's clean? That's ridiculous?'" he says. "Some guys can envision almost every aspect of their project, where they can visualize exactly what they want the paint to look like, the interior, the engine compartment, the chassis and even the brake and fuel line plumbing. Others have no idea what they want and it takes a lot more work.
"At the end of the day, we will build whatever the customer wants as long as the project is done right and safe," Lee adds with a laugh. "We may try to talk him out of pink with purple polka dots, but if that's what he wants, that's what he will get. The only real challenge is that, you know, everybody thinks they dress well. Some obviously don't."
In most every case, though, Lee says his vision has meshed near perfectly with that of his customers. Almost to an eerie extent, he notes.
"When there is nothing I would change at the end of a project and the customer is completely happy, I wonder about the psychological element," he says. "Did I convince them of what they want or do we just want the same thing?"
Perfecting a Design
Having a great artistic eye for fabrication is certainly useful. For example, on a recent project built around a wide-body 1969 Camaro, Lee took the unconventional path of swapping in a rear bumper from a Mustang.
"In my mind I can just more or less Photoshop out or in elements to get a vision of what I'm trying to do," he says. "I look at the vehicle and it just throbs at me, like 'change that, modify that. An inch here, three-quarters of an inch there.' It's amazing what a quarter-inch here, or a half-inch there does to the design. We like to think we're perfecting a design from 50 years ago.
"I don't hear people having any issues with the style of what we do, so we must be doing something right," he concludes. "We just love pushing the envelope on that type of stuff. We think of it as a real art form."
The payoff for that artistic dedication comes in the moment of truth-the reveal.
"Some guys are pretty involved in the process, but for those who aren't, it's really gratifying to finally see a project finished that might have 9,000 hours of work into it," he says. "Without fail, the customer is just ecstatic and through the roof."
That same artistic approach is what Lee says will continue to drive him in growing his business and further pushing design boundaries.
"Ten years from now I'll be striving to make the next vehicle the best I've ever done," he says. "In fact, I don't care if I'm 100 years old, I'll still want each to be better than the last and I'll continue to grow. Everyone in our shop takes that same approach. There are no journeymen in our shop; everyone should be continuing to improve."
With that dedication to constant learning and evolving-along with an increasingly impressive portfolio of projects and even a planned excursion into selling custom-built parts-Ironworks seems built to last.