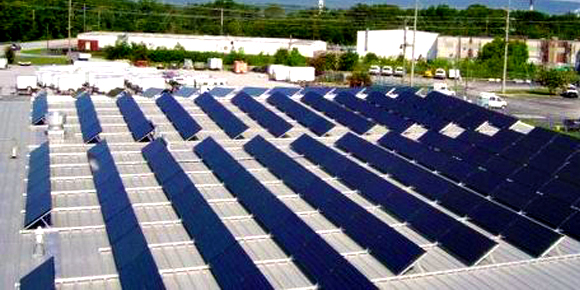 LTAA's 2012 Retailer of the Year proves sustainable practices can provide capital that supports company growth, sustainability and viability over time.
Dating back to the environmental movements of the 1970s – and surely long before that, if in smaller numbers " there has been a contingent of business owners dedicated to the preservation of our natural environment.
Through practices like recycling and process efficiencies, these individuals and organizations minimized their environmental impact in the name of sustaining our shared natural resources.
But today, thoughtful business owners are realizing there's more than one great reason to support such efforts. There are many reasons, and none may be more important – or worthwhile, one could argue – than sustaining a business' bottom line and long-term viability.
While he might not be one to categorize himself as an environmentalist, Tom Moore, owner of Chattanooga, Tenn.-based Truck 'N Trailers USA, is among those who have found that a clean, efficient business can benefit the natural environment, provide customers with high-quality products and services, and support a healthy bottom line.
In Moore's case, this focus on sustainability was born of necessity during the recent Great Recession. It proved so valuable, however, that it has become engrained in his increasingly successful business philosophy.
A family operation with deep roots
To understand where Truck 'N Trailers is today, it's important to know where Moore and the business have come from. That story starts back in the mid-1980s.
Moore's first experience with the accessory business came as a high school student in West Palm Beach, Fla., working his way through high school and his early college years learning the business, selling parts and doing repair work for J&J Campers, a leading RV and camper top dealer.
Coincidentally, Moore's future father-in-law, Rene Guionnaud, also worked at a national leading trailer and fleet upfit dealer, Rayside Truck & Trailer, in West Palm Beach.
After a bit of market research identified Tennessee as a nearby market that would support a new trailer and truck accessories dealer, Moore and his new father-in-law officially went into business together as partners, and they packed up and struck out for Chattanooga.
"We always say that this business, which is celebrating its 20th anniversary this year [2012], would never have worked with just one of the two of us involved," says Moore. "We both had knowledge and experience that, combined, put us in a great position to succeed as a full-service family business. And that's what we still are today, a family business that is committed to providing quality products and services. We started as one, and we're still one."
Like any family, though, the Truck 'N Trailers USA family has seen its shares of peaks and valleys.
The peaks
For its first decade and a half in business, things went exceedingly well for the growing operation. Moore and his team were dedicated to providing the most reputable product lines, backed by stable manufacturers, and providing service that he notes was second to none in the Chattanooga area.
This dedication to service and quality allowed them to make a respectable profit margin on truck accessory products and service while trailer sales and service quickly grew to about 30% of sales. Fleets, either vehicle resellers or governments, grew to about 40% of sales.
Over the years, the company expanded.
The main store in Chattanooga grew to 18,000 sq. ft., with a 7,000-sq.-ft. showroom, a 7,000-sq.-ft. service area, and office and warehouse space, sprawling across four acres.
Then the company opened a second, smaller store in 1996 about 35 miles north in the town of Cleveland, Tenn. This operation is housed in a 10,000-sq.-ft. building split evenly between shop and showroom space.
In 2004, the company acquired and built out a third store just across the Tennessee border in Georgia.
By the time 2007 rolled around, the company's three stores had grown to employ 28 employees. Business was growing rapidly and each of the stores was growing and profitable. All told, Trucks 'N Trailers USA was hovering around $6 million in sales.
And that's precisely the moment that the bottom fell out of the U.S. truck market – and along with it, the bottom line of many accessory and trailer dealers in the country.
The valleys
"By the end of '07, we started seeing a contraction in the market; thankfully, we took immediate action," Moore says. "In our view, it became apparent that the industry was going to get smaller and that it would do so really quickly.
"We made some tough decisions and went into full shutdown of the third operation in Georgia immediately. We found someone to do a full takeover of our location. In the end, we gave him about $100,000 of free infrastructure, but we were able to be aggressive and proactive in getting out of that store by July of 2008."
And by "tough decisions," Moore means the toughest of tough decisions for a business owner: the agonizing one to lay off 10 employees in order to more efficiently utilize resources across the company's two remaining locations.
"We made some aggressive moves and were able to position the company in a healthy manner before early 2009, when the bottom really fell out of the credit markets.  At that point, we couldn't borrow anything and had to be self-sustaining – so we beat the curve. That was a little luck on our side. We forecasted accurately."
Sales plummeted more than 50% from 2007 to 2009. In 2010, the company began to stabilize, ending the year with a double-digit increase in sales. 2011 and 2012 had been better yet, resulting in steady increases in sales and profitability.
Back in the black
Throughout it all, those tough decisions, discipline, and focus paid off in profitability each year, even through the worst of times.
"Since 2010, the company has steadily grown more profitable," he says. "But the market is different than it was. We deal more with customers who are purchasing practical vehicles and using them for lifestyle purposes, so we do a lot more lifestyle upfits than we used to – like hitch racks, bike racks and rooftop carriers. We take the time to understand the customer's needs, and then we work to educate them on their best options. Ultimately, we see our job as 'servicing' the needs of the customers through both products and services."
Through all the changes, Truck 'N Trailers USA stayed nimble and is now seeing the payoff as the company continuously improves, sales grow, and it now employs 22 full-time employees.
Emerging lean -¦ and green
In order to emerge from the economic conditions that sank many great businesses in his industry, Moore and his team knew a second look at some of their business practices was in order.
"In 2008, we really restructured all our thoughts about our business," he says. "We decided we couldn't market our way out of the recession. We decided we would keep all the staple lines: towing, trailer sales and repair, camper tops and lids, bed protection and light-truck accessories.
"In doing that, we didn't want to focus just on increasing the volume of sales, but increasing efficiency," he adds. "We looked at everything, from accounting and point of sale, to the processes in our service center and to cutting our energy costs."
What he found in the way of cost savings and efficiencies throughout that process were considerable.
The company built a 33kW solar panel system that immediately cut its bills by about 75%, saving $12,000-$13,000 annually in energy costs. The operation replaced all low-efficiency lighting with high-efficiency T5 fixtures and installed programmable thermostats, which added to the annual savings.
"And then we looked at what we were giving away," he says. "We started recycling any cut wire and scrap metal and that added another $8,000-$9,000 per year to the bottom line. We installed a bailer, so boxes go straight into the bailer when a product is removed. Believe me, if you're outfitting the number of trucks we do, that's a lot of cardboard."
For Moore, these sustainable practices were important on an environmental level, but it was the process improvements and cost savings involved that ultimately pushed him to action.
"People think that just because you hug a tree in the process, it's not going to be profitable. That's just not true," he says. "It's important environmentally, but it's also got to make sense economically. There is a line. We recycle dunnage [packing material] that has a value and reduces what gets put in a landfill.  With a little effort up front, your recycling can be profitable.
"We're constantly trying to figure out what we can do better at every level. We're just trying to be as efficient as possible. That's a huge part of our success."
A focus on community
Another important factor to Truck 'N Trailers USA's impressive recovery, says Moore, was the company's engagement with any number of industry associations and organizations active in its community.
On the industry side, the company is a member of both SEMA and the Light Truck Accessory Alliance (LTAA), the latter of which bestowed the honor of LTAA Retailer of the Year for 2012 at the most recent SEMA Show in Las Vegas.
Closer to home, the company participates in the Chattanooga Chamber of Commerce, and was named Small Business of the Year in 2007,  and supports local charities like the Vietnam Veterans, the Armed Forces Day Parade, Ronald McDonald House, Make-a-Wish Foundation and other charities focused on helping children and the aging population.
"We want to be a community partner. We want to support the many people in our own community that do important work, many of which are longtime, loyal customers."
But at the end of the day, says Moore, it's not any one thing that keeps his company growing. It's not just the sustainable practices. It's not just the philanthropic activity, or the participation in industry and community associations. It's not even price or quality products and services. It's all of these things.
"What our business is striving to be is clean, efficient and consistent," he says. "And our customers appreciate that. Whether it's our appearance, our professionalism, our presentation or just how we do quality business. If you're solid, you'll attract customers who appreciate that."