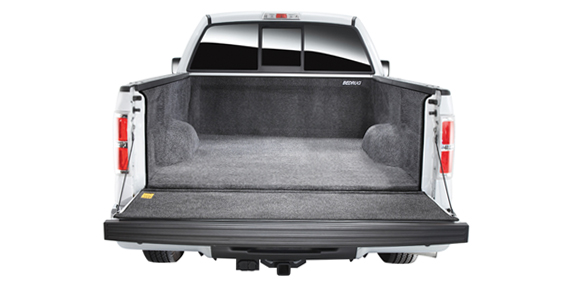 Protecting one's investment of a vehicle is a perfect way to ensure longevity, both under the hood and with the body. For those of us who depend on our cars and trucks to earn a living, we have an even greater interest (our wallets) in keeping our rides in tiptop shape.
When it comes to on-the-go jobbers, no one can afford to have a broken tailgate, rusty truck bed or other damage which can detract from getting work done promptly and efficiently. This is why truck owners turn to bedliners as an important investment. Bedliners preserve the vehicle's value as well as provide extra insurance in obtaining maximum usage of their four-wheeled investment.
Bedliners "protect truck beds and compliment a vehicle's attractiveness without permanently damaging the finish. They ensure the truck bed will stand up to everything [that could cause damage]," says Ryan Herman, national sales manager of Hickory, Tenn.-based BedRug.
MANY OPTIONS
Within the industry a few of the most popular types of liners are spray-on, drop-in or carpet-style. Customers' needs are what ultimately lead them in their quest to determine the right liner for the right job. Sometimes, customers also base their decisions on cost, which bedlining alteration will work best with the vehicle and the usage of the vehicle and its bed.
Since the economic downturn in 2008, "We have seen an increase in spraying older vehicles – and even customers changing the areas in which they spray," says Dana Mitchell, account executive for Scorpion Protective Coatings, Cloverdale, Ind. From covering damaged trucks, rocker panels and wheel wells, it has become more common to see consumers protecting their older investments.
Huntsville, Ala.-based Line-X's vice president, George Lezone, provides additional insight when it comes to investing in a liner, "Our solution for our customers is to provide spray-on liners," Lezone says. "Spray-on liners add value to a vehicle, (up to $1,000 value). The company also offers a product that "further protects from vehicle damage by reflecting UV light," he adds.
Drop-in liners, as well, have many functional, practical purposes designed to protect a bed from impact damage and other bed protection needs.
Spray liners work well for customers who want options to cover entire beds or certain other areas of a vehicle, such as floorboards, wheel wells, fenders or even an entire vehicle or other types of mechanical equipment.
For molded drop-ins, "Sometimes, customers will choose a plastic bedliner because it can quickly and inexpensively hide a worn-out bed," BedRug's Herman adds.
BedRug specializes in a different variety of liners, one that is a closed-cell polypropylene molded foam that has the look and feel of carpeting; this molded foam bed protectant is waterproof, withstands corrosion and custom fits the contours of the bed's body.
Moreover, notes Tim Williams, vice president of Penda Corp., Portage, Wis., "Drop-ins have a very high level of impact resistance and can take about 480 lbs. of force to bend.
The main reasons consumers opt for all varieties and styles of bedliners are the same as they were decades ago: to protect a vehicle's body from rust or damage.
Opportunities
Having contracts with large-scale businesses has helped many within the bedliner industry to not only persevere in business, but also to grow it.
"When new-truck sales were down, we saw considerable growth with customers preserving and protecting their older trucks," Mitchell says. "We have also seen an increase with do-it-yourself projects and have offered our 'do-it-yourself' brand for sale by the gallon since 2008. Our DIY brand can be applied to anything."
During the economic downturn, Jenny Clifford, marketing manager of Rhino Lingings of Carrolton, Texas, notes, "consumers and companies didn't have the money to replace their older vehicles, so they did what they could to maintain what they already had."
Although there is room for much debate as to which type of bedliner is best, the answer lies with each customer and his or her specific needs. In many cases, a spray liner can be used for more than just coating and protecting a truck bed.
"We are quite diverse with our applications and our chemical processes," Lezone says. "We have applied our products to other machines, such as forklifts and even cranes."
Spray liner coatings can be applied for customers across a variety of industries including marine, aviation and industrial. "Folks need a durable, high-strength coating for a great deal of applications," notes Scorpion's Mitchell. "Our marine coatings have undergone water absorption tests with a volume of zero-percent absorption while complying with American Society for Testing and Materials, (ASTM) standards."
Mike Kott, co-owner of Vortex Spray Liner, Foot Hill Ranch, Calif., says "dealers have definitely had the ability to diversify applications for boats, RVs, horse trailers, snowmobiles and transportation such as trains, buses and subways, and even in domestic areas like using it for farm equipment."
Adds Line-X's Lezone: There are even specific chemical processes for all of the many kinds of industrial applications and for all different businesses, which can range from spraying a park bench to working on large applications for huge oil companies."
John Jamroz, vice president of sales and marketing for Houston-based Ultimate Linings, says "The bedliner world is changing. Body shops want to get into the bedliner business but don't want to invest in the low-pressure equipment. There are now alternatives. We offer a product called Qwik Liner where a customer can buy a pneumatic gun, buy the cartridges and spray in their own bedliner."
Diverse clients for diverse jobs
Most bedliner manufacturers distribute to very diverse clients, some of whom use portable spray equipment, which gives them opportunity for more jobs. "We sell a portable cold-spray batch system," Mitchell says. "Cold-spray is our major business within the two types of sprays, and you can get started with our pump for as low as $1,500 dollars."
With portable units all you have to do is, "put the machine on a trailer and take it out to your worksite," relates Kott.
Some sprayers are "self-contained and only need a 110V outlet," continues Kott. "Our unit has its own built-in air compressor, heated pumps and nitrous oxide (NOS) charger. All you need to do is add the product to the system [and it is ready to use]. Our product also has the lowest pressure [offered] making it efficient. -¦ The low-powered compressor lessens the chance of overspray, causing less waste."
Within the spray-on bedliner industry there is also a difference of opinion as to how much pressure is the right amount to get the job done right without waste. "Low pressure does not spray as finely textured as high-pressure equipment," says Ultimate's Jamroz. "With higher-pressure equipment, it seems like you have more overspray, but it actually has a 95% transfer rate with the base coat," he adds.
Another way bedliner manufacturers were able to move forward despite the economy and its lags was by becoming "proactive instead of waiting for things to turn around," notes Vortex's Kott. "We realized we could either roll back overhead and weather the storm, or be proactive and look for ways to diversify while giving customers more choices and convenience. Customers are beginning to 'thaw out' from the recession and are changing their mindset. Since they protect their investments with our products, we have seen significant signs of economic improvement (within our company)."
Rhino's Clifford adds this to the conversation: "Let's face it, trucks, utility and emergency vehicles, etc. are expensive. Most truck owners and fleet managers are doing everything they can to maintain these vehicles and make them last longer. Depending on the type of coating used, they offer abrasion and corrosion protection, chemical and slip resistance. They reduce noise from vibration and impact and can be sprayed on virtually anything you can think of and can even be color matched."
Companies such as Vortex also have expanded on their offered product lines to further meet their customer's needs and their bottom line. "We offer a polyphatic glaze called Granitex which can be applied on garage floors," Kott says. "Granitex not only dries in 24 hours, it is high performance, very durable and you can drive a vehicle onto it [after 24 hours]. We also offer our Eco-Meric heat-reflective roof coating (Energy Star rated) and a high-density chrome product called Flowmat."
Spreading the word
When it comes to helping distributors recommend the best products offered, the manufacturers rely on many ways to get the best information out to their clients. "We have over 1,200 dealers worldwide and are a close community with installers and tech support," Kott says. "We also print newsletters and host advanced application workshops three to four times a year where we gather dealers together, and give them new-product information, demonstrations and communicate with them throughout our partnership."
At Penda, "We have sales forces throughout the U.S. where our guys are always available to help our customers," Williams points out.
Herman at BedRug suggests, "sales associates should be familiar with manufacturers' websites and be able to direct buyers to applications or 'how-to' information online. Another suggestion for increasing sales and product awareness is to visit a dealer or fleet manager and work out a plan for supply and installation."
Line-X uses many departments, from its executive to distribution levels. "We bring our facts from corporate through to our entire franchise network," says Lezone. Adds Line-X executive vice president Paul DeSmet: "Our marketing department sends the customers quarterly newsletters with the latest tips and we have representatives throughout the country and district leaders who support our network."
The key to great sales is informing everyone who sells the product – from commercial corporations to sole proprietorships. The better informed the distributors, the more likely sales will be to increase. "Last quarter in 2011 we saw an increase in activity, and that increase rolled into 2012," Kott says.
Jamroz shares a few tips on spreading the word when it comes to new products and generating new and repeat customers. "Get out of the shop," he admonishes. "Dealers don't care about your name; they want a good, long-lasting product and want to promote a turn-key service with a package. The best way to increase marketing concepts is to see how large dealerships run their business. Think long-term and designate a percentage of your budget for direct mail, making follow-up calls, obtaining referrals. … It is also important to know your market."
Growth in sales is not the only projected increase in the bedliner industry. "There are three areas slated for growth regarding overall coatings: in the original coatings category, in the do -it-yourself division and in window tinting," Mitchell says. "We have also seen an increase in spraying older vehicles, and even a change in the vehicle areas of where people were spraying. We have seen 4- or 5-year-old trucks now being outfitted with liners to either coat their damaged beds, rocker panels and/or wheel wells."
One thing is for sure though: No matter what a consumer's personal bedliner preferences or need, protecting one's investment and keeping our working machines up-to-par are good assurances for the longevity of the bedliner industry.
How 'impressive' are your storefront and your personnel?
By Kevin Kraack
Businesses know how to promote themselves nowadays. Or do they? While there are the Yellow Pages, and ads in newspapers, circulars and direct-mail, even online, there is the one place where a bedliner operation certainly sells itself most: the retail store.
In retail, the old saying applies, "You only get one chance to make a first impression." That first impression, especially at the retail location helps to drive and close a sale. You, though, can have several "first impressions" available to customers entering your store.
With any retail location, a clean, well-lit showroom with interactive touch-and-feel items and displays stocked with brochures always engages customers and acts as a silent salesman.
Another silent sales assistant that also can demonstrate your products and services on actual vehicles can be made available at customers' fingertips. If photos are worth a thousand words, then photos of completed work make a great impression on customers. Making photos available to customers, either in a photo album or as framed large prints on the wall shows how proud you are of your work.
And should customers have to wait a short while or want to take a moment or two to look through your photo album, providing a comfortable lounge where customers can relax with WiFi, television and current magazines creates a welcoming environment.
Your sales, and even your technical, personnel also provide another first impression. It is imperative that you and your staff be well trained and knowledgeable – able to satisfactorily answer questions about the products and services you provide. Today's retail customers are more educated about products and services for their vehicle due to online resources. So having that well trained, knowledgeable staff to help guide the customer definitely will impact sales.
All of these things can be done without breaking the bank, and the return can be impressive.
Kevin Kraack is in charge of sales and marketing for Yorba Linda, Calif.-based Bullet Liner, a spray-on protective coating for consumer, commercial, industrial, marine and military applications.