Features
Truck Shop Helps High School Builders Dream Big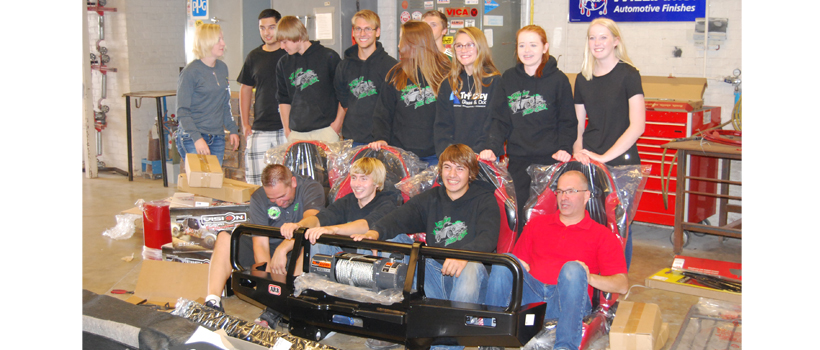 A few months ago THE SHOP magazine reported on a group of Wisconsin kids striving to build a Toyota Rock Crusher truck out of a rusty Toyota 4Runner. Freedom High School Auto Club students have been working all summer to get the 4×4 truck ready to go to SEMA.
This week, the project received a boost with a donation coming from a local truck shop.
Toys For Trucks-a $32-million per year Wisconsin-based truck accessories retailer-delivered 17 parts from 11 of its aftermarket suppliers on Sept. 14 to the school. The donations, worth $7,949-, were unloaded by students, described the moment as "Christmas in September."
BONUS READING: High School Builders Make SEMA Push
Bill Ciuplinski, the manager of the Toys For Trucks Green Bay store said the parts came from ARB, AVS, Bushwacker, Hi-Lift, Lund, Mile Marker, Pro-Car by Scat, Rampage, The Stripe Guy, Vision Wheels and Yakima. Ciuplinski said he has also lined up help to spray Sherwin-Williams paint on the truck.
The young automotive technicians at Freedom High School are converting the 4Runner into a rock crusher that will be on display in the Sherwin-Williams booth at the giant automotive trade show scheduled to take place Oct. 31 through Nov. 3 in Las Vegas.
Freedom High School auto shop instructor Jay Abitz (jabitz@freedomschools.k12.wi.us) organized the build and its trip to the show, but the idea and the 4Runner came from Rick Paulick, the owner of the NEW Motorama, an indoor show held in Green Bay every year.
"The Freedom High School students and other members of the Freedom High School Auto Club help out at my show," Paulick said. "I wanted to help them out by donating a car and this morphed into the idea of the kids doing a SEMA build. Jay has the connections that could make this sort of thing really happen."
The build started as a once-per-week project on Wednesday afternoons, but is now up to four days per week. Volunteers and students have roughly five weeks to complete the project.
"We've committed to a SEMA project and we're going to get it done," Abitz insisted. "We know from experience these jobs take lots of hours. Of course, professional assistance, like that from Toys For Trucks and its suppliers, will help. Getting companies like them involved will speed the project along, tool."