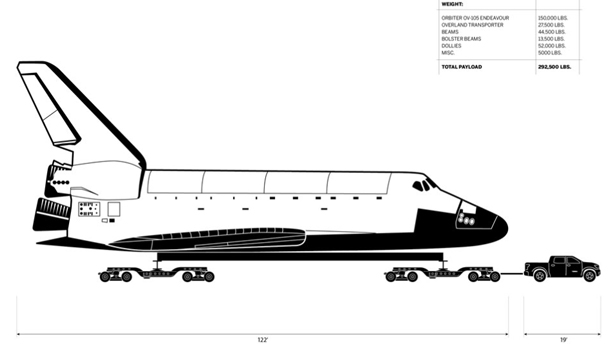 Toyota Motor Sales (TMS) announced that the Toyota Tundra full-sized pickup will tow the space shuttle Endeavour to California Science Center in Los Angeles Oct. 13, where it will go on permanent display.
On its final journey, Endeavour will travel a total of 12 miles on city streets from Los Angeles International Airport to the Science Center, with the Tundra towing the last quarter mile.
"There is no larger or more recognizable icon of the U.S. space program's success than the shuttle, and to have it towed by the Toyota Tundra is not only an incredible example of the capabilities of the truck, but an honor to be part of history," said Ed Laukes, TMS vice president of marketing communications.
The 2012 Tundra was tested extensively to make sure it could safely tow the 300,000-lb. historical artifact down Bill Robertson Lane in Exposition Park, near downtown Los Angeles.
TMS partnered with The Sarens Group, a heavy-lifting and engineered transport company, to develop a special dolly to haul the Endeavour.
The Endeavour will be towed with a stock 2012 Tundra Crewmax ½-ton pickup, identical to models sold at Toyota dealerships. The Tundra Crewmax is equipped with a 5/7L V8 engine that procures a maximum tow capacity of 10,000 lbs. No modifications were made to increase towing capacity or generate more power.
Endeavour's 12-mile journey will conclude with a "finish-line" celebration at Exposition Park, where the public will able to witness the shuttle's arrival at the Science Center.
Participation in the transport of the shuttle is part of an ongoing partnership between TMS and the Science Center in an effort to provide support and awareness of the space program. Toyota currently has a Tundra truck on display in an exhibit at the museum demonstrating the physics of leverage, which the shuttle-towing Tundra will replace after the Endeavour exhibit opens Oct. 30.