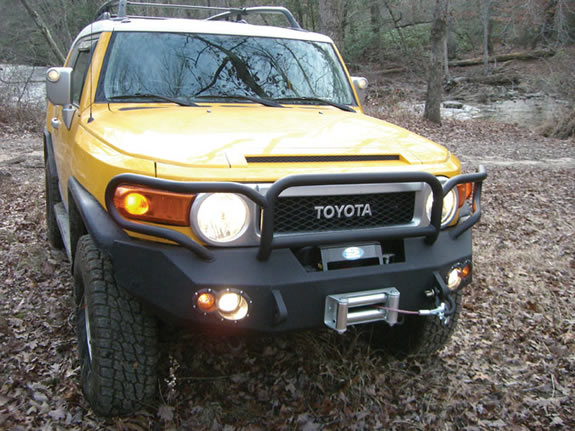 There's no question that the lifestyles of those who live in the city differ from those who live in the country. Gridlock traffic isn't a concern in small town, just as hitting a deer isn't an issue in most cities. But, do these differences in daily experiences come into play for enthusiasts looking to accessorize their vehicle?
The question of whether buying patterns are different for these two groups of customers may answer another question: Do enthusiasts accessorize their vehicles for function and fun, or are they seeking style and fashion? These are just a few of the questions we posed to a few top-notch bumper and grille guard manufacturers. Their answers on the difference – or lack thereof – between these two demographics may surprise you.
Cityside style
Before we dig into the demographics of the buyers, let's a take a look at the products they're buying.
Commenting on which of his company's products are popular in urban and suburban areas, Greg Higgs of Fab Fours, Pineville, N.C., says, "Our biggest contender for this category is our 3/4- and 1-ton pickup truck bumpers. While providing over-engineered strength, Fab Fours is known for our customized look. We have a philosophy of one bumper for one truck; therefore, our products are right at home either custom color-matched on a top-of-the-line Super Duty or a ready-to-work Dodge with our two-stage powder coat."
Richard Chomout of Tough Country Products, El Campo, Texas, says the firm's grille guards and full-front replacement bumpers are popular in both the city and suburban areas of Houston and other cities.
"These products gain their popularity from hunters and ranchers as well as the soccer mom, all of which look for protection from the daily hazards on the road and on the ranch," says Chomout.
Fadi Ajam of Xanatos/Black Horse Offroad, Woodside, N.Y., notes that his company has designed items to lightly protect CUVs that are popular in the city.
"For example, our Bull Bar, A Bar, side steps and one-tube rear bumper guards for the Toyota RAV 4 and Mazda CX7 range from 2-in. to 2.5-in. in diameter," Ajam says. "We have also designed items for the city for bigger SUVs like the Toyota 4 Runner and Mercedes ML.".
At Back Country Accessories, Palatine, Ill., Mark Foehring notes that his firm features a bull bar that's called the Sport Bar. "Back Country Sport Bars add a stylish look to SUVs and trucks, making them a popular dress-up item for city dwellers," says Foehring.
It appears that while there are a variety of products developed for urbanites, most of them are not purchased for function. However, it's only fair to point out that living in the city doesn't require staying in the city. Even the largest cities in the country are only a drive, long or short, away from the country. Many of these enthusiasts are sure to enjoy the tough and aggressive appearance of their vehicle while it cruises the city blocks, as well as its fun-loving function on an off-road trail.
Countryside function
Now, let's turn our product focus toward the rolling hills and thick forests of the country.
Ajam lists several products Xanatos/Black Horse Offroad has designed for function on ranches, farms and woods. They include bull bars, grille guards and side steps for bigger trucks that are popular in small towns and farming communities, such as the Ford F250, F350, F450.
"Since the people in farming communities keep their trucks far longer than city customers, we have stretched out our inventory to include 10- to 15-year-old trucks. Our items not only protect the SUVs and trucks, but they also serve as replacements for rusty OEM side bars," says Ajam.
Tough Country's Chomout points out that grille guards and full front replacement bumpers are equally popular in the small towns and farming communities. "In these areas, the grille guards provide a moderate amount of protection from accidents involving other vehicles as well as the distinct possibility of animals in the roadway, while the full-front replacement gives the ultimate peace-of-mind protection from those unfortunate circumstances."
Higgs comments on Fab Fours' full grille guard replacement winch bumper: "This product provides the most protection for the entire front fascia," he says, and it "most represents the traditional 'rancher' brush guard to be used for vehicle protection on the ranch, as well as protecting against animal strikes common to rural environments."
Demographic differences
Now that we've run down some of the products for city and country enthusiasts, let's dig into what the differences are, if any, between these two demographics. Higgs notes that Fab Fours' specific brand of replacement winch bumpers can be a tough sell to the country clients.
"While our product is at the top of its class in terms of construction and strength, a large portion of the MSRP is tied to the styling and aesthetics," Higgs notes. "The billet look and labor-intensive attention to detail are not of equal importance to the country and urban consumer. The country consumer value is based higher on function, whereas the urban consumer requires both function and form."
Those views are largely echoed by Ajam, who has discerned that city customers have looks on their minds and need light protection while parking their cars on busy streets.
"They don't need bulky items," says Ajam. "Further, most of these items are easy to install and remove since most cars in the city are leased. For the farming community, they look for style and durability. They need these items to protect their SUVs from all sorts of small accidents, such as hitting a deer."
Of course, not everyone agrees with those sentiments. Chomout tells us that the demographics Tough Country has observed suggest there is not much of a difference between the urban and country clients. In both areas, the manufacturer reports that a husband will outfit his wife's Suburban, Tahoe or Expedition with a grille guard and then outfit his pickup with a full-front replacement.
Jhan Dolphin of Realwheels, Gurnee, Ill., doesn't see any difference in his sales between town and country clients either, noting that Realwheels creates both black and chrome brush guards. "We've got hardcore off-road guys that are using the chrome because it's just the look they want," he says. "For most of the buyers of these guards, even if they're off-road guys, they're never rushing through the small trees, knocking stuff down with these brush guards."
Dolphin goes further, asking, "What's the guard there for? Is it really protecting the front end? Branches are still going to get through. If you really think about it, the majority of the people buying these products are doing so because they look cool. It gives their vehicle that aggressive look, and that's true whether it's someone in an urban area or someone out in the country.
"It's not like the guys out in the country are regularly driving through cattle or knocking over fence posts. If a guy out in the country is adding accessories to his vehicle, it's because he likes his vehicle. Unless he's adding a trailer hitch or something that's very usable, if he's buying aftermarket products, especially ours because they're high end, it's because he loves the vehicle-and if he loves the vehicle, he tends not to beat it up anyway."
City slickers just want looks?
Whether country customers are adding accessories to their vehicle for a specific purpose or simply because they favor a tougher appearance, it's clear that the country offers a plentiful opportunity to take advantage of these accessories' protection. But what about those buyers living in the city? Do they just want looks without heavy-duty strength? According to Ajam, they need both but, most importantly, they need durability against the elements.
Looks tend to be more of the force driving decisions in metropolitan areas, says Foehring. "However, there are still many truck and SUV owners that want a rugged vehicle for weekend trips out of the city. Others want that rugged look even though they rarely, if ever, go off-road."
"In our experience," says Higgs, "we have found that to deliver our level of looks, it can only be achieved over a solid substrate. That being said, I do believe that a majority of the customers in this segment would be satisfied with a bumper looking just like ours does at half of the strength." He adds that Fab Fours believes in making its products functionally stylish.
Chomout notes that sometimes Tough Country's full-front replacement bumpers are sold to someone who has no intention of using all of the qualities and attributes that those bumpers possess.
"This is the reason that Tough Country has incorporated styling into our products," Chomout says. "Having the combination of quality, durability and styling makes a product line attractive to both the looks and strength customers want," says Chomout.
For his part, Realwheels' Dolphin again points out that he doesn't see a differentiation between the "bling guy" with the "blinged-out" vehicle and the farm community.
"I just don't see that being the defining line," he says. "It's not so much town and country as it is what type of look that person is looking for and what they want their vehicle to look like. It's just like paint. The type of graphics package a guy goes with doesn't separate him because he's into hardcore versus bling, or a street look versus an off-road look. It is more about individual taste than the demographic where they live – at least for our market and the customers we have."
Rural only means function?
We stated earlier that the country buyer has plentiful opportunity to take advantage of the attributes these products possess, but does the farmer or rancher need a tough son-of-a-gun guard because there's brush he or she often runs into in the fields?
"Absolutely," says Higgs. "And it is not just farmers and ranchers. There are numerous self-employed small-business owners whose livelihood is tied directly to the back of a truck.
"The farmer, the rancher, the entrepreneur have invested in an asset, and the bumper is ameans of hard knocksinsurance to protect that asset. If they strike a deer, or an employee runs the truck into a ditch, they do not want a four-week downtime of repairs. They want a can of flat-black spray paint! Hose it off, smile and continue to the jobsite."
These folks need products for the front of their trucks because the truck is an everyday tool for them, Chomout points out. The truck is much more than just transportation.
"A farmer will often tow his truck behind his tractor and implement when moving from field to field, and a common finding on ranches in Texas are 'bump-gates.' These gates are designed to be opened by bumping them with the front of the truck. Sometimes both the farmer and rancher will attach tanks to the front of the truck for spraying grass or insecticides. Some will attach a deer feeder to the front replacement to spread corn along ranch roads and right-of-ways," says Chomout.
He adds that many of the full-front replacement bumpers he sells have a winch mount built in. "This allows the customer to install the winch of his/her choice for a variety of uses," he says. "Some farmers and ranchers will often place a ball mount in the front receiver to allow them to maneuver a trailer or boat instead of using the rear of the truck. As you can see, there are a multitude of uses for the front of a vehicle."
Economic impact
In one way or another, the economy is a factor that has had an impact on all buyers, from the fields of Kansas to the towers of New York City. How has it affected the sales of these products?
"We have noticed a dip in sales," says Chomout. "However, the market for these products appears to be rebounding. With trucks declining in value, they are becoming more affordable to those who could not previously drive them. With a more affordable truck, it makes accessorizing them more affordable."
Higgs says that to some extent, the answer here is yes: Sales have been affected. "However," he adds, "for the hardcore restyler that is planning on building the best truck in town, a strict budget was never really at play. This buyer will come up with the funds even in the worst economic environment."
The economy has certainly impacted consumer confidence and, thus, purchases in general, says Foehring. He adds that "for the most part, this affects city and rural areas alike. Yet, those who use their trucks for work, whether on the farm or as a contractor, still need the upgrades that will help them make a living."
Ajam offers similar thoughts: "City folks stopped buying, as they are holding off on buying new cars. Meanwhile, farming and ranching folks need these items, so they kept on buying."
Throughout town & country
The point behind this attempt to determine whether sales differ for town and country buyers is to find out, if there is a difference, what the best way is take advantage of those differences for sales and marketing.
County buyers do seem slightly more likely to purchase for function than their city-dwelling counterparts. However, it doesn't seem as though there is enough of a difference between the two to come up with a different strategy for each.
Dolphin tells us, "We can't forget why we and our customers started personalizing their vehicles to begin with. It wasn't about function; it was because they wanted to stand out and be different. That's true whether you live in the city or the country."