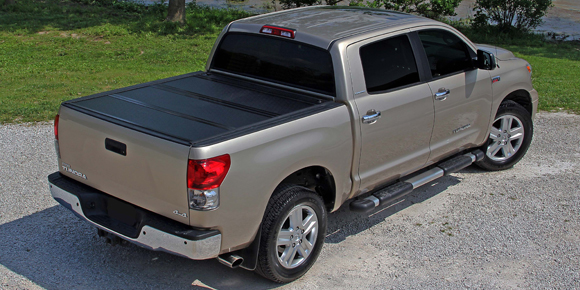 Sure, it's August and for much of the northern hemisphere the dog days of summer might be upon us or around the bend. About now, the only thoughts of fall and winter drift toward cooler, even colder, temperatures to bring some relief from the heat.
Yet even while the days are long and hot, relief is not as far away as we might think. In the near months, the new truck models will show up in the showrooms and on the lots of dealerships. And customers buying those new 2013 trucks (or the remaining 2012 models) certainly will need aftermarket products to better outfit their stock pickups.
With the autumn leaves and fall rains and early snows that will fall, truck owners will be on the lookout for bed protection. And those restylers who have made plans to inventory tonneaus will be ready, willing and able to immediately service those customers' needs.
Restyling talked with a number of tonneau installers from coast to coast to harvest their expertise about the tonneau market. As installers, what they have to share here might just give you a little more edge on your competition -¦ especially as the seasons change, the air gets cooler and the tonneau sales get hotter.
Restyling (RE): Despite increased gas prices, truck sales seemed to do well this year, especially as fleet owners began to replace their aging vehicles. Did sales of soft and/or hard tonneaus follow that trend? Why do you say that?
In our area the hard-tonneau cover sales decreased as the soft-tonneau cover sales increased – mainly because of the marketing strategy used by the manufacturers on how the cover can save fuel consumption.
– Phillip Schulz, owner, Accessories 4 Trucks, Willmar, Minn.
Our sales of soft tonneaus are very consistent year to year. Where we have seen strong growth is in the retractable Pace Edwards line and in the Undercover LUX (painted tonneau). We are also experiencing strong increases in the folding tonneau cover segment, especially in the Undercover Flex line.  The fleet business is definitely improving primarily with retractable tonneau covers.
– Ron Towry, owner, Truck Gear SuperCenter, Houston
We had a very productive increase this year in sales. I think [pickup] customers are accustomed to having bed covers replaced in their trucks with some type of cover for protection from theft of product underneath. And they want better gas mileage.
– Peggy Goss, president, Goss Camper Sales, Little Rock, Ark.
Soft and hard folding or rolling tonneaus have kept up with sales due to their price points and functionality. Fiberglass tonneaus have not followed the same trend, possibly for a few reasons: restrictions on ability to use the bed and the fact that there are now so many other options in the same category.
– Ron DiVincenzo, general manager, Massachusetts (multiple East Coast locations)
No. [Sales did not follow that trend.] Sales remained constant. [We] didn't notice any real influx in sales due to this [increase in truck sales].
– Adrian Hofstetter, store manager, Action Car and Truck Accessories, London, Ont.
RE: Regarding fleets. Are they now and through the year's end a strong market to aggressively pursue? Why?
Fleet accounts are a very important asset for the truck accessory market. These companies need to equip their trucks with a high-quality product that can withstand a high amount of daily use, for which they are willing to pay the higher cost for the products that will last.
– Phillip Schulz, Willmar, Minn.
Yes, it's a strong market to go after. Go directly to the fleet manage. It has proven very profitable in my market to stay in personal touch with them. They are the team management for me to get to their sales teams in my area.
– Peggy Goss, Little Rock, Ark.
The fleet customer tends to buy commercial truck caps, hitches, grille guards and ladder racks, and that is business that we aggressively pursue. The demand from the oil field in our market has been especially active.
– Ron Towry, Houston
Simple; they are buying trucks in numbers and need to outfit them for their use. We find the people purchasing now really need the products -" it's not just a want issue.
– Ron DiVincenzo, Massachusetts
Yes, [you should go after the fleet market]. The (Extang) Encore cover [for example] caters to the majority of their needs. That is, it's easy to remove and has front access.
– Adrian Hofstetter, London, Ont.
RE: Do you work closely with truck dealers to outfit their customers' trucks? If so, how do you maintain that relationship, and how do you promote your tonneau products to them? Also, is the way dealers and aftermarket installers work together equally beneficial for you and the dealer? Is there any part of the business relationship you think could be improved?
We work closely with most of the dealers in our area. We have vehicle-specific catalogs and literature that we present to each of the dealers we work with. Working with dealers is both beneficial to the dealer and the installer. As an installer we can either wholesale to the dealer or they can send us the customer or both. We have a lot of items on hand, so the dealers can use our showroom as a sales tool to sell our products instead of OEM products that the customer would pick out of a catalog. Also, we bill directly to the dealers so they can also make a profit, and add the costs to the deal or loans.
– Phillip Schulz, Willmar, Minn.
I work closely with the sales team locally, keeping the sales team informed of changes in models of trucks, lid, model years that change, colors that are hard to match, etc. The salesmen are not aware of a lot of changes and sizes of trucks – that is where we can educate them. And, also educate them in a gentle (polite) way how to eliminate mistakes in orders over the phone. We put displays of product and literature in the [dealer] showrooms when they allow us to.
– Peggy Goss, Little Rock, Ark.
The truck dealers have always been an important part of our business. We currently enjoy excellent relationships with the individual dealers and base our strategy on three areas: Price our product very competitively; keep adequate inventory on hand to fill their orders immediately; and pick up and deliver their vehicles with the product installed at our locations. The most successful truck dealers in the aftermarket have dedicated sales personnel that are responsible for accessories after the truck is sold.
– Ron Towry, Houston
We do work with dealers and are constantly working with their sales teams to increase their knowledge and trying to make the sales process simple.
– Ron DiVincenzo, Massachusetts
RE: How do you think tonneau sales will shape up in the last two quarters of this year? What will impact those sales either good or bad?
Weather greatly impacts tonneau cover sales. Rainy or snowy weather throughout the seasons drives the consumer to buy a cover for their truck.
– Phillip Schulz, Willmar, Minn.
I hope that with gas prices lowering that [sales] keep on booming.
– Peggy Goss, Little Rock, Ark.
In my opinion, tonneau covers will continue to improve the balance of the year. The only impediment would be increase in gas prices, shortages or some kind of economic slide causing a drop in truck sales.
– Ron Towry, Houston
We have seen a slight downturn in truck sales and obviously would like to see that change; if it does, tonneau cover sales should remain a good part of our business.
– Ron DiVincenzo, Massachusetts
I think [tonneau sales] will stay on a par with what they are doing now. The economy will definitely be the major impact.
– Adrian Hofstetter, London, Ont.
RE: Do you think brick-and-mortar aftermarket retailers are losing sales to online aftermarket companies that promote tonneaus to the do-it-yourselfers, or are the vast majority of end users continuing to buy from local retailers/installers for the do-it-for-me customer?
I believe that, at first, we lose out to online sales; but once the customer either ends up with the wrong product, parts missing or low-quality products, they tend to come back to the brick-and-mortar companies. They also tend to tell their friends about their experience. So, in the end, it turns out sometimes to be a win-win for the brick-and-mortars, unless the customer is only interested in very low quality product that is a universal fit.
– Phillip Schulz, Willmar, Minn.
Yes, we are losing some of our customers to online sellers. We have to sell our personal service and warranties to customers. Our workmanship and ability to satisfy customers is going to keep us alive in the future.
– Peggy Goss, Little Rock, Ark.
Yes! But I am not as concerned because tonneau covers are difficult to install, and fiberglass or painted tonneau covers are difficult to ship. Retractable, soft and folding tonneau covers are the models that lend themselves to online retailers, and we see pricing pressure in those areas. The primary factor that is an advantage to the brick-and-mortar retailer is immediate availability and knowledgeable installers.
– Ron Towry, Houston
The Internet is part of life, now, and there are quite a few truck buyers that shop online. We need to work harder to get more sales.
– Ron DiVincenzo, Massachusetts
Internet promotions are the new trend and seem to be doing well. End users are still purchasing local – because of the Internet.
– Adrian Hofstetter, London, Ont.
RE: Do tonneaus seem to sell themselves, or do you or your staff have to help customers with their decisions? How exactly do you help them?
There are no products that sell themselves. You need to find out what the customer's needs are; we then suggest the best product that will work for them. We have a lot of different tonneaus on display, so that we can show the different features from one manufacturer to the other.
– Phillip Schulz, Willmar, Minn.
We don't actually sell the tonneau – we educate the customer on the advantages of each type of product and they sell themselves. The customer usually has already decided that he needs a product to cover his bed and we guide him toward the best option that will fill his needs.
– Ron Towry, Houston
When our customers come in they are already in the market for a tonneau. It is our job to steer them to the right product, whether it be a vinyl, plastic or fiberglass one. We have to educate each customer, one by one.
– Peggy Goss, Little Rock, Ark.
Tonneau covers are good products. We need to assist in the sales process to make sure the customer gets the cover that best fits their needs.
– Ron DiVincenzo, Massachusetts
It's both. You need to identify what [customers'] needs are – and then the covers sell themselves.
– Adrian Hofstetter, London, Ont.