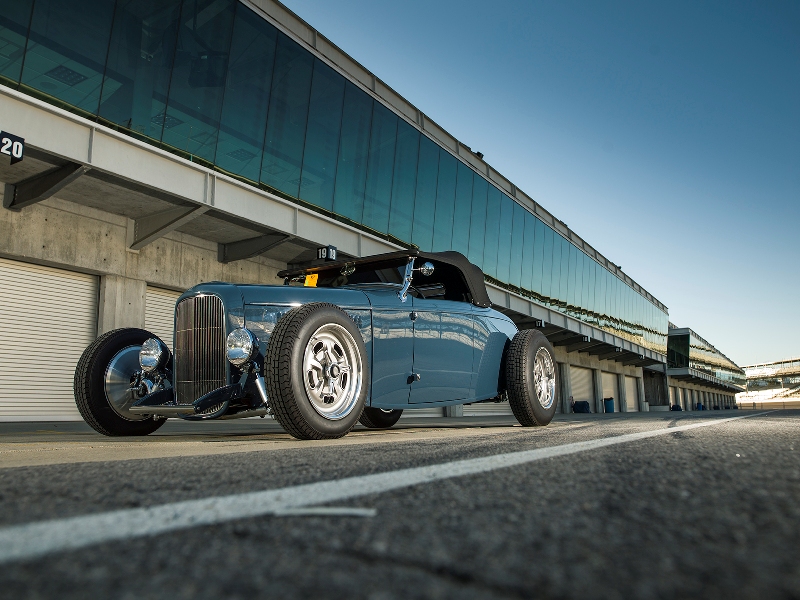 Tom Gloy's '32 roadster built by Brizio Street Rods won Goodguys 2012 Tank's Hot Rod of the Year award at the Goodguys 2nd WIX Filters Speedway Nationals at the Indianapolis Motor Speedway.
The idea of Gloy's low-flying roadster was conceived during a conversation with Roy Brizio a few years back, when the two drove to the Bonneville Salt Flats, according to a Goodguys Rod and Custom Association press release.
With a racing career that spanned more than 25 years including Trans Am World Championship and Formula Atlantic titles, Gloy was looking for a '32 Ford roadster in which he could sit low and drive fast. Brizio accepted the challenge and led a team of Bay Area craftsmen to build a channeled Bonneville-inspired roadster.
To redesign the car's front end, Brizio and his build team narrowed the cowl, grille and windshield. To accommodate Gloy's low seat, the floorboards were radically lowered. The rear quarters were filled and smoothed, and the rear wheels tucked tightly against the channeled body.
Darryl Hollenbeck, body and paint specialist at Vintage Color Studio, perfected the car's classic mid-'50s Porsche blue that contrasts its red leather interior stitched by Sid Chavers, the release stated.
The custom Brizio chassis features torsion bar suspension from Moal Coachbuilders and a classic hot rod rake courtesy of the chromed Magnum 5-inch dropped axle. Custom-machined caliper brackets inspired by Bonneville-style moon discs enhance the 18- and 16-inch ET knockoff wheels. Courtesy of Wilwood brakes, the 302-inch Hilborn EFI Ford crate motor and Tremec 5-speed help the roadster get up to speed in a hurry and stop on a dime.