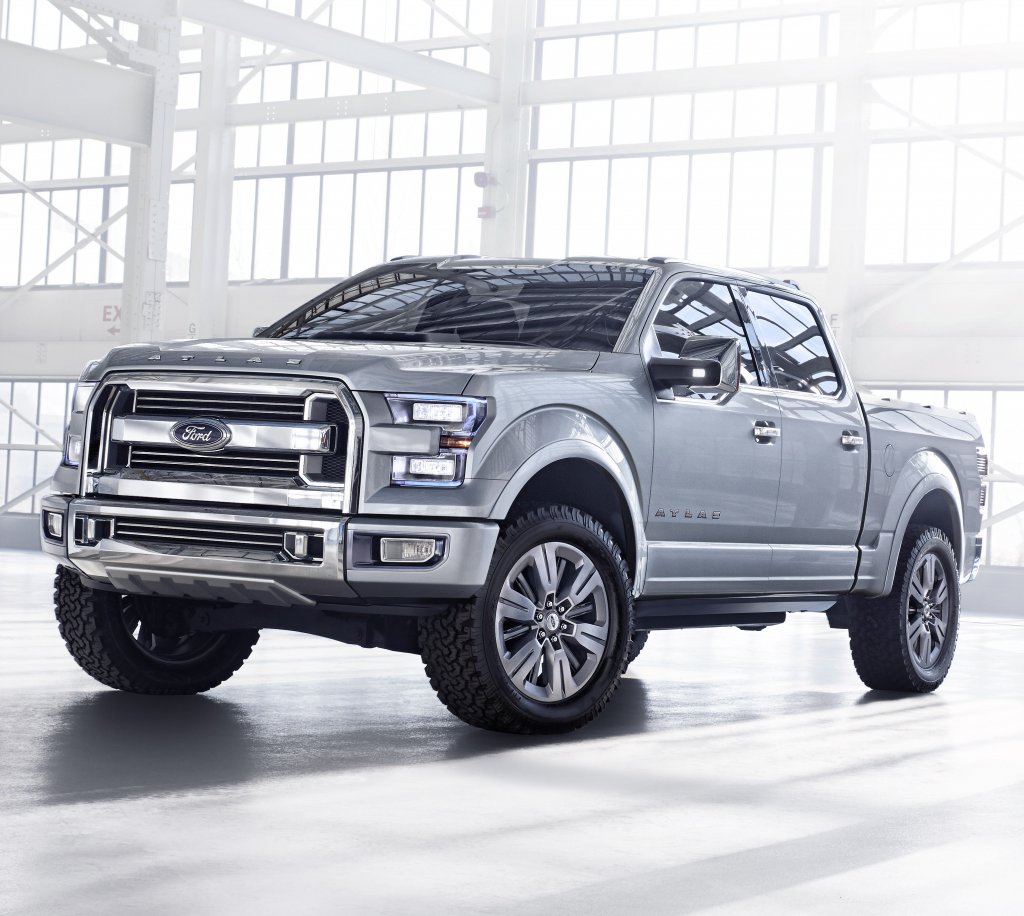 Unveiled at the North American International Auto Show in Detroit earlier this month, the Ford Atlas Concept drew crowds with features Ford Motor Co. said will define future pickup trucks.
"The Ford Atlas Concept previews the innovations that will transform what people expect from their pickup," said Raj Nair, Ford group vice president, global product development, in a press release. "With 36 years as America's best-selling pickup, we are absolutely committed to setting the agenda in the truck market."
The Ford Atlas Concept's "purpose-driven design" with prominent wheel arches, a wide stance and chiseled grille was inspired by decades of listening to customers at places they work and play. Designers enhanced functionality, while creating new advanced features such as multiple tie-down points within the cargo box walls and load floor; 110-volt electrical outlets in the cargo box to charge power tools; integrated carrying system and hidden extendable ramps, the release noted.
"We wanted the concept to reflect how Ford trucks help customers in both their worlds-professionally and personally," said J Mays, Ford group vice president and chief creative officer. "Every surface and feature in the vehicle has been crafted for purpose and capability while retaining an unmistakable Built Ford Tough look."
The interior of the truck has lightweight leather seating that allows extra legroom for rear passengers as well as integrated storage for smaller items. Floating instrument pods and glove-friendly buttons and controls keep the interior functional and "ruggedly stylish."
Equipped with a next-generation EcoBoost powertrain, the Ford Atlas Concept has enhanced Auto Start-Stop engine shutoff technology, which shuts off the engine when stopped in traffic to save fuel and suspends the feature when the truck knows it's towing. EcoBoost engines use gasoline direct injection and turbocharging to deliver fuel economy gains of up to 20 percent and reduction of carbon dioxide emissions of up to 15 percent, the release stated.
Other elements of the pickup that help save fuel through a combination of active aerodynamic elements through reduced wind resistance include automatic grille shutters, automatic hidden wheel shutters, drop-down front air dam and power running boards.
The Ford Atlas Concept also has a variety of features to meet the diverse needs of pickup owners such as a duel-purpose tailgate step and cargo cradle with the ability to lift and hold extra-long cargo items above the truck to free valuable bed space, a trailer backup assist that allows drivers to back a trailer with the twist of knob, and a hitch assist that helps precisely line up the truck's hitch with the trailer coupling.
The pickup's 360-degree point-of-view camera, a Ford truck first, gives drivers a bird's-eye view of the truck to help position the vehicle in tight places. And finally, the Ford Atlas' head lamps, tail lamps, cargo box and side mirror are all equipped with powerful and efficient LED lights.