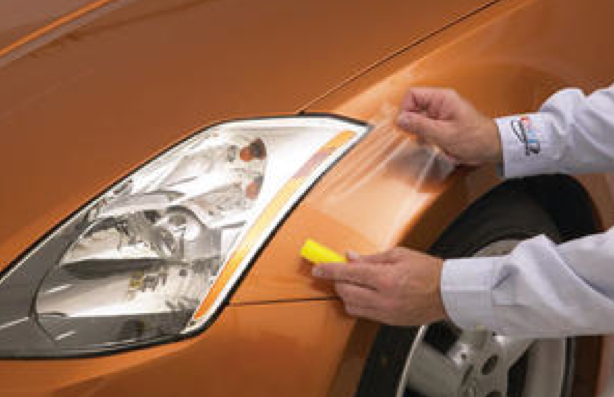 Paint protection and window film products are part of a mix of aftermarket accessories that contribute to value, performance and/or vehicle aesthetics. Manufacturing and installation technologies are changing as the use of automotive films increases.
Film markets are expanding and interconnected: window films are a natural progression from paint protection films; paint protection films are a natural progression from window films.
Films are not limited by variations in consumer tastes or by genres of vehicles. Tint demand varies by region but is consistent.
Paint protection film is used most frequently to protect vulnerable painted areas on vehicles from rocks, bugs and road debris that causes chipping:
Bumpers and leading edges of hoods and fenders, mirror backs, air dams, body kits, door handle grab areas, keyholes, doorsills and edges, and wings
Developing markets for paint protection films:
Recreational vehicles
Trailers, off-road vehicles, ATVs
Personal watercraft
Racetracks
Commercial and fleet
Emergency vehicles
Window film benefits:
UV screening
Improve driver and passenger comfort
Reduce glare
Shield passengers
Reduce heat build-up
Consumer needs:
Color/shade/tint
Warranty
Heat reduction
Safety
Security
Window film types/characteristics:
Dyed, non-metalized: economical; protects from glare and UV damage; subject to color change; does not interfere with GPS or cell phone signals.
High-Performance hybrid: dyed polyester and metal; offers better heat rejection than metal-free films.
All-metal: strong heat rejection; protection from glare and UV light; reflective appearance; may disrupt some radio signals.
Spectrally selective: allow most light into the car, but reject infrared; generally do not interfere with GPS/cell signal.
Ceramic: contain metal oxides; heat rejection properties similar to hybrids; no signal disruption.
Nanotechnology; nanoparticles selectively transmit visible light and block infrared.
Film Material Supply Chain:
Pre-cut paint protection and window film kits for specific models from various vendors
Custom plotter cut templates from bulk film stock
Custom hand cut from bulk film stock
Pre-cut kit suppliers:
Solar Gard / Bekaert Specialty Films
Solar Gard Clearshield
3M
Scotchgard Paint Protection Film
Husky Liners
Husky Shield
Performance Tools Distributing
Lamin-x Protective Films
Marklyn Group Inc.
Moonraker Professional Installer film
Topline USA
LEADINGEdge
Star Shield Armor
Plotter/cutter manufacturers:
Roland DGA
Mimaki USA
Mutoh America
Graphtec America
GCC
Gerber Scientific Products
Summa
Film Pattern Software:
3M Digital Designs
(Designed for 3M Scotchgard Paint Protection Film & includes patterns for VentureShield Paint Protection Film)
Roland DGA
Film Designs Pro
Tint Tek 20/20
Window FilmCutting Software
Solar Gard
ComputerCut
Xpel
Design Access Program
Venture Tape
Invisible Pattern 
Mimaki USA
The Bad Wrap
Solutia/CP Film
PrecisionCut