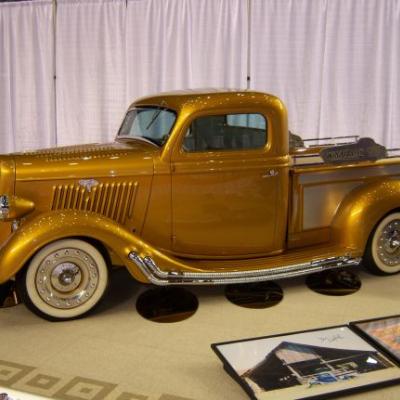 Take a break from the turkey, the football and the shopping frenzy by checking out one of the car shows and events being hosted around the country this long Thanksgiving weekend. Here's information on eight such events.
O'Reilly Auto Parts' AutoRama takes place Thursday through Sunday in Houston. The event will feature a number of notable cars on display, including "Downtown Brown," the Goodguys' Rod of the Year, as well as a special section of rare cobras showcased in the Snake Pit. The event will include a swap meet, Toyarama, arts and crafts vendors, live music and a car corral. Autorama will also host the Summit Racing Equipment Show Car Series Championship Finals, the Autorama Burn Out Competition, Cacklefest, the Anger Management Street Extreme Freestyle Show and the Lonestar RC Nationals. Over $40,000 in cash, merchandise and trophies will be presented to outstanding clubs and car owners competing in 17 classes. For more information, visit www.autorama.com.
The 2010 Daytona Turkey Run takes place Thursday through Sunday in Daytona Beach, Florida. The event will feature car shows, a motorcycle showcase, a race car display, a swap meet, a car corral, craft vendors, movie screenings, games and raffles. For more information, visit www.turkeyrun.com.
Huffarama, a car show and art raffle fundraiser to benefit customizer Bo Huff, takes place Saturday in Colton, California. Huff was recently diagnosed with Stage 3 Multiple Myeloma and is in treatment in Salt Lake City. The rain-or-shine event will raise money to help pay for his treatment. Huffarama will feature cars, vendors, art, live music and pinups. For more information on the show, or to make a donation to the Bo Huff Medical Expense Account, visit www.huffarama.net.
Cruisin' Main Street in Mesa for a Cause takes place Saturday in Mesa, Arizona. The charity nigh-time car show and cruise will benefit the Mesa Police Department Honor Guard. The event will feature police vehicle and robot displays and demos, Hot Wheel racing for the kids, food, music and vendors. For more information, visit www.hotrodplanet.com.
The United Ford Owners Car Club presents its 24th annual Fall SuperSwap Saturday and Sunday in Columbus, Ohio. The all-Ford indoor swap meet and car corral will be held in four buildings at the Ohio Expo Center. For sale will be new, used, aftermarket, Mustang, 5.0, 4.6, high-performance, classic, restoration, NOS, trim and vintage parts, as well as literature, collectibles, die-cast and vehicles. Cash drawings will be held throughout both days of SuperSwap. For more information, visit www.unitedfordowners.com/superswap.
Branded Customs and the Boulevard Aces car club present their Custom Car Show Sunday in Garland, Texas. At the show, over 100 awards will be presented to cars, motorcycles, bicycles, pedal cars and model cars. For more information, visit http://boulevardaces.com.
The California Automobile Museum is hosting the 23rd Annual Christmas Tree Decorating Party and Potluck Dinner on Sunday in Sacramento, California. Each participating car club/group will provide their own tree, which will be decorated during the event. A potluck dinner featuring raffles and door prizes will follow. Proceeds will benefit the museum. For more information, visit www.calautomuseum.org.
The Ecology Auto Parts Long Beach Hi-Performance Swap Meet takes place Sunday in Long Beach, California. The event contains two distinct sections. The vendor area consists of both professional businesses and individual people selling both new and used classic, antique, and high-performance car and truck parts, tools, and accessories. The car corral is for the showing or selling of antique, classic, and high-performance cars and trucks only. For more information, visit https://toppingevents.com/ecology_meet.asp.