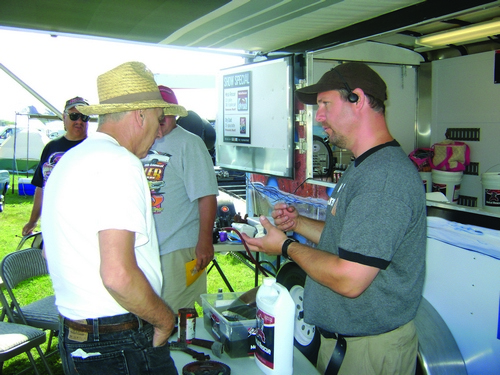 Dave and I have a lot in common: a love for the automotive industry, an affinity for Grey Goose vodka, and a desire to abandon work for the day to tackle the winding roads and rolling hills of Northern Michigan in anything from an Audi S4 to the new Mustang 5.0.
Although I'm not much of a Steely Dan fan, I'm sure to learn a lot from Dave on any long drive through Northern Michigan's wine country in a borrowed Chevy Citation and an old AC/DC "Back in Black" cassette tape.
You see, Dave's company, ARMOR, has been a solid and steady player in the industrial market selling rust-inhibiting packaging materials for over 30 years and only recently entering the aftermarket with the kinda splash Jonah Hill might make in the Bellagio's pool.
Unlike many institutional brands with a sudden interest in the aftermarket after a bad date with Wall Street investment bankers, Dave's management team did everything right bringing Metal Rescue to market. They invested heavily in retail packaging, point-of-purchase displays, and sales training programs. They've run ads on popular television shows such as "Two Guys Garage" and they're committed to the future with print and Web advertising to help the retailer tell the Metal Rescue story.
It's a great story, and I had the chance to sit down with Dave over a few drinks at the Bellagio during the recent SEMA Show to find out just what has made Dave and his team so successful in such a short period of time.
LJ: OK Dave, who, or rather what, is ARMOR protective packaging? It sounds like a U.S. Defense Department kinda gig, you know, something from an Ironman movie?
Dave: (laughing) Well, sorta…ARMOR is a corrosion management solutions company. Essentially we make products that fight rust.
We've been around for 31 years in the OEM market so we're not well known in the aftermarket. Not yet anyway. But, we are a proven global company that has serviced Ford, GM, Nissan, Rolls Royce, Cummins, CAT, and the U.S. military. We service over 25 countries on four continents.
Our original products are primarily packaging materials that contain rust inhibitors. Our premise, or our slogan, is that we are a safe, clean and easy rust prevention and rust removal company.
LJ: What exactly is Metal Rescue…and did you seriously start with a Chevy Citation (see below)?
Dave: Metal Rescue is a rust remover bath. And I'm not gonna comment on the Citation-didn't you say you had a Chevette?
Anyway, you simply immerse the part, anything from a rusty brake drum to camshaft, anything with rust, into the water-based solution. Metal Rescue removes iron oxide, in other words what we know as "rust," from metals. Metal Rescue pulls the rust into the bath like a magnet. It's safe on your hands, paints, metal surfaces, rubber and other metals. We like to say it's safe on everything except rust!
LJ: OK, makes sense to me, but you're not the first company to the dance on this one, right? What makes Metal Rescue unique?
Dave: Sure, other companies have dabbled in this arena, but we're the best at what we do. Here's what makes us different and the choice for performance retailers: for starters, Metal Rescue is safe, I mean, ultra-safe. You can literally put your bare hands into the solution and work with it. Second, it's easy. You let the rusty parts sit in the bath and Metal Rescue does all the work. No wire brushes, so scrubbing, no acids, nothing. Third, and most important, it works.
Metal Rescue is proven to remove the most severe cases of rust. Check out our YouTube video as we clean an old Hurst shifter.
LJ: Metal Rescue takes the rust off, got it, what about your rust preventative product?
Dave: Our rust prevention product is called Dry Coat. It's a safe, water-based rust prevention aid that dries to the touch. It's a great complement to Metal Rescue and is different than most rust preventatives on the market in that it's water-based and dries completely, leaving no sticky residue behind.
LJ: How does Metal Rescue compare with acids or other traditional de-rusting methods?
Dave: With acids, you're dealing with masks, gloves, etc. It's a harsh chemical process and acids will remove paint, etch the metal and even harm the surface. Metal Rescue is not an acid. It's safe on paints, metals, and even your guitar hands, Lou!
With grinding, sandblasting and other similar methods, you're dealing with labor, time and, again, you're affecting the surface of the metal.
You merely put the parts in the Metal Rescue bath and you go do something else. One guy at the show this week told me it was the greatest invention since canned beer!
LJ: Yeah, well, I don't drink canned beer.
Dave: Ha! But you get my point. It works. It's easy. It's profitable. And it sells itself.
LJ: Totally. And with little kids running around, the last thing I need in my garage is some kinda acid-based product that brings back memories of those early '80s horror flicks.
Dave: Exactly. As a retailer, you can take great comfort in selling something that's so effective and safe.
LJ: So, why the aftermarket? Why duke it out for shelf space with a million other products from valve covers to fuel additives to tire shine? And do you have the packaging and sales aids to back it up?
Dave: We've had so much success in the industrial market that we saw it as a natural fit. In the past we've had engineers, project managers and customers in the industrial market asking for an "extra" gallon to take home for their personal cars, restoration projects or at least a dozen household uses. So we've been serving the aftermarket indirectly for years.
Because Metal Rescue is so safe, it's almost better-suited for the aftermarket consumer. And yes, we have sales aids-beautiful full-color packaging with features and benefits and P.O.P. displays.
LJ: You've definitely pumped some sales and marketing dollars into your product, something Performance Business readers will appreciate. You had a nice display at SEMA and you won three SEMA Global Media awards. Congratulations! What are your plans going forward to support the consumer markets?
Dave: Thanks-not too shabby for our first SEMA Show.
As you said, we've been very proactive in this market for the last two years. We've done a number of things to build our brand including grassroots marketing at car shows around the country, print and TV advertising, social media, a strong Website with plenty of photos and video demonstrations as well as testimonials and lots of good collateral for retailers to utilize.
In particular, having our brand on the road every weekend from April to October at major car shows around the country has really impacted us positively. We get a chance to talk one-on-one with the retailers and consumers; educating them and educating ourselves. This kind of feedback really helps us build the brand. It's a lot of work, but it's definitely rewarding.
LJ: I agree. Now, let's say you're a Performance Business retailer. Let's say you have a store we'll call Dave's Auto. What would you do to differentiate your store from the competition? What makes Dave's Auto unique?
Dave: Well, for starters I might choose something more enticing than "Dave's Auto," but I would definitely focus my shelf displays on those products with strong margins, good packaging and a great story. Customers want to be empowered and inspired.
LJ: Metal Rescue is a great story, that's for sure. Keep up the good work and keep us posted on what's working. I'll catch up with you after the start of the 2011 selling season to see how you're doing. Meantime, where can someone find more info?
Dave: Will do. Go to www.MetalRescue.com and look for us on Facebook and Twitter. Oh, and we'll be at the PRI show this year. Stop on by and pick up an information packet and free gift.
LJ: Canned beer? 
Dave: Only for you, Lou…
More With Dave
Last book read? "Made to Stick" by Chip and Dan Heath. One thing I took from the book was that you need to take complex plans and make them simple. You must take them to the core so that you can communicate them to customers, staff, etc., and empower people to make their own decisions. For us at ARMOR, it's "clean, safe, easy." Products and services, we tell our team if what we make or how we handle customer service isn't "clean, safe, easy," then it's not us.
What's on your iPod? Wow! I'm pretty eclectic. Everything from Ben Folds Five to John Legend to AC/DC and Steely Dan.
Person you'd most like to have lunch with? My Dad. He died when I was 9. That would be a lunch I would never want to end.
Favorite place to drive? Northern Michigan. We have a lot to be thankful for in Michigan! The large Great Lakes and shorelines, all the in-land lakes, hills, forests, and many great towns.
What was your first car? My entire family worked at GM so we were a GM family. I had a 1981 Chevrolet Citation with the cool "vertical" radio. Not quite sure why they did that-it's way too hard to read the radio dial going down the road with your head sideways!