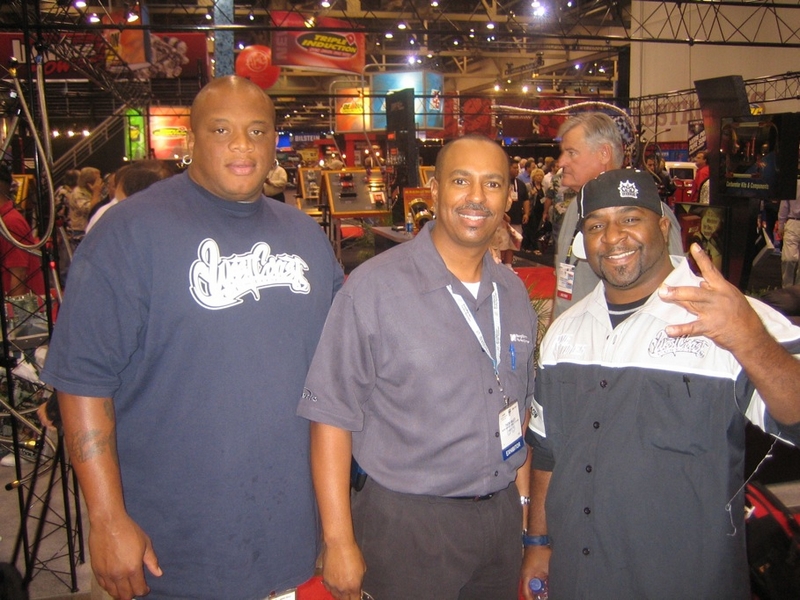 Thom Miles started in the turbo business in 1981, back when turbos truly sucked and blew. The independent side of the business was the order of the day when he worked for one of the first "hybrid" turbo companies based on the West Coast.
"We did some of everything-we manufactured turbo parts, we distributed boxes and designed and sold turbo kits for naturally aspirated cars all over the U.S. It was a lot of fun."
When the opportunity came in 2000 to work for what would be one of the largest turbo manufacturers in the world, he jumped at it. Twelve years later, the North American passenger car market is right at the cusp of the next wave of factory turbo-car growth.
Miles empathically states that, "BorgWarner will be well-positioned to capitalize on that coming opportunity."
LJ: Hi Thom, thanks for taking a few minutes out of your busy schedule to chat with me. As of this writing, we're both knee-deep in SEMA show prep, so let's see what we can do here before we head to Vegas. First, tell me about BorgWarner's new EFR turbochargers.
Thom: The EFR turbo series, which is acronym of Engineered For Racing series, was born out of a BorgWarner Turbo Systems aftermarket undertaking called AAP, or Advanced Aftermarket Program.
The clean-sheet conceptual turbo that actually made it to production is probably the most technically advanced turbocharger in the aftermarket. I say it actually made it to production because many products like this are considered too abstract, and EFR had so many attributes, I am sure many thought it did not have a chance.
EFR, which debuted at the 2010 SEMA Show, includes a very versatile design that is craved by installers and their customers. Fifteen EFR turbo part numbers cover an application range from 225 to 1,000 horsepower per turbo.
Again, the turbo includes a multitude of features such as dual row ceramic ball bearings, stainless steel turbine housings, integrated compressor cover attributes, and the marquee feature, the titanium aluminide or Gamma Ti turbine wheel.
LJ: Talk to me more about Gamma-Ti and why it's so important.
Thom: Turbo lag has long been the "bad rap" on turbochargers, with reference to throttle response. The Gamma Ti turbine wheel consists of an inter-metallic compound, which makes it approximately 50-percent lighter than a conventional Inconel turbine wheel.
The principal benefit is low turbine inertia, which significantly improves throttle response. In other words, turbo lag is virtually eliminated. EFR has helped to commercialize Gamma Ti so that it can be purchased in a turbo at an affordable price point for the performance consumer. Gamma Ti is definitely the heart and soul of the EFR turbo series.
LJ: Now you guys signed a deal with the IZOD Indy Car Series for these turbochargers, right?
Thom: Yes, in May of this year it was announced that BorgWarner Turbo Systems would be the exclusive supplier of turbos to the IZOD Indy Car series for the 2012 season. The arrangement entails BorgWarner providing EFR turbos to the chosen engine manufacturers who will be supporting the series in 2012-GM via Ilmor, Honda and Lotus.
It's truly a landmark event and accomplishment for the team at BorgWarner.
LJ: BorgWarner's relationship with Indy goes a long way back. How does this relationship with racing help you guys on the OEM side?
Thom: BorgWarner has been the proud exclusive sponsor of the trophy since 1936. In fact, the trophy will be on display in our booth for one day at the 2012 SEMA show. To my knowledge, it has never appeared at SEMA.
We are really excited about this opportunity because it helps the public make a connection between the trophy, its heritage and the products sold by our BorgWarner aftermarket team. The environment of professional motorsports is the ultimate proving ground for many automotive products, including turbochargers. New technologies and products can be brought forth because of our participation in auto racing.
LJ: So what's a typical day like for you?
Thom: When I am in the plant, I have lots of communication with my colleagues and my boss. In our North American aftermarket segment, we have made some significant changes in our distribution strategy. In support of these changes, the bulk of my day consists of production scheduling, price planning and monitoring customer-related market feedback.
Helping to grow our EFR and AirWerks performance lines has been one of the key areas that gets my attention on a daily basis. Oh, there is also a fire or two that occasionally flares up that demands a little attention (laughs).
LJ: What types of programs does BorgWarner have available for performance retailers to help keep them educated on new products, etc.?
Thom: We have recently overhauled our website, BorgWarnerBoosted.com, to include more information that the general public can use and become more educated and enlightened on our products. Moreover, we also created an online turbo application tool called Match-Bot.
Match-Bot guides the user or potential turbo customer through the proper steps in sizing and picking the correct turbo for his specific needs. We try to take some of the mystery out of the turbo selection process by making the program interactive and providing helpful pop-ups.
These pop-ups explain parameters such as BSFC, VE and exhaust gas temperature, which are often difficult for the inexperienced user to estimate. The program includes a four-part YouTube-based tutorial that explains how to use Match-Bot in order to get the best turbo match for your unique set of needs.
LJ: OK Thom, let's say you own a performance retailer right here in the Detroit area. What three things would you do every day to ensure your shop is successful, profitable and will be around for a long time?
Thom: I would say, continue to look for new opportunities. It is amazing how quickly new things become old and dated commodities, leaving companies to fight it out with price being the only tool at their disposal.
Be really good at something related to the business you're in. The longevity of your brand and your organization's growth will depend on it.
Hire the best people for the job and pay them a fair wage. Your employee is essentially a business partner and your investment in him or her can sometimes determine the success or failure of your organization.
LJ: That's great advice and I you're absolutely right, your employee is essentially a business partner. Good luck with the show season and I hope to catch up with you soon.
Thom: Sounds good, Lou.
More with Thom Miles
Last book read? "Car Guys vs. Bean Counters: The Battle for the Soul of American Business" by Bob Lutz
What's on your iPod? Lenny Kravitz, Zero 7, Steely Dan and lots of old-school R&B
Person you'd most like to have lunch with? Dr. Cornel West
Favorite vacation spot? Any place with my wife Stephanie
Favorite place to drive? 17-Mile Drive in Monterey, Calif.
Current daily driver? 2011 Turbo Hyundai Sonata